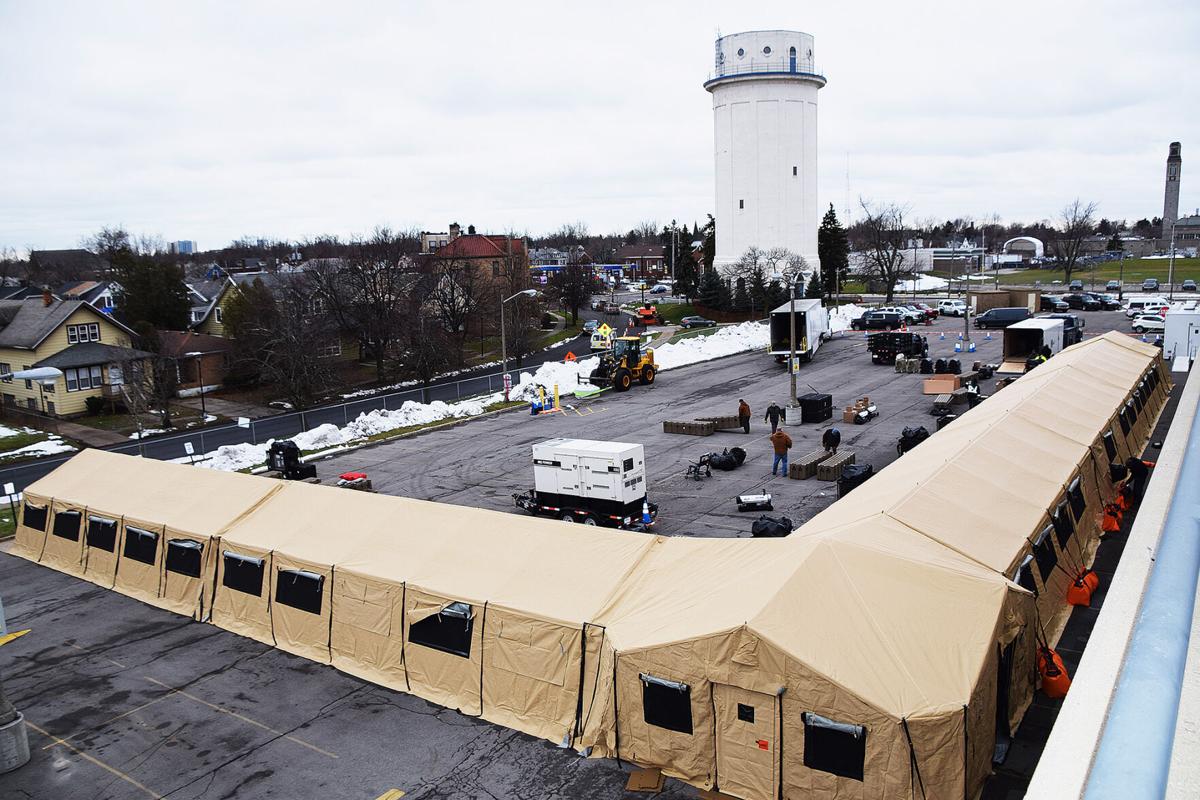 To better reach the veteran community and make Covid-19 vaccines readily available, VA Western New York Healthcare System (VA WNYHS) embarked on what is known locally as "OPERATION NEW HOPE" – an effort that utilized a military-grade MASH tent in the parking lot at the Bailey Avenue site in Buffalo, along with a large vaccination bay room at VA's Batavia site.
Over 23,000 veterans were fully vaccinated during OPERATION NEW HOPE from January through early June 2021, with between 800-1,000 people coming through daily during peak demand. And because vaccinations were by appointment, the entire process only took about 25 minutes.
Concerned about exposing frontline workers and vulnerable patients at the Buffalo VA Medical Center to potentially infected people seeking vaccines, the VA WNYHS didn't hesitate when the MASH tent was proposed for the Bailey Avenue site. The 14,000-square-foot, temperature-controlled tent was brought in from the VA's Office of Emergency Management in Martinsburg, West Virginia.
Initially reserved for enrolled Veterans only, the Save Lives Act opened up vaccines to all Veterans, regardless of enrollment status or discharge level, as well as spouses, adolescent children and caregivers.
But the VA WNYHS vaccination efforts did not stop there. Southern Tier veterans were also given additional opportunities to receive the COVID-19 vaccine, with clinics in Jamestown and Olean ranking among the largest rural clinics held in the country.
"We made a continued effort to get the word out to veterans in rural communities," added Terence McGuire, Public Affairs Officer for the VA Western New York Healthcare System.
Veterans in rural areas continue to be reached by the new ATLAS (Accessing Telehealth through Local Area Stations) site at Veterans of Foreign Wars Post 5007 in Gowanda. Activated in July, the ATLAS site gives Veterans who receive care at the VA Western New York Healthcare System the option to connect to their providers closer to home in a setting that feels like a doctor's office. The site offers low-bandwidth areas the necessary technology and privacy for veterans to meet with their care team through VA Video Connect, VA's secure videoconferencing app.
Telehealth services offered at Gowanda VFW include:
Primary Care
Mental Health
Nutrition
Weight Loss
Diabetic Education
Hepatology
Dermatology