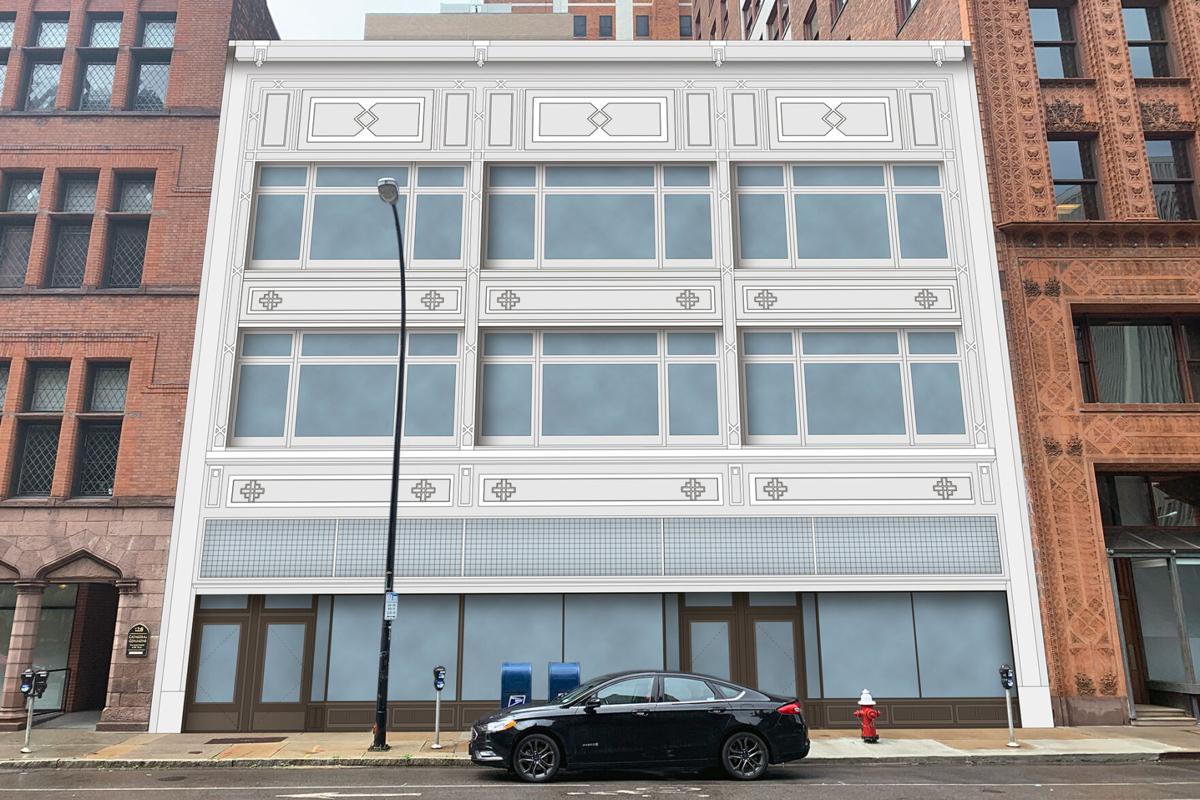 Back in its heyday, 130 Pearl Street was a fitting companion for its stately neighbor—the Guaranty Building, an enduring downtown gem and National Historic Landmark. Though small in stature compared to its early skyscraper counterpart, the four-story building once featured a façade expertly wrapped in white terra cotta, now long lost to time.
After decades of departure from its original form, a team of local architects and engineers are eagerly undertaking a historic renovation of 130 Pearl. At its centerpiece is a thoughtful restoration of the original 1916 terra-cotta exterior.
"The façade has changed quite drastically over time. We're excited to undo those changes and bring back a more historically accurate streetscape to the Joseph Ellicott Historic District," said Timothy M. Rider, Vice President and Director of Architecture at Trautman Associates.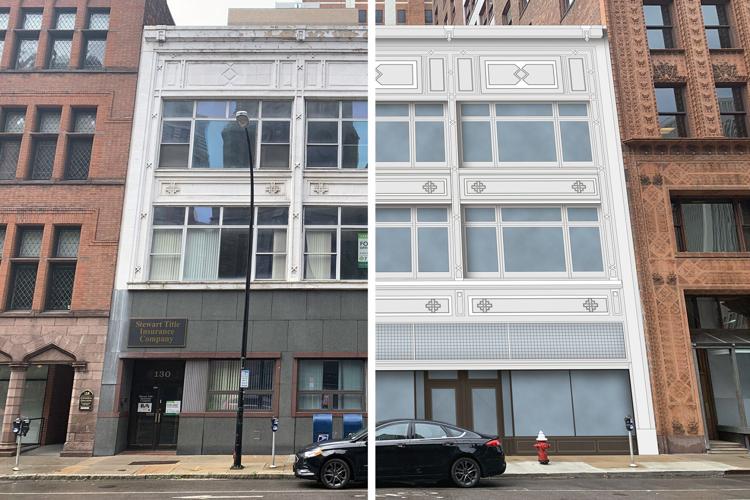 The multi-discipline architecture and engineering firm purchased the empty 130 Pearl and are now serving as their own clients on the restoration project. The terra cotta on the original storefront and street level was removed, but remains on the upper floors. Trautman Associates is turning to local experts to cast replica pieces for the façade. A small undertaking all its own, but a worthwhile one for their vision.
"In projects like these, it comes down to balancing the many decisions that need to be made while respecting the budget," said Rider. "Making these decisions with our own money gives us a profound perspective as we help clients navigate their projects and budgets."
The plan for the 18,000-square-foot building, which was last used as office space, is to create a first-floor retail storefront along Pearl Street and convert the remaining space across three floors into apartments. The building's bones are ideally suited for this reuse, with its tall ceilings and expansive windows. First-floor apartments will come outfitted with private outdoor patios in the rear courtyard, and the roof—cozily nestled between its taller neighbors—will become a shared terrace for residents complete with downtown views and an up-close look at the architectural marvels that surround it.
While the restoration of 130 Pearl is still in its early phases, the project team at Trautman Associates has already found their firm's integrated approach invaluable. Architects and engineers collaborate closely from the onset, so every decision is made with a holistic understanding of how it impacts the project—and the team can problem-solve together on the spot when the inevitable hiccup of a historic restoration pops up.
"Our integration of services means that we're designing the architecture of the space as well as the electrical systems, heating and cooling and structural systems, not just for 130 Pearl but for every client we serve" said Rider, AIA, LEED AP. "Not only can we turn our heads and connect with our engineers rather than spend time coordinating, but it's also definitely educated both sides of the aisle. I'm a better architect because my engineers taught me what they require out of buildings and vice versa."