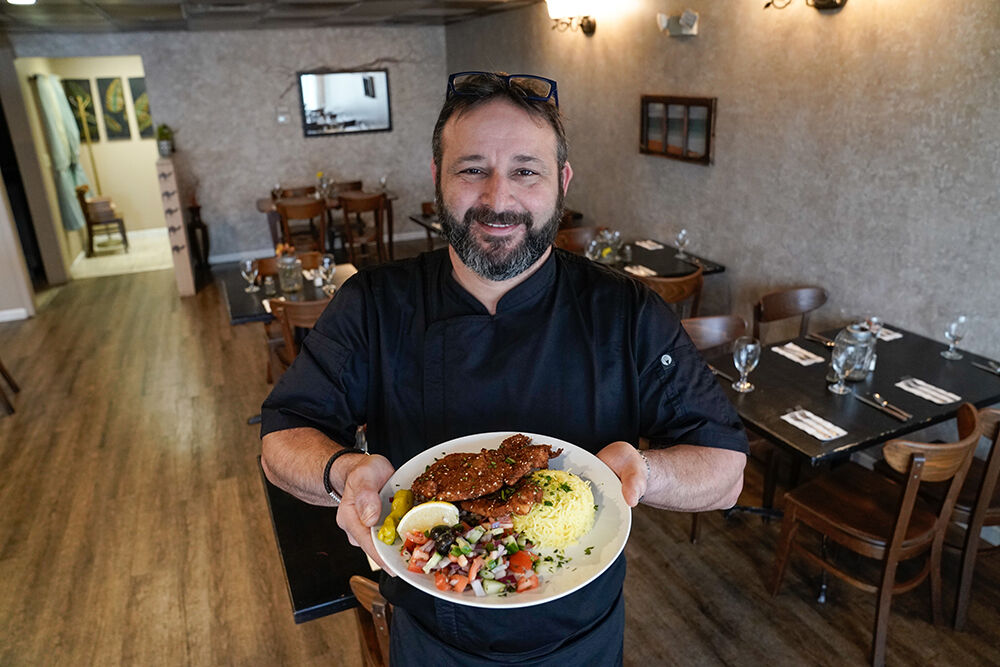 After decades in business, many restaurateurs in Oded Rauvenpoor's position would be bored. Or boring. But for Rauvenpoor and his namesake, OR by Falafel Bar, that just isn't the case. With a deep respect for the food he grew up with and a long record of winning the favor of locals with fresh, crave-able fare, Rauvenpoor continues to evolve.
Now located two blocks from Millersport Highway on Sheridan, OR pays respect to Middle Eastern standards but doesn't stop there. A showcase of Libyan, Greek, Israeli and Irani dishes and flavors, his menu echoes the influence of his family.
When a restaurant serves a dish for many years, often owners choose to cover inflation's cost/profit deltas by slowly reducing ingredient quality. Ultimately this decreases returns in terms of both sales and customers.
Rauvenpoor wouldn't tolerate that sort of thing.
Despite inflation and the volume of cheaply-had falafel and hummus available, he holds tightly to his from-scratch ethos and the labor and expense it requires. None of his ingredients (spare the kids' menu chicken fingers) arrive frozen or are made and frozen on site. Instead, hummus and falafel are made twice a day, beginning with dried chickpeas of a specific origin and size. The high-quality tahini used in OR's ultra-creamy hummus is nearly white. With tahini, Rauvenpoor explains, purity of the sesame flavor is essential and anything cheap, dark or bitter just won't do.
As is custom in the Middle East, fresh produce reigns supreme at OR. There's no shortage of vegetable-forward cooking, and no iceberg lettuce, either. Not even on the souvlaki?
"We've never used iceberg," he said. "Not today and not 20 years ago. The volume, variety and freshness of the vegetables we offer is fundamental to who we are."
Beyond the expertly crafted classics, there are favorites from Rauvenpoor's childhood on the menu that deserve attention.
Brik, served as an appetizer, is comfort food his Libyan grandmother made. Thin, golden phyllo, so delicate it shatters, is folded around soft, seasoned potatoes. Its accompaniment, an avocado tomato salsa, imparts a pleasantly vegetal and acidic note to each bite.
Still more family connections can be found in the smoked eggplant, charred and dressed in pine nuts, tahini and lemon. Or the schnitzel, a German dish that's curried favor across Europe, including Israel, which is the place Rauvenpoor's version recalls. Though served with a crunchy chopped salad, its coating retains its crispness, like Chicken Milanese, but better.
Sensitive to dietary restrictions and preferences, OR's menu is loaded with scratch cooking, flavorful and delightfully fresh food, and Rauvenpoor wouldn't have it any other way.