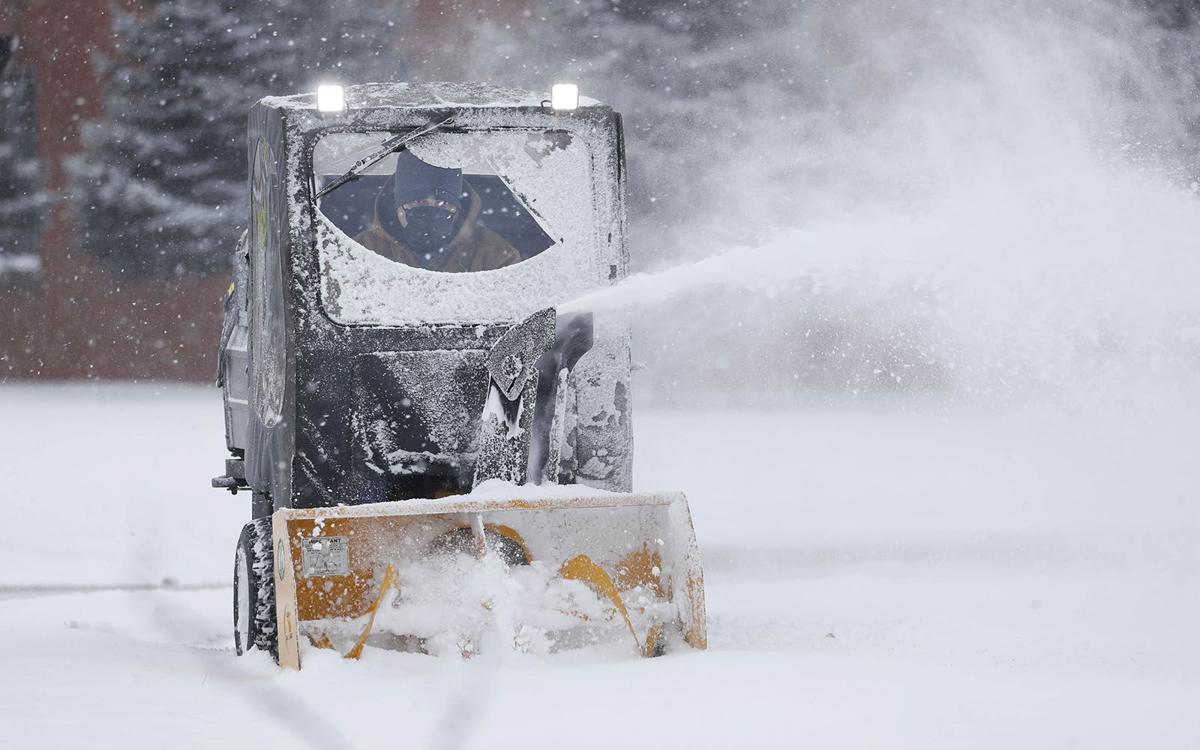 Another winter storm deposited upwards of 6-12 inches of snow across Western New York overnight before the National Weather Service Tuesday mo…
This storm is part of a much bigger extreme winter weather outbreak in progress across the nation, including the first time all 254 Texas counties are also under a winter storm warning or, a wind chill warning.
For Western New York commuters, the timing improved in Sunday guidance, which kept the heaviest snow held off until later this evening after it had first appeared it would begin Monday afternoon. Rest assured, though, the Tuesday morning commute will be rough due to heavy overnight accumulations and snow still coming down. Generally, only 1-2 inches will have fallen by late in the day, with the snowfall rate during the commute creating slick spots, but far from the rate of snow to come later.
The north-northeast breeze will begin to pick up late in the afternoon, but blowing snow will not yet be a major problem for drivers. Problems will increase markedly for those out on the roads later this evening, when snowfall rates become genuinely heavy and winds get gustier. A high-resolution model depicts conditions around 11 p.m., when northeast winds will average 15-20 mph with some gusts of 25-30 mph, especially nearer to Lake Ontario.
The lower end of the accumulation range will probably be well south and southeast of the metro area. Latest model projections bring the low pressure center close enough to us to allow some warmer air to mix in aloft over those southeast locations. Around 1-3 a.m., that warming could change the snow to sleet for a few hours, which would hold snow totals down. That can be seen where this model shows purple shading.
The heaviest rates of snowfall will likely occur between 11 p.m. and 4 or 5 a.m. The gusty northeast breeze will add Lake Ontario moisture to the synoptic snowfall, as well as causing blowing and drifting. The worst visibilities will be closer to Lake Ontario, where winds will be strongest. By around 7 a.m., widespread snow will still be coming down, but heaviest rates of accumulation will have passed.
It will surely be a difficult commute, with widespread snow on top of already heavy accumulations, accompanied by a 15-22 mph wind. As for totals, I'm going to borrow the Buffalo NWS graphic because their numbers are reasonably close to what I showed viewers Sunday night on WIVB.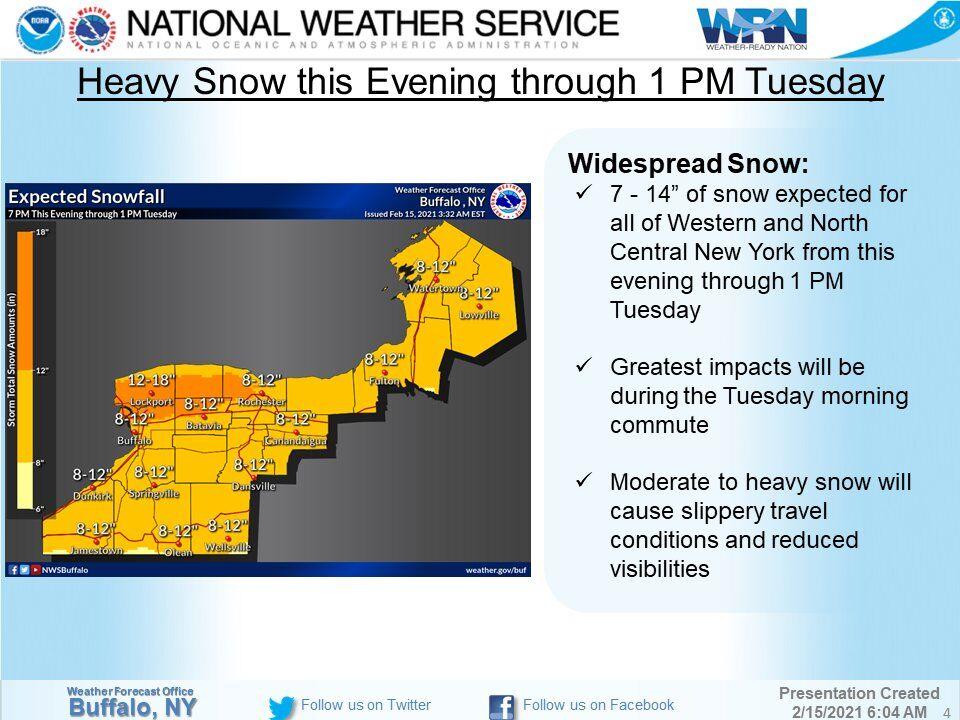 If the sleet materializes to the southeast, those numbers in Cattaraugus and Allegany counties may be a couple of inches too high. The Lake Ontario enhancement can be seen from Buffalo to the north.
Travel will be difficult all day Tuesday, with the duration of the frequent widespread light to moderate snow continuing well into the afternoon. Assuming the plows and salters are doing what they do, the evening commute will not be as rough as the morning commute. Modeled conditions around 5 p.m. show diminishing snow coverage.
After more scattered Tuesday night snow showers, Wednesday will be the pick day of the work week, with a partly to mostly sunny sky, cold temperatures, but a thankfully very light breeze.
Our next round of trouble arrives Thursday, just in time for my return to WIVB. Another winter storm will be tracking in our direction, with snow developing from south to north in the afternoon. Moderate to marginally heavy snow will be likely for the evening commute. While the European/ECMWF model keeps the precipitation all snow through Thursday night, the American GFS brings enough warm air into the circulation to potentially mix in some sleet or freezing rain. If that occurs, accumulations will be lower but roads will be more slippery.
Snow will be thinning out on a northwest flow Friday morning, with some limited lake-effect mostly northeast and well south of the metro area. Still another storm system will be approaching Sunday night, but this one will be taking a track more favorable to mix in more warm air, so we may see a changeover across the region from snow to a mix, or even rain.
I'm about done with the really wintry part of this article. The messy Thursday system will bring our readings closer to the freezing mark into early Friday, before we cool off to the low to mid-20s on a partly sunny Saturday (with a few lake snow showers). A warming flow will set up ahead of the Sunday night system, taking us into the melt zone on Monday.
Beyond that, the upper air pattern is going to cut much of the nation some slack, with the disrupted polar vortex heading back north, and eliminating the steady supply of polar air next week through the remainder of the month.
The extended range ensembles actually show this moderated pattern continuing into early March. I would venture an early estimate that daytime highs will average above freezing and even above average most days, but nighttime lows will be cold enough for ski resorts to keep snowmaking going.