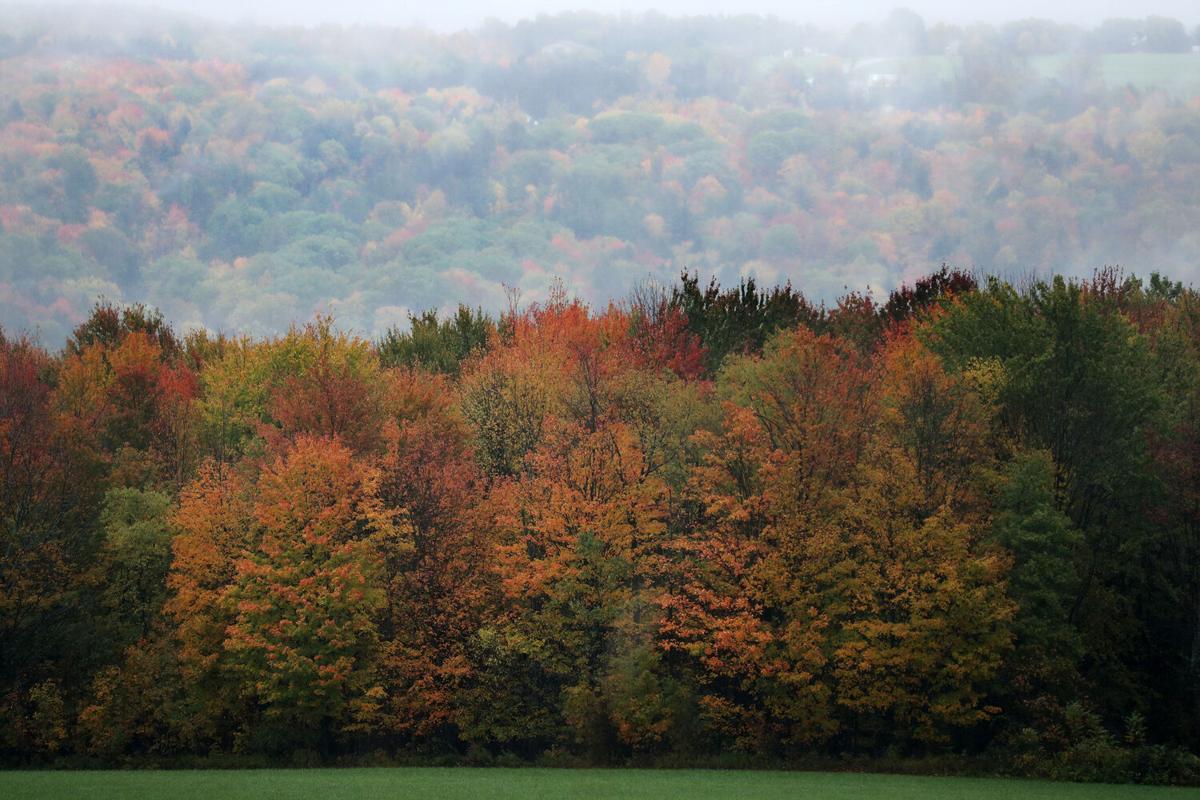 We'll get the worst part of this weekend out of the way early. Soaking rain will spread from southwest to northeast during Friday afternoon into the evening. Considering all the rain we've had as of late (called antecedent conditions), this newest batch may be a bit excessive in spots.
The flood threat appears to be minor, though poor drainage flooding could be exacerbated by leaf-clogged storm drains in flood-prone neighborhoods and near underpasses. Here are projected rainfall totals.
This newest storm will be the third major system of this week to spare Western New York its worst impacts. The first produced gusts to over 90 mph near Cape Cod and widespread flooding combined with wind damage near New York City and in southeast New England. The second slammed seafront communities with damaging waves and more high winds and rain. This latest storm poses multiple threats to parts of the Middle Atlantic, as ominously detailed by the Washington-Baltimore National Weather Service.
The combination of high astronomical tides with high winds will produce the worst coastal flooding in Delaware Bay since Hurricane Isabel in 2003.
For our region, the soaking portion of the rain won't last all that long. It will begin near Buffalo and cross into the Niagara Frontier by midafternoon Friday and continue into the evening hours.
By Saturday's predawn hours, the rain will have become lighter and more showery (intermittent), with some drizzle.
The raw breeze from late Friday into the nighttime hours will diminish for Saturday. Basically, this means if you must head out into Saturday's occasional lighter showers you won't get soaked or have to endure much of a wind chill. For dog owners, muddy paws return, if they every left.
Even on a dreary day, autumn foliage colors can jump out at you, and this may be the last weekend for rewarding leaf-peeping. Colors will be near peak on the Niagara Frontier and range from peak to past peak in the Southern Tier.
Saturday's high temperatures will run in the mid 50s with an easterly breeze of 8 to 14 mph.
On Sunday, any showers should be spotty and light, with a good deal of dry time. Tailgaters will start the day with a light breeze, and maybe some occasional patchy drizzle, with temps starting near 49 and headed to the low-mid 50s by noon. A few light showers may fall during the game with temps in the mid-upper 50s, falling back a few degrees late in the afternoon. The westerly breeze will become more of a factor as the game progresses, increasing from 10-15 mph to 15-20 by the fourth quarter. It will be mostly overcast, but there are a couple of modeled breaks in the cloud cover showing in the afternoon.
Trick-or-treaters may still encounter a few wispy, light showers, but nothing heavy. A chilly breeze will continue into the early evening, and with readings slowly dropping from the 50s into the range of 48-50, the kids should be dressed for that modest chill.
Since 1970, Climate Central displays a moderating trend in Buffalo Halloween night temperatures, though I doubt that will help much for the kids wearing only flimsy costumes.
Actual forecast high temperatures will reflect the differential between hilly terrain to the south and Buffalo. While daytime highs will be in the low-mid 40s from Tuesday through Friday, that's no longer uncharted territory this fall. Just this past Tuesday, afternoon readings were no higher than the mid 40s. But next week may bring us our first opportunity to talk about some flakes in the air. Temperatures will be marginal, but readings aloft will probably support some snow showers, especially over higher terrain.
Amid the scattered rain and snow showers, off and on from Tuesday night into Thursday, most flakes will suffer a meltdown. Yet, on the hilltops a few may have a chance to create a thin veneer of slush for short periods, as seen in the European model.
Hey, for now it's just a conversation piece, so I hope winter haters will keep the profanity down to a low roar. If this scant potential were to increase, I will converse further with you at that time.