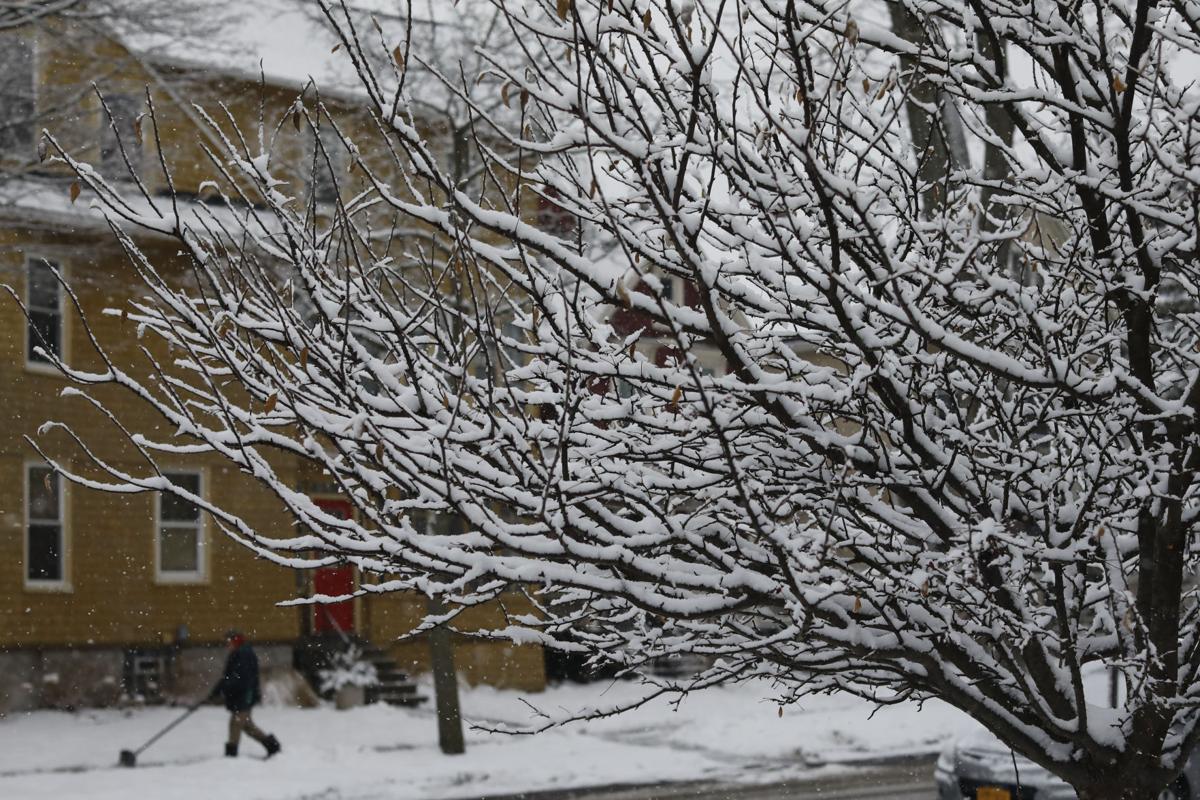 Thursday night's lake-effect snow in the Southern Tier was rather unimpressive, with the southeast corner of Chautauqua County coming out at the top of a shallow pile.
Additional lake snow is in the forecast, though not until after Sunday night.
With the chill in the air during Friday, it might surprise you to learn Buffalo's mean November temperature is running 2.3 degrees above normal so far. After all, we had high temperatures of 66 on Tuesday and Wednesday this week, and two other days with highs in the 60s this month. For Nov. 19, Buffalo's normal high and low is down to 47 and 33. In terms of forecasting criteria I have always used in my articles and broadcasts, I relate terms such as seasonable, cold and warm to the normal for that time of year. With a brisk breeze, you can certainly feel cold when it's 50. However, from a statistical standpoint I would view 50 at this time of the year as seasonably mild and, say, 42 as seasonably cold for a high. I save the subjective terms such as "bitter" and "brutal" for more unusual and harsh cold. There is none of that in my current forecast, though we will be in a colder, more active pattern by Monday and Tuesday.
In the meantime, we'll start the weekend with a quiet Saturday. Temperatures will edge up into the mid- to upper 40s with a 10-15 mph downslope breeze from the south. As for cloud cover, I'll break out my old "bits o' sun" descriptor … not a bad day at all.
Foliage is past peak, largely gone in the Southern Tier, with some lingering limited foliage still to be viewed in parts of the Niagara Frontier.
Sunday will again be seasonably mild. Tailgaters will start the day with readings rising through the low 40s, reaching the mid- to upper 40s toward game time. Unfortunately, rain will be approaching from the southwest by and during the afternoon. This model holds the bulk of the rain off until late in the game, around 4 p.m.
A cautionary note: Another high-resolution model brings the rain in about four hours earlier, and is more pessimistic for the game, even showing some wet snowflakes over the highest hills in the Southern Tier.
Because of the warming and drying downslope breeze from the south-southwest at 15-20 mph increasing during the game, I'm compromising, favoring a slightly delayed onset of rain until early-midafternoon. It appears the gusty breeze will be more of a factor as the game progresses. I will update this forecast on Saturday in the comments section beneath the article. Frequent showers will continue Sunday evening, with strengthening southwest winds.
By Monday morning, a deep storm system to our north will have pushed a strong cold front through Western New York, followed by cold winds gusting to around 45 mph.
As the cold air deepens, lake-effect rain and snow showers will develop. However, by afternoon precipitation should change to all snow except near the lakeshores, where the Buffalo Lake Erie temp holds at 52, five degrees above average.
The coldest air mass of the season will be moving into our region. The northwest flow will favor heavier lake snow accumulations for the hilly terrain, south and southeast of the metro area. Still, the northwest flow will also bring in narrow streamers of moisture from Lakes Huron and Ontario, and some lesser occasional lake snow on the Niagara Frontier as well. GFS modeled accumulations are still not that impressive, since a northwest flow crosses a smaller expanse of the lake waters.
Lake snow will wind down but not end on Tuesday, as drier high pressure gets closer. As I've previously forecast, it will be the coldest day so far this season, accompanied by a significant wind chill.
On Wednesday, the biggest travel day, the national model depiction still favors mainly good flying conditions. Boston's Logan Airport may have some delays due to strong winds from a departing Atlantic storm, and there may be some brief rain showers near Chicago by afternoon, along with more rain and wind moving into Seattle. But the overall travel conditions look good nationally and locally.
Locally, there is the chance for some late Wednesday night scattered rain and wet snow showers with temps dropping to the low to mid-30s. Thanksgiving Day will be fine for local and regional travel in Western New York. It will be dry, with temperatures moderating from Wednesday's low 40s to the upper 40s … maybe just mild enough to open some windows and improve ventilation at holiday gatherings in the face of rising Covid-19 cases. 
In the extended range, upper air ensembles favor a warmer western ridge and a chillier eastern trough dominating the lower 48 following Thanksgiving, for at least several days.