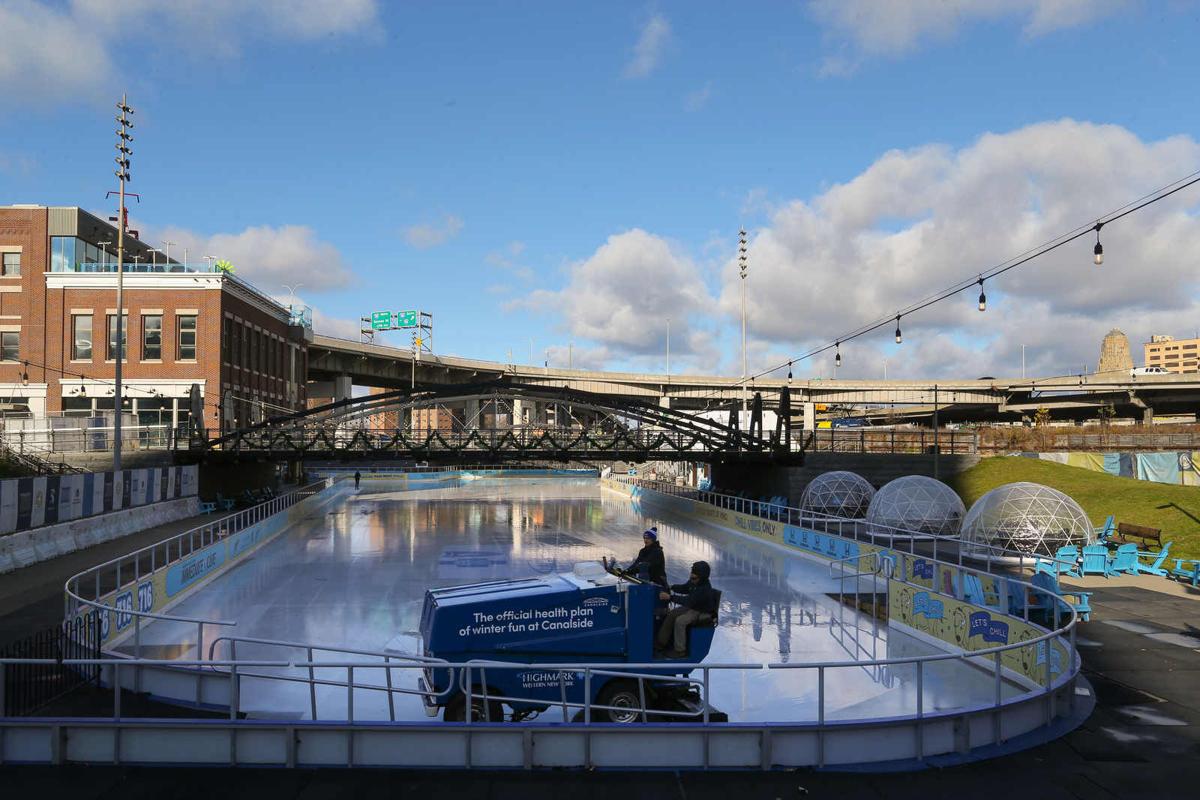 Wednesday's warmup is underway, with a downslope southerly breeze bringing temperatures up to the mid- to upper 40s on the Niagara Frontier and the low 40s in the Southern Tier, all under a mostly to partly sunny sky. Nationally, weather conditions for air travel on the biggest travel day have presented no real problems at any major airline hub.
Locally, dry weather will prevail for the partygoers Wednesday night. Temperatures will hold in the low 40s, with a south-southwest breeze at 12-18 mph putting a little chill in the air despite the seasonably mild temperatures.
Back on Monday, there was good model agreement on our local Thanksgiving Day showers ahead of a cold front holding off until afternoon, giving YMCA Turkey Trot runners a free meteorological ride. You might think the closer you get to an event, the greater confidence would exist in the forecast. As of this writing on Wednesday, that is not the case. Models have sped up the onset of Thanksgiving showers into the morning hours, and there is poor agreement between the models as to onset time and amount of shower coverage. This particular model has widespread showers arriving by 5 to 6 a.m., then breaking up to just a few spotty showers in time for the event.
At least there is better model agreement shower coverage will become sparse during the course of the run, between 9 and 11:30 a.m.
A south-southwest breeze of 15-20 will accompany temps in the low to mid-40s. Most would agree that's not bad at all for the runners. Since most guidance favors some showers before and after the event, with drier conditions during the event itself, this may all work out fairly well if this delicate timing works out.
As I've mentioned in previous articles, we can hope the risks of indoor gatherings on Thanksgiving Day in the midst of the pandemic can be mitigated by the chance for improved ventilation in the face of the day's seasonably mild temperatures. Some sweaters and open windows could combine to lessen the viral load which increases during confinement with poor ventilation. This threat factor is seen as significant by most epidemiologists and virologists, as outlined a this short article from Salon.
Of course, colder weather is far from the only risk element. There is increased travel, more frequent indoor gatherings, poor mask discipline and, most important of all, the many millions who remain unvaccinated. 
Rain showers will become more widespread by mid- and late afternoon on Thanksgiving, just ahead of a strong cold front.
The rain will convert late Thursday night to lake-effect rain and snow showers, with little accumulation by Friday morning.
Friday may be the coldest day of the season so far. Readings will be mostly in the low 30s with a gusty west-northwest wind averaging 15-25 mph producing a nasty wind chill. The wind direction will steer most accumulating snow to the hilly terrain toward the Southern Tier. However, some moisture from Lakes Huron and Ontario will also reach portions of the Niagara Frontier.
Winds will be somewhat lighter on a cold, partly sunny Saturday with reduced coverage for snow showers, most numerous again on the hills.
Sunday is the next big travel day. Early signs point to some lighter snow or snow and rain showers from Buffalo to Pittsburgh, though, so far, there are no signs of disruptive storm systems near any of the major airline hubs.
Locally conditions will remain a little unsettled next Monday-Wednesday, with a chance for scattered on and off snow and rain showers into midweek. Temps will be seasonably chilly, mostly in the upper 30s.
As we begin December, the Climate Prediction Center favors temperatures closer to normal for our region from Dec. 1-7.
Extended range upper air pattern guidance shows warm ridging dominating much of the western and central U.S. by around Dec. 2, but that warmth never quite makes it to the eastern Great Lakes.
This has been a particularly rough year for extreme weather and its victims in the U.S. IBM's The Weather Company has supplied some links you may wish to consider for Giving Tuesday to offer your assistance.
Have a Happy Thanksgiving, and in the words of the Hill Street Blues sergeant: