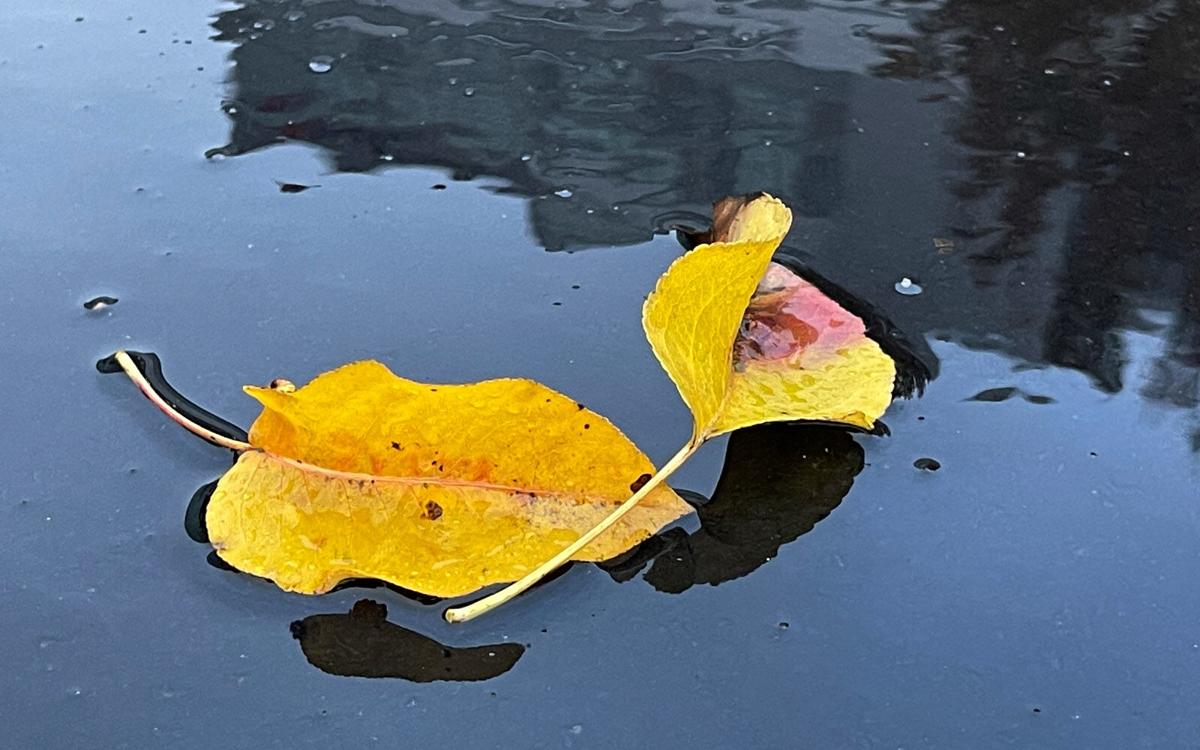 We begin this holiday week on a decidedly chilly note. The average Buffalo high and low are now 46 and 33, respectively. Our temperatures will be running below average into Tuesday night, but the departure from normal will not be anything out of the ordinary. Up to this point, the month of November mean temperature has run 2.1 degrees above average. Buffalo snowfall is slightly off the mark, at 3.5 inches, 1.7 inches below average for the season.
The initial measurable lake-effect snow this week, most of it expected Monday night, will focus on the Southern Tier, following a Monday with a noticeable wind chill created by a west breeze at 15-25 mph. This breeze will gradually steer some developing lake-effect mainly into the Southern Tier, picking up a bit after a late-afternoon coating on the hills. On the face of a compass, a wind originating from 270 degrees sends the moisture well south of the metro area.
This orientation is reflected in the modeled lake-effect trajectory for Monday night, which begins from the west. However, late Monday night the winds veer to west-northwest. That direction can bring in occasional thin streamers of moisture to parts of the Niagara Frontier, mainly from Lake Huron, seen in the modeled totals by Tuesday morning.
A few hills in parts of Chautauqua and Cattaraugus counties may see 3 or 4 inches of snow in patchy coverage. But with Tuesday morning readings in the mid-upper 20s, the Lake Huron moisture might produce a few slick spots on Niagara Frontier roads as well.
For the more intense lake-effect storms in the densely populated portion of Western New York, winds typically have to originate from 255 degrees to 240 degrees on the compass. Such an orientation allows the lower level winds to travel over a longer expanse of Lake Erie, picking up much more moisture. This was the case during the "wall of snow" event of November 2014.
There are no hints of such a range of wind directions during whatever cold episodes we experience in the near future. Buffalo's Lake Erie temperature is at 50 degrees, 3 degrees above average, so the latter wind forecast is fortunate for local travel.
As the pace of Thanksgiving travel begins to step up on Tuesday, whatever other factors slow holiday flights to and from major airline hubs, weather will not be among them. None of the major airports will be in the vicinity of major snow or rainstorms.
Locally, our temperatures will peak in the low to mid-30s. Again, there may be some slick spots for early drivers from the diminishing lake-effect, but nothing that would impact the airport. Despite the cold temps, winds will be lighter than on Monday, making for less wind chill.
Wednesday is also looking to be a good travel day for fliers. Despite some hype you may have heard on network newscasts last week, the nation's weather will be mostly conducive for air travel, with the possible exception of the Denver hub. There is a small chance an area of low pressure may bring enough snow to cause some delays there, which would slow travel for many heading west for the holiday.
However, the Denver National Weather Service and most models are keeping the snow south and west of Denver as of this writing.
Locally, we'll be warming up on the southwest flow behind the big eastern high pressure ridge, with plenty of sunshine to help. The afternoon high may approach 50 near Buffalo.
Hints last week of some spotty precipitation late Wednesday night for the inevitable party people have vanished, so at least we'll have dry roads with seasonably mild readings in the 40s.
Thanksgiving Day looks mild, with a southwest flow ahead of an approaching cold front. Temps should approach the upper 40s ahead of mid- and late-afternoon rain showers. We can hope the mild temperatures will allow some open windows, improving indoor ventilation in the face of rising Covid-19 rates.
Once the cold front goes by Thanksgiving night, we'll be back into below-average temperatures on a mainly northwest flow. Friday's high will only be in the low 30s.
Again, such a northwest flow does not favor the metro area for much lake-effect, but will probably bring several inches to the hills well south, and some occasional lesser Lake Huron streamers to parts of the Niagara Frontier by late Thursday night into Friday. Some slick spots will develop as the cold air deepens and the spotty lake snow falls, as seen in the GFS model.
Cold but drier air on Saturday will reduce any lake-effect coverage.
An early look ahead to the post-holiday major travel day, Sunday, currently suggests no major storms at the airport hubs, keeping in mind the higher forecast uncertainty this far out in time.