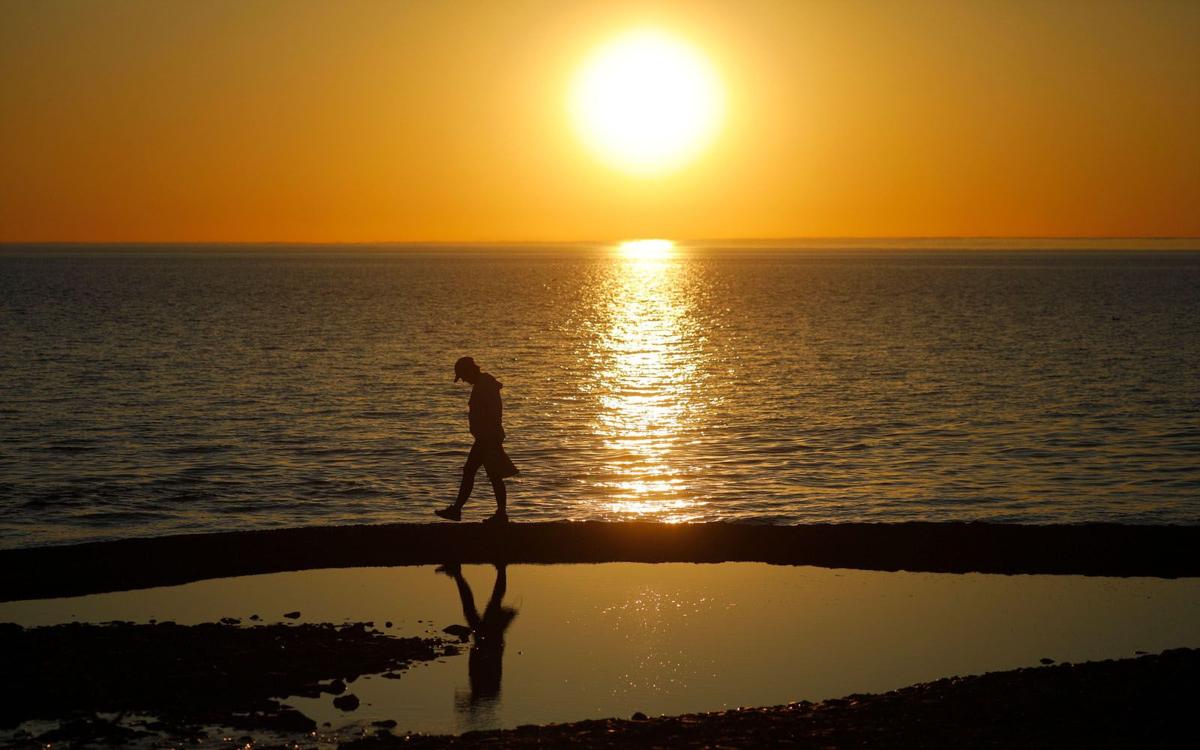 "What's the normal high temperature for this time of year?"
That commonly asked question is usually rephrased by meteorologists and climate scientists to "what's the average high temperature?" There is always some climate change occurring, and in recent decades the rate of change is so extraordinarily rapid, the misapplied term "normal" becomes even more inappropriate. We use datasets for the previous 30 years to establish averages, and recalculate the 30 year averages at the beginning of each decade. The National Oceanic and Atmospheric Administration/NOAA just released the new 30 year averages a few days ago. The US annual temperatures compared to the 20th century average shows the accelerated warmth in recent decades, following some mid-20th century cooling (some of which was related to more particulate matter from sooty industrial emissions prior to the Clean Air Act). 
The amount of change in this new decadal update of the 30 year averages can be seen in this graphic. Other than some slight cooling in parts of the northern plains, the overall trend is warmer, faster. 
Without going into exquisite detail over how NOAA bends over backward to limit statistical biases in order to achieve the most accurate climate data base, you should know the agency analyzes and reanalyzes the datasets with each update. The data is filtered for reliability and to remove any elements that can artificially skew warmer or, in increasingly rare cases, colder. Details on how NOAA temperatures are made more reliable are contained in this article. 
On a local basis, here in Buffalo the climate site was moved from downtown near the lakeshore to the airport in 1943. The downtown site was more influenced by Lake Erie's modification, milder in late autumn and early winter, and cooler in the spring and early summer. Even though a primary reason for the move was to better serve aviation, and all the jokes about "nobody lives at the airport" aside, the Cheektowaga location is actually more representative for the majority of the Buffalo metro area than a site adjacent to the lake. Most large cities now have their official climate data recorded at airports, which has brought more uniformity in the database. 
Official instruments are sited in well ventilated, shaded locations away from reflective heat sources such as concrete and asphalt, in standardized instrument shelters. This is done to minimize the urban heat island effect. Shelter designs can vary, attuned to the local environment. Death Valley instrumentation is housed in different shelters than, say, Fairbanks instruments. 
Getting back to the overall trends, the big picture is fairly clear in this graph.
As NOAA scientist Rebecca Lindsey explained in her climate blog, "Having the entire 20th century included for comparison means the baseline captures more of the range of natural variability that's possible in U.S. and global climate. It also provides a reasonable—but conservative—indication of the influence of long-term warming on temperatures. For the end-of-year global climate recap, NOAA also includes an additional comparison of the current year's temperature to average temperatures from the 21-year period from 1880-1901, when the influence of global warming was still small relative to natural variability." 
Precipitation is trickier. Climate models predicted wet regions would tend to grow wetter with more heavy precipitation events tied to more water vapor in the air. This would be due to increased evaporation from the warming of oceans, lakes, rivers, plants and soil. Conversely, arid regions are modeled to become more arid due to more heating of the soil and reduced water vapor. Both of these trends have been verifying in recent decades in the broadest sense.
NOAA's Lindsey points out that precipitation trends, regardless of human activity-caused warming, are less consistent than temperature trends, and there is a good deal more variability in these trends. Some regions are expected to experience wetter winters and drier summers. Such trends may produce little change in annual totals, but have more dramatic seasonal impacts on crop productivity and wildfire coverage. 
In gauging the ongoing warming, one of the clearest trends has been an increase in overnight low temperatures. This warming has helped to result in a northward shift in planting zones during the last decadal update, which has lengthened the growing season in the mean. 
There is no conclusive modeling as to how the warming will affect lake effect snow potential in the next decade, though, eventually, a lessening of arctic outbreaks is likely to reduce snowfall further out in time. Whether there is any connection between warming and the small snow increases at Buffalo and Rochester remains an open question. Summing up, it's gotten warmer and a wee bit whiter.