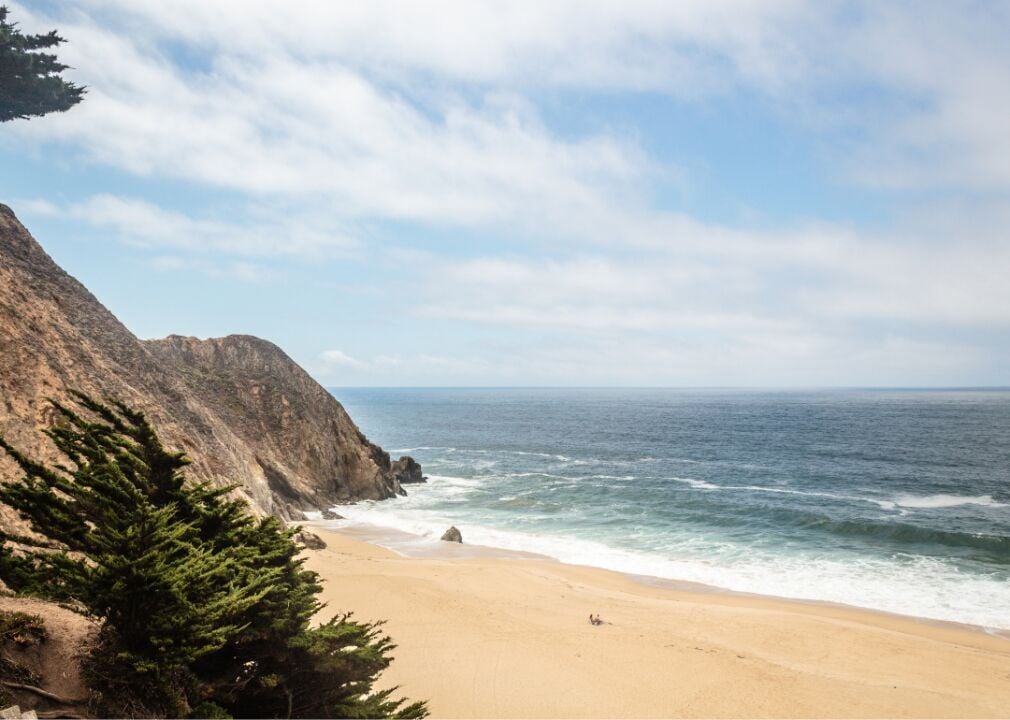 Warming climate tipping points are difficult to estimate. Some of the main points are illustrated in a paper by  Timothy Lenton, as seen in his 2019 journal Nature article.
At what threshold will humanity reach a level on a particular climate crisis at which there is no longer a chance to appreciably slow a dangerous process? If we can calculate what makes a tipping point, it may be just as difficult to calculate how close we are to reaching such a tipping point or, worse, if we have already passed it.
There is good agreement in the scientific community the largest single threat posed by our human activity-driven warming climate is rising sea levels. Billions of people live near the world's coastlines. Sea level rises occur at different rates on different parts of the globe, but on a global mean there is irrefutable evidence rises are occurring more rapidly than had been projected in earlier climate models. With no slowing of these rises, disruption and displacement of vast populations and their cities will be inevitable.
The world's oceans have already absorbed at least 90% of the excess post-Industrial Revolution warming, serving as enormous heat "sinks." These warming waters accelerate the shrinking of the western Antarctica and Greenland ice sheets. Consensus calculations point toward very disruptive to catastrophic sea level rises when Earth's mean warming reaches a point between 1.5 and 2 degrees Celsius. The warming has already hit 1.2 degrees Celsius and is not stabilizing.
It was once thought the Antarctic ice sheets were more stable, and our main focus would be on the Greenland ice cap. We now have observed warming ocean currents have been eroding the huge Antarctic west ice sheet (which flows down from the freshwater ice on the continent) from the bottom. This freshwater meltoff is also adding to the rate of sea level rise.
If all Antarctic ice melted, which is unlikely, sea levels would rise by 200 feet. Greenland's ice cap, if melted, would add 22 feet. The actual trends, which also include water volume expansion from heating, look like this: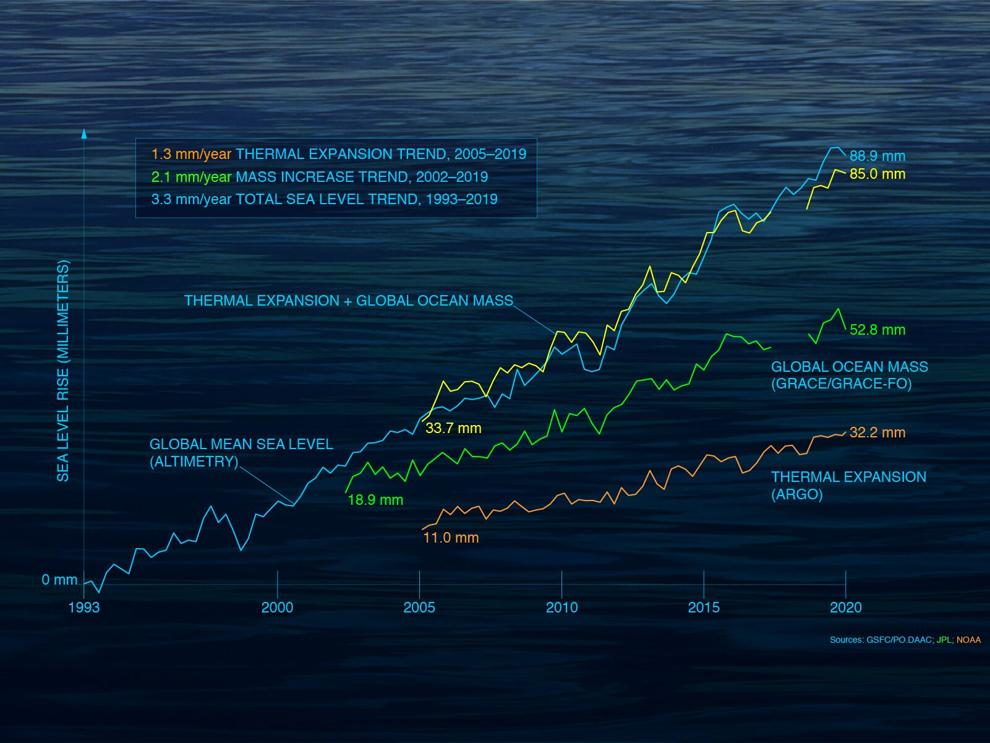 A 1.5-degree (Celsius) rise is the limit goal within the Paris Agreement. The European community's Copernicus Climate Institute estimates we may already be within just 15 years of reaching that more impactful level.
Again, we are already ahead of earlier model schedules, as is the ongoing rate of increase. Lenton reiterates it is difficult to know when a sea level rise tipping point is reached and told CBS, "It is plausible we are already past a tipping point." Even NOAA's more conservative estimate of a 5- to 8-foot sea level rise by 2100 would displace hundreds of millions of coastal residents around the globe, including those in some of the world's largest cities.
We move from the seas to the Amazon rainforest, where the situation is going proverbially from bad to worse. There are more than 3 million plant and animal species living in this ecosystem, which covers an area nearly the size of the continental U.S.
Biodiversity scholar Thomas Lovejoy, who has served on panels under the Reagan, Bush and Clinton administrations along with the U.N., has studied the Amazon rainforest for 56 years. He states the basin contains 10% of the earth's biodiversity and half the world's remaining rainforest. He is convinced the Amazon is at its tipping point now. The amount of deforestation that already has occurred is evident in a NASA animation.
Lovejoy reports to my colleague, CBS meteorologist Jeff Berardelli, when his studies began in the 1960s the forest was 97% intact, and 10 million people lived there. Population has now grown to 30 million and deforestation has reached what Lovejoy regards as the tipping point, 20%. Lovejoy and his colleagues believe the Amazon basin is moving toward transitioning from a rainforest to a more arid savannah. He estimates this change will occur not in centuries, but over a span of only 10-30 years.  Lenton is less certain the tipping point has been reached, but he agrees the basin is drawing nearer to it.
A rainforest is something of a rain machine, generating about 50% of its rainfall by its leaves sending moisture into the air, where it rises, cools, condenses and falls as rain. But with deforestation, the amount of evapotranspiration of water vapor into the atmosphere plummets, and in addition to rainfall reduction in lower humidity, carbon storage in the trees and plants is reduced as they vanish.
The reduction in the forest canopy is already leading to more frequent drought conditions and the spread of destructive wildfires. The Amazon basin had been a primary carbon sink, with its plant life absorbing so much carbon. With a transition to a savannah, these great volumes of stored carbon will again be released to the atmosphere, exacerbating the warming in the global climate. Lovejoy and others estimate the forest canopy currently stores about 100 billion tons of carbon, which is three times the amount of carbon emitted on an annual basis by the burning of fossil fuels.
This article is chock-full of well-supported pessimism. Yet there are leading climate scientists who are not fatalistic about where it is we are heading. Notably, Michael Mann, renowned Penn State climate scientist and professor of meteorology, recently told California magazine: "I'm committed to the belief that there will be a moment, perhaps not in the too distant future, where the political winds writ large will be more favorable. I think at that point, we will see the tipping point on climate action, because the groundwork has been laid, the scientific case is compelling, nature is compelling, nature is communicating the profound impacts of climate change directly to us, and that means we'll be able to hit the ground running."