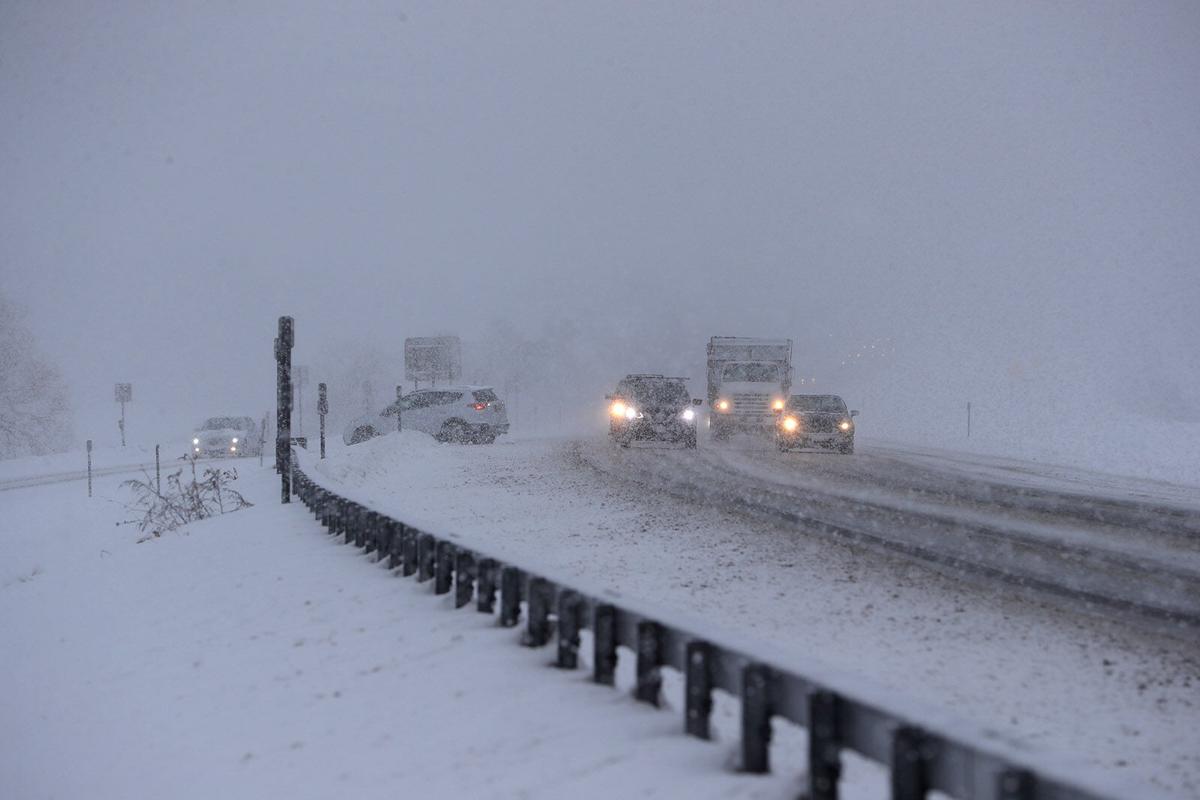 Nothing magically springlike occurs on the first day of meteorological spring, which starts today and runs through May (the same can be said for the first day of astronomical spring). In fact, for a brief time Monday into Tuesday, we are headed in the opposite direction – back into winter.
On Friday, I wrote "… This will be followed by a brief, rude awakening on Monday. A quick hit of arctic air will race in with scattered snow showers and a gusty northwest wind Monday afternoon, with temps dropping back from the 30s into the 20s later in the day, and a harsh windchill." That still holds true.
At 1 a.m., the temperature was 48 degrees. By the dinner hour, we'll be down to the low 20s, with a strong northwest wind creating a harsh windchill. The combination of brief snow squalls and a 25-35 mph wind with peak gusts to 50 is obviously a bad mix for the evening commute. The accumulation amounts are going to be scattered and small – mostly an inch or less. It's the brief intensity of the squalls and the strong winds that will cause problems. While some snow showers will arrive early in the afternoon, the squally character of the snow will increase during mid- and late afternoon.
With the predawn warmth gone, any snow falling on pavement can quickly develop into icy patches as temperatures plunge. There won't be enough to plow, but salters likely will be needed. With peak gusts to 50, and even a little stronger over Orleans and Genesee counties, visibility may drop drastically for short periods. The risk of ice jam flooding will vanish during this period.
The strong northwest flow may set up a few thin bands of lake snow later tonight off lakes Huron, Ontario and Erie, also with no major accumulation. If you haven't been keeping track, Lake Erie ice coverage peaked at 86% a week ago Friday. It's now down to 45% as of Sunday.
The northwest flow will not be able to deliver much moisture off the lake, so shovels can stay put. But you can track the squalls and narrow lake bands with GOES satellite imagery.
By dawn on the second day of meteorological spring, the morning low will be around 12 degrees. The afternoon high will recover to around a cold 30 under a partly sunny sky. A developing brisk southwest breeze will put a noticeable windchill in the air during the afternoon, at 15-25 mph.
Wednesday brings a little moderation with readings approaching 38-40 along with limited sunshine, but we will experience a setback by Thursday, when readings return to the low 30s due to a ridge of Canadian high pressure settling in from the north, behind a cold front.
It appears our daytime highs will stay in the low 30s on Friday and Saturday as well, edging back to the mid-30s on Sunday and the low 40s next Monday. In other words, our bouts with thaws will be put on hold for a week or so. A few snow showers may accompany a cold front later Wednesday night, but after today's brief gusty squalls, no significant snow is showing up in guidance for the remainder of the week.
Looking back at February, 27.5 inches of snow fell, which is 10.2 inches above average. Considering we had a period during which temperatures didn't rise out of the 20s for 15 of 16 days, the mean temperature of 24.6 degrees (1.6 degrees below average) wasn't too bad. The coldest Buffalo temperature of the winter has been 6 degrees. By way of comparison, February 2015 was the coldest month in Buffalo history, with a mean temperature of 10.9 degrees.
I'm not much of a fan of monthly or seasonal outlooks. Pattern disruptions can occur due to variables not predictable three or four weeks in advance. But I will say the currently available upper air ensembles give reason for at least some of that optimism into the middle of the month.
There are battle zones between retreating cold air masses and advancing milder air masses that can still develop into stormy patterns, so I'm merely suggesting a warmer monthly outlook should not be taken to mean it will be mild day after day. This week should serve as an example. At least for skiers, this week will afford ski resorts who want to extend their season good snowmaking conditions much of the time.