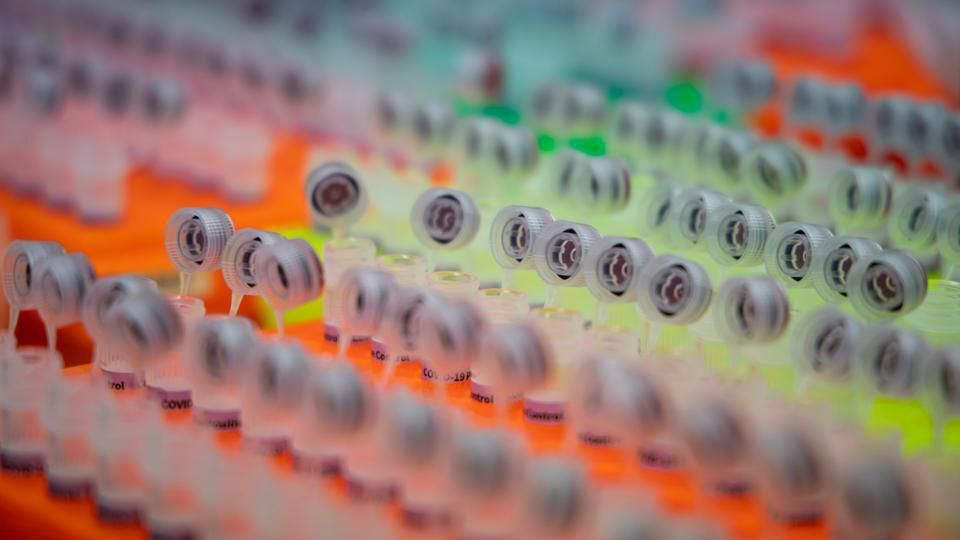 If you're traveling this year, you need to be ready to adjust and rearrange things while you're on the go. For months, travel was mostly at a standstill—now many places have reopened, but with constantly tweaked (or overhauled) guidelines. Thankfully, a number of hotels, airports and tourist centers have organized quickly to help travelers abide by local regulations.
Travelers are getting a taste of a big change right now, with the CDC announcing new Covid-19 testing requirements  to enter the United States either as a visitor or as a resident returning home. That's yet one more obstacle to international travel, but not necessarily reason to cancel your plans. Some destinations have made testing easy. We've sought out some of the destinations who've done the hard work of arranging testing to be convenient for travelers.
Keep in mind this is just half of the equation. Numerous countries require testing before arrival, which means many people will need to be tested two or more times, once before leaving home and again before returning. Details matter: check the test type, timeline and how to provide proof of results. Additionally, in some destinations, testing doesn't override the restriction to quarantine (even some U.S. states, such as Hawaii, require both testing and quarantine).
In some cases, even if the tests are easy, it might be enough to make you think twice. Costs vary by type of test and destination. While some are affordable or even free, others could tack $200 or more per person to your budget and deter you from booking that quick getaway. Also keep in mind that airport testing may mean an extra trip to the airport to get your test in time to have the results necessary for return to the U.S.
Staying at a destination not on our list?  Check with your hotel or resort: competition is fierce and many are likely vying to make it convenient for guests.
Lastly, the old adage "hope for the best but prepare for the worst" holds true. If you intend to travel, you need to be prepared for the possibility of getting a positive test result and not flying home as scheduled. Are you able to stay in another country for two weeks while you're recovering? What if you require hospital care in a foreign country? Can someone cover your work in your absence and look after your children, home or pets? Have a contingency plan to cover medical costs, quarantine costs and rebooked tickets, just in case.  Travel insurance is definitely prudent these days.
Assuming you're comfortable with the risks of travel, here are some of the destinations taking the stress out of Covid-19 testing. Most testing regimes last at least through March 31, but as situations change that date may be extended.
Mexican Destinations
Mexico has been one of the most popular vacation destinations throughout the pandemic due to its proximity to the United States and lack of restrictions for incoming travelers. Travelers still don't need a test to enter Mexico—one of the few destinations without that criteria—but you will need one to re-enter the U.S. afterward.
Private labs, like Chopo, are available in every major Mexican city.
However, a handful of resorts are trying to make it even easier by offering free on-site antigen testing for guests. Participating brands include
The AMResorts family (such as Secrets, Dreams, Sunscape, Now, Breathless and Zoëtry resorts)
Karisma Hotels & Resorts
La Colección Resorts (which includes Live Aqua, Grand Fiesta, Fiesta Americana and The Explorean)
Palace Resorts
Playa Hotels & Resorts (including brands like Panama Jacks, Hyatt Ziva and Hyatt Zilara)
Royalton Resorts
Velas Resorts
The Palladium Hotel Group and Viva Wyndham Resorts will organize testing but at an additional charge.
Other independent hotels in Mexico including the following also offer on-site testing (prices vary) with more expected in the future:
Cancun and Riviera Maya: Club Med Cancun, Fairmont Mayakoba, Grand Residences Riviera Cancun, Palmaïa – The House of AïA, Planet Hollywood Beach Resort Cancun, Sensira Resort and Spa
Los Cabos: Hilton Los Cabos Golf and Beach Resort, The Cape, Solmar Hotels and Resorts, Waldorf Astoria Los Cabos Pedregal
San Miguel de Allende: Hotel Amparo
Puerto Vallarta: Casa Kimberly, Villa Premiere Boutique Hotel
Caribbean Destinations
Like Mexico, many destinations in the Caribbean have partnered with local medical offices to provide convenient testing for visitors.
Antigua
At the Royalton Antigua resort, guests won't have to leave the property to be tested prior to departure. Viral antigen testing is available (charges apply). Curtain Bluff also offers on-site testing administered by the house doctor, with your choice of rapid antigen or PCR tests.
Aruba
Aruba makes things easy for travelers, with three certified testing centers convenient to travelers near Eagle Beach and Palm Beach. The three centers have PCR testing available for $75 to $125 with most results available within 24 hours.
Of the three centers, MedLab goes above and beyond for travelers. Plan in advance and they'll test you at your hotel. If you're not sure of your schedule, walk-in appointments at its facility are also available. And, all tests taken on weekday mornings will receive same-day results.
A few hotels are also offering on-site service without the need for an appointment. The Renaissance Aruba Resort & Casino offers antigen testing for $50; guests who book a "We've Got You Covered" package of four or more nights receive testing for free. Bucuti & Tara Beach Resort also offers testing with same-day digital results.
Bahamas
Requirements to enter the Bahamas have changed several times throughout the pandemic, but assuming you get in, you can find tests to get home. If you're searching for private labs or health clinics, be sure to confirm it's on the same island as where you're staying.
Some hotels take the guesswork out, with hotels like Caerula Mar Club, Ocean Club (Four Seasons) and Viva Wyndham Resorts offering on-site testing.
British Virgin Islands
The BVI have kept case counts down, in part due to strict measures for arriving travelers. Nasal PCR tests are mandatory on arrival and again on Day 4, with testing available in Virgin Gorda.
On the off-chance you have the cash (or Virgin Atlantic points) to stay on Richard Branson's private Necker Island, a concierge service can arrange testing on-site for an extra charge. There's no need to leave paradise here.
Dominican Republic
Several resorts in the Dominican Republic are providing Covid-19 testing on-site so guests have no excuse not to comply with CDC guidelines.
Among the hotels with testing options are
AMResorts
Club Med
Eden Roc Cap Cana
Karisma Hotels & Resorts
La Colección Resorts
Palladium Hotels
Royalton Resorts
Viva Wyndham Resorts
The Playa Hotels & Resorts collection, which includes the Hilton La Romana, Hyatt Ziva, Hyatt Zilara and Sanctuary Cap Cana, offers free testing for guests staying a minimum of three nights. If results aren't returned on time for your return flight to the U.S., they'll cover the cost of your hotel stay until they arrive. They'll even offer a discount of up to 50% off an extended stay if you receive a positive result and need to quarantine.
Jamaica
Here, all-inclusive really reflects its true definition. All Royalton Resorts in Jamaica offer free antigen testing for guests as well as free Medical Assistance coverage to cover the cost of any accidents or illness (including Covid-19). Karisma Hotels & Resorts and Palace Resorts offer free testing and will supply free quarantine accommodations for up to 14 nights if you test positive.
Like in the Dominican Republic, properties managed by Playa Hotels & Resorts (like Hyatt Zilara or Hilton Rose Hall) offer free antigen testing, but only for stays of five nights or more in Jamaica. Similarly, AMResorts and Couples Resorts also offer free onsite rapid testing.
Saint Lucia
Beginning Jan. 26, guests staying at the Mystique St. Lucia or Sugar Beach, a Viceroy Resort can schedule viral testing through the hotel for an extra charge.  At Jade Mountain, antigen testing is included with your stay, with the option to pay for PCR testing instead if your state or employer requires it. And at Anse Chastanet, antigen testing is free on stays of three or more nights (and can be arranged at cost for shorter stays).
St. Kitts and Nevis
St. Kitts had required an exit test before the U.S. implemented an entry test, so the framework was already in place for travelers. All hotels can arrange on-site testing. Travelers who are staying somewhere other than a hotel can call (869)467-1273 to get information on scheduling their exit test.
St. Vincent and the Grenadines
The islands of St. Vincent and the Grenadines have one of the most strict testing policies in the Caribbean. Travelers from high risk countries (including the U.S.) must take a PCR test prior to arrival and may be tested immediately upon arrival as well. Yet another test is administered between days 4 and 7. In addition to this, travelers must stay at designated "bubble resorts" with access to select facilities until their final test comes back negative.
Assuming you make it through all these steps, one of those tests might be timed correctly for re-entry to the United States. If not, hotels are well educated on where you can get tested. The Mandarin Oriental, Canouan (a certified bubble resort) will administer tests in guest rooms for $100. Petit St. Vincent, another bubble zone resort, offers PCR tests for $65 with three day turnaround.
Turks and Caicos
Covid testing on Turks and Caicos is expensive, running at $185 to $215 per person, but it might be worth it to enjoy world-renowned Grace Bay Beach. Travelers can get results back within 36 hours at OmniCare Medical Clinic at the Town Center Mall.
Beach Enclave is built for social distancing, with private villas on a spacious stretch of property. Here, Covid-19 testing is included with your stay in the comfort of your villa. At Ocean Club Resorts, staff will assist with booking appointments and arranging transportation at one of the testing centers on the island. Club Med Turkoise is also offering testing. PCR testing is available on-site with antigen tests expected in the future.
Central American Destinations
Costa Rica
Costa Rica has a network of private hospitals and clinics offering testing to both locals and visitors, but many are located in the Central Valley . Travelers flying from San Jose might be able to fit this in without too much trouble. For example, the Hospital Clinica la Catolica is about 45 minutes from San Jose International Airport and offers $100 tests with results within approximately eight hours.
On the Pacific Coast of Costa Rica, at the Planet Hollywood Beach Resortfree on-site tests are included with your stay, and through March, they're also offering free medical assistance coverage to reimburse select medical costs associated with Covid-19 and other illnesses.
Casa Chameleon hotels in Mal Pais and Las Catalinas also offer on-site testing. Through April 30, tests are free for guests who stay at least five nights and can be purchased by guests with shorter stays. Results are returned within 48 hours.
South American Destinations
South America is slowly opening up to tourism, but hasn't yet taken the proactive steps that Mexico, Central America and the Caribbean have.
One option is to let a travel agent take care of the work for you. Travelers who book a handcrafted itinerary with SouthAmerica.travel won't have to lift a finger to find Covid-19 testing prior to travel back to North America. Each itinerary includes antigen testing at no extra charge to comply with CDC guidelines, either at the hotel or at a nearby clinic.
European Destinations
Germany
Although you'll find many cities in Germany offering Covid-19 testing, there are several sites that are easily accessible to travelers.
In Frankfurt, there's a testing site outside the airport on the pedestrian bridge between Terminal 1 and the train station. Here, RT-PCR tests are available with results promised in 24 hours and the option to pay for expedited processing (six hour results cost 139€). Rapid antigen tests, with results in 2.5 hours, cost 59€.
Similarly, Munich's airport has several testing options available to departing passengers. The "Test & Fly" service in Terminal 2, Level 4 offers online bookings for appointments with results in six hours at a charge of 128€. Departing passengers may also choose rapid antigen testing by calling or emailing the Medicare subsidiary of Flughafen München GmbH.
Lastly, the Berlin-Brandenburg Airport has testing available in the arrivals hall of Terminal 1. Although there aren't many testing options here, the standard RT-PCR test with 24-hour results should be sufficient for travelers.
Turkey
The Istanbul airport was one of the first worldwide to make testing convenient for travelers. Tests are available in the arrivals hall for a bargain price of approximately $40. Testing is available 24/7 and there's no need to make an appointment in advance. Results should be available within eight or hours or less.
United Kingdom
London Heathrow offers testing for departing travelers in both Terminal 2 and 5. The cost of a PCR test in the terminal testing center begins at £99 and provides results within 48 hours of testing. Antigen tests are half the cost and provide results in less than an hour, making it possible to be tested just prior to departure. Pre-bookings are required.
African Destinations
Seychelles
Travelers heading to the Seychelles should expect to take several tests throughout their visit: you'll need one to enter and another after your fifth night, which may or may not also be timed correctly for your flight home.
Fregate Island Private, an exclusive natural hideaway with private villas and exclusive beaches, will arrange on-site testing complete with helicopter delivery to ensure it's processed on time. The price tag? 919€, unless there's a helicopter flying anyway. This option definitely isn't for everyone, but if you want to get away you can't get much further away than the Seychelles.
South Africa
Now you can safari without worry about where to find testing. The Tswalu Reserve, in the Kalahari Desert, can arrange PCR testing at a local clinic with results in less than 72 hours for approximately $55. However, due to the distance from the reserve to major airports in Johannesburg or Cape Town, travelers will need to be very specific about timing their test. If you see a brown hyena or desert black rhino, it might be worth it.
Asian Destinations
Maldives
In a destination where high-end resorts are often on private islands, you'd think the Maldives would be the most difficult destination for pre-departure testing. Nope. Numerous resorts offer on-site testing, including the Waldorf Astoria Maldives and Anantara Veli Maldives Resort. Prices and turnaround times vary, so check directly with the hotel before assuming it will meet your needs.
Bottom Line
There's no doubt that testing requirements are one more thing to think about while planning your trip. However, with some advance planning and a little help from the tourism industry, it might not be as much of a challenge as you expect. Even if you don't currently see a solution on this list, it's worth calling your intended hotel or destination's tourism board: in order to keep the tourism industry alive, they're likely to have the information you need.
More from Forbes Advisor