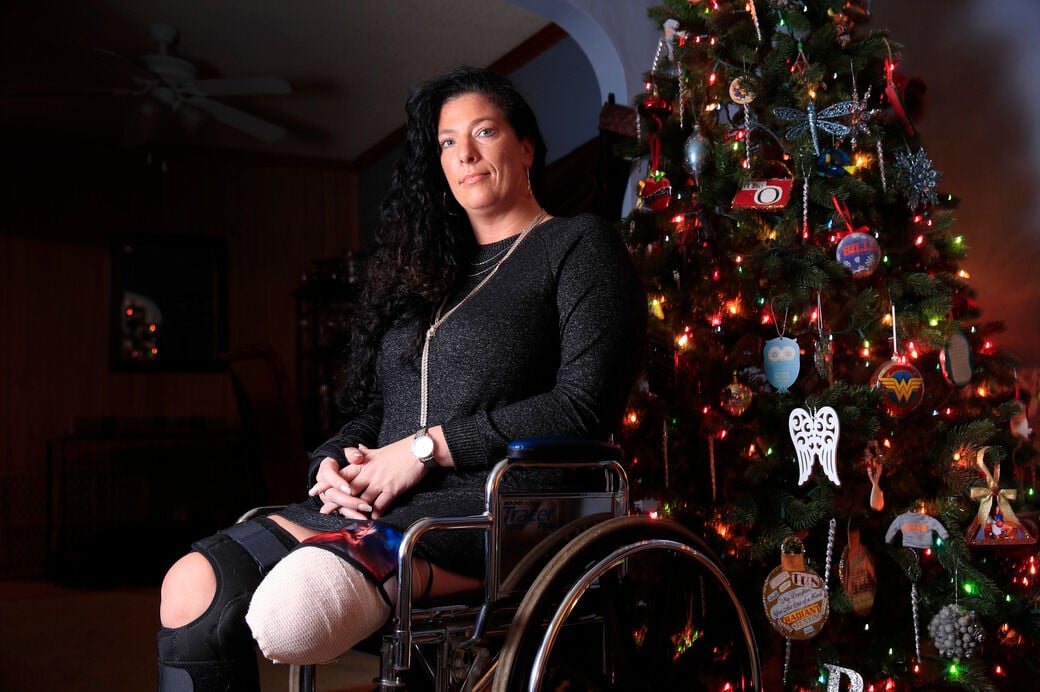 Carrie Owens' favorite holiday has always been Christmas, but she acknowledged it has been tougher to get into the spirit this year.
The Sacred Heart girls basketball coach is less than two months removed from a harrowing motorcycle accident that resulted in her lower left leg being amputated and a broken left femur that required a rod to be inserted, along with multiple other injuries.
Owens, 41, was riding her motorcycle along Walden Avenue in Cheektowaga – about a mile from home – following an errand on a warm day in early November. A truck was coming in the opposite direction. While attempting to turn left onto a side street, the driver apparently didn't see Owens.
Owens was pinned between the truck and her motorcycle, then thrown off the motorcycle. She landed in the street.  
"I remind myself how much worse it could have been," Owens said. "My Christmas list now isn't anything that can be bought. It's time with family and just having relationships, life and love. Intangibles you can't touch, but you can feel."
Those special bonds have grown by one with the link that Owens now shares with a stranger whom she believes was "sent to me by God to be there for me."
Amari Favors, another driver, emerged from her car and raced to Owens' side. She called 911 and comforted Owens while she waited for the ambulance, helping her remain conscious.
"She ran over to me and just held my hand and said, 'You know I'm going to be here with you. I'm not going to leave you,' " Owens said. "Had she not come over when she did and call 911, I might have easily died right where I was laying. … I consider her my guardian angel."
When the two women shared an emotional Christmas reunion this week at Owens' home, Owens started to tear up as she heard Favors' car pull into the driveway. Owens stood using her walker for support, and they huddled in a long embrace, the first time they had seen each other since the accident.
"I could feel the compassion and care she had for me that day," Owens said. 
Favors provided additional details of the accident that Owens forgot. That included Owens' neck slamming against a post but miraculously not breaking.
"I'm glad you're here," Owens told Favors.
"You look gorgeous," Favors responded. "I told you there wasn't anything to worry about."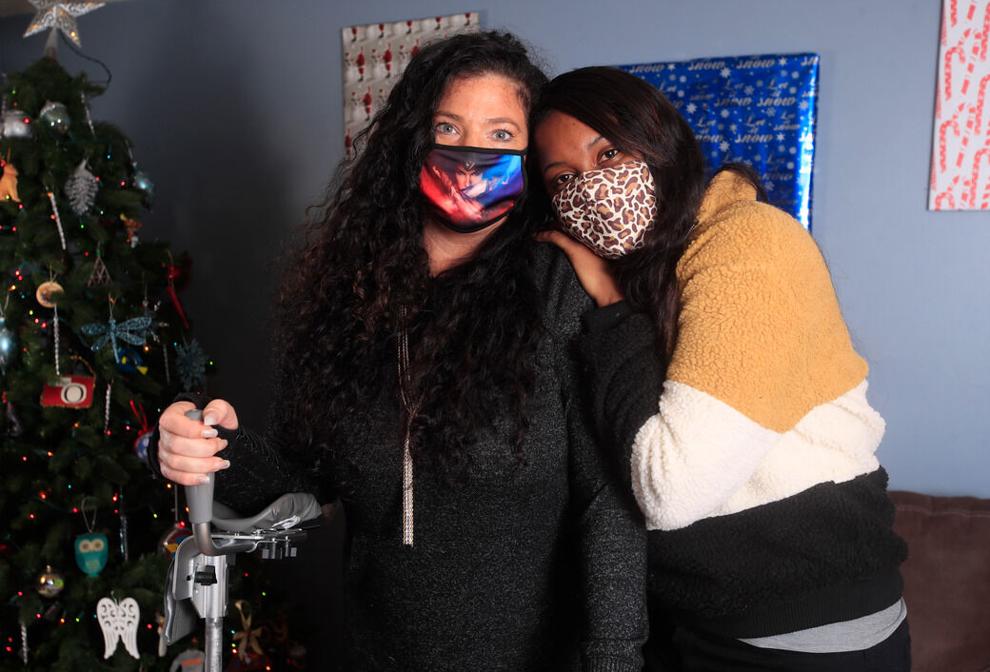 The two exchanged holiday bracelets as gifts. Owens' bracelet for Favors had the perfect charm – a guardian angel.  
An ornament that Owens gave Favors was inscribed "Then hope arrived."
"I'm going to have her forever in my life," Owens said.
Owens has spent years inspiring others to do their best through never being afraid of hard work. A competitor with a refuse-to-lose attitude.  
Owens and those closest to her believe those characteristics will provide the fuel she needs to bounce back from her injuries.
"Yes, I look differently and I'm missing my leg," she said. "But I'm still Carrie, and I'm still who I was before.
"I'm a coach. I teach. I work security. I'm an athlete. I plan to get back to all those things."
Owens will need to have surgery on her right leg to repair a torn meniscus and lateral ligaments – she currently is wearing a knee brace – but those procedures must wait until she's healthy enough to receive a prosthetic limb. She has a deep bone contusion from landing on the street. She has ligament damage in her right wrist. If all goes according to schedule, she should be fully healed and adjusted to daily life with a prosthetic by late August or early September.
The road to recovery is long, but the injuries are better than the alternatives.
"I'm not paralyzed and I'm not dead," Owens said. "I'm just very, very grateful and thankful. God has a reason for me. I feel that he pushes us to the edge of things and difficult times, and it's our job to trust him.
"Hopefully, when I fully recover, I'll be able to get back to doing everything I was doing and more, and possibly do things that I never even dreamed or thought of before and be an inspiration for others that no matter what, you can't quit. As long as you're breathing on Earth, you have a purpose."
Owens' renewed purpose is to be a source of strength for her students, her team and her community, and she remains unwavering in her faith.
Once healthy enough, she will learn how to use a prosthetic limb so she can walk, run and even officiate high school soccer games. Perhaps the future includes some pickup basketball. She recorded 1,000 points and 1,000 rebounds during her playing career at D'Youville College.
For now, Owens is deemed at risk of falling, which is why her mother, Celia, has moved in to help Owens' husband, Reuben, take care of her. Owens is starting to show some signs of regaining some of the independence temporarily taken from her by the accident. She is now able to shower without help. With the assistance of a walker, she can go short distances, including up and down stairs. She is able to climb into her truck and drive nearby.
"I still get nervous with cars just from the accident and remembering what happened to me," Owens said, "But it still feels good to get out on my own."
Laying in the street after the accident, Owens knew she was losing a lot of blood. She glanced down at her leg, and then quickly looked away.
"I saw how severe my injuries were," she said. "I didn't want to go into shock. …
"There were a lot of people just standing around. They weren't helping me so that was frustrating. I just couldn't believe that was happening. If (Favors) hadn't come over, I probably would have bled out. … They had to do blood transfusions (because of the blood loss) when I got to the hospital and it was an immediate amputation surgery. They could not save my leg."
But they did save Owens' life, with Favors providing an assist.
"I'm happy she's OK," Favors said. "I couldn't walk away without knowing she was fine. She said, 'I'm going to lose my leg.' I'm like, 'Don't worry about your leg. You have a whole life to live.' I'm just glad she's still here."
Owens said the driver of the truck received a ticket for a negligent left-hand turn. She also said he was not impaired. She has retained a personal injury lawyer because of the medical expenses she has, and will continue, to incur.
Owens spent nine days in Erie County Medical Center after the accident. While there, Owens learned three others were involved in motorcycle accidents the same day. Two died and the other was paralyzed, recovering two floors up in another room.
She thought of her aunt, Pamela, who had been paralyzed from the chest down in a motorcycle accident.
"I think I could be in her shoes, but I'm not," she said. "Someone is always worse off than you."
Owens' doctor wanted her to move to the rehab facility in ECMC to continue her recovery over a period of three to six weeks. Not surprisingly, the fiery Owens balked. She preferred continuing her recovery at home because rehab at ECMC meant following Covid-19 guidelines, which meant no visitors. She believed being around family would be beneficial to her recovery. She passed three tests, convincing doctors to let her go home.
Owens undergoes physical therapy two days a week before she begins work as a criminal justice teacher at East Community High School. She also receives occupational therapy, is seeing a mental health specialist and has an amputee counselor, who has introduced her to other amputees. Appointments take place in the afternoon after school.
Once the amputation heals, Owens' doctor will insert a cone to help shape the area so that she can get fitted for the prosthetic. There is no timetable for that, according to Owens' physical therapist, Theresa Liffiton.
"It's different for every person," Liffiton said. "They have to have good healings of any fractures in leg, good skin healing. Once any fractures are healed and skin is well-healed, the surgeon will give us the OK (to order a prosthetic)."
It takes three weeks to a month to have a prosthetic made, Liffiton said.
What has boosted Owens' recovery has been the ability to return to teaching. Because the Buffalo Public Schools are operating via remote learning, she resumed teaching Nov. 30, running class from her dining room table.
"A lot of people were shocked and trying to talk me out of it," she said. "I thought it was important for me to get back for my emotional and spiritual and mental state and progress through this journey. I'm not the type of person to sit around and do nothing. … I just needed a purpose again and felt I was a burden sitting around. That's why I wanted to get back to teaching.
"My students are such sweethearts. They were making sure I was OK. They were saying they were glad I'm alive. It brought me joy and brings a smile across my face. It gets me up. It gets me on a schedule. I start class at 8 a.m. and I'm going all the way until 3 o'clock. I like it. It sets the tone for my day."
It makes Owens feel alive.
"It's giving her a sense of normalcy," said Maria McLaughlin, Owens' occupational therapist. "It's keeping her focused, determined and allowing her to do something she loves. ... She will be an excellent role model for other people who may be going through something similar in their life."
The local basketball community is a tight circle, and not surprisingly, folks were shocked and saddened when they first learned of Owens' accident. That includes former Sacred Heart star and past All-Western New York first-team pick Siobhan Ryan, who is now a freshman at Richmond. She helped the Sharks win the state Catholic Class A title in 2018 during Owens' first season.
"My heart broke for her because I know of everything she loves to do," said Ryan, who played three seasons for Owens. "She's one of the toughest people I've ever met. She'll persevere and get through this."
The response has been overwhelming.
Owens' friend, Emily Fitch, started a Gofundme page that has raised $18,775, with the money to be used to offset her medical expenses.
A Sacred Heart player and her mother, whom Owens didn't want to name, have volunteered to help with housekeeping. All the players on the team check on her and provide encouragement. Sometimes their words are recycled from inspirational phrases Owens used in practice to motivate them.
The Sisters of St. Francis, who run Sacred Heart Academy, made a generous donation that enabled Owens to have a wheelchair ramp constructed at her home.
"It's amazing. Our school community has been wonderful," Sacred Heart Athletic Director Barb Rooney said. "I know the sisters donated money. ... The girls on our team have visited her and gave her gifts. The school has helped them with meals. I know other athletes reached out for her address to send her something. It's been really great to see everyone come out to support her and her husband."
"It's been an overwhelming amount of support, which we're thankful for," Reuben Owens said. "It's been unbelievable."
The aid includes huge assists from longtime family friends and fellow basketball coaches Mark, Chris and Garrett Kensy. Reuben Owens is part of Chris Kensy's coaching staff at Amherst High School, serving as junior varsity coach.
Owens coached Chris Kensy in college at Fredonia and later served as an assistant at Maryvale under Chris' father, Mark. Carrie and Reuben have spent Thanksgiving with the family.
Mark Kensy learned how to construct wheelchair ramps years ago with his friend, Tom Goddard, the former Clarence football coach. Once he learned of the accident and realized Owens would need a ramp, he went to Goddard, who drew up the plans. Mark Kensy, with his sons, and Reuben and friend Chris Kayne constructed it. Carrie's cousins Clayton Rice and Justin Stevens made sure the floors in Owens' home were even to make it easier to get around with the walker.
You do what you got to do for family.
"What we did was very easy," Mark Kensy said. "It had to be done."
Owens is determined to resume the activities she was doing before the accident, which likely means she will need different prosthetic limbs for various situations. She also is willing to try new things to remain active.
"My brother mentioned sending me to a retreat out in Colorado, it's just for amputees where you go hiking and canoeing with your prosthetic," she said. "I really want to be aggressive."  
She's keeping the possibility open for an early return to coaching, pending the rate of Covid-19 infection in Western New York. If state officials deem it safe to allow a short winter season for high-risk sports such as basketball, she promised her Sacred Heart players she would be there.
"I will be back on that sideline," she said. "I told my girls they have nothing to worry about. If we start in January, I'm going to be there. If I have to coach in my wheelchair, I'm going to coach in my wheelchair. ... I look forward to walking one day again on the sideline and lifting another league trophy or state trophy along with my girls and my team."
Mostly, she's determined to remain positive and succeed in her recovery.
That includes keeping the faith, especially during her bad days.
"That's when you dig deep into my experience with being an athlete and a coach and my Christian background," Owens said. "I know that I'm not alone in this fight. I have a whole army behind me.
"What happened to me is not a tragedy, but a blessing that will help me in discovering my true purpose."