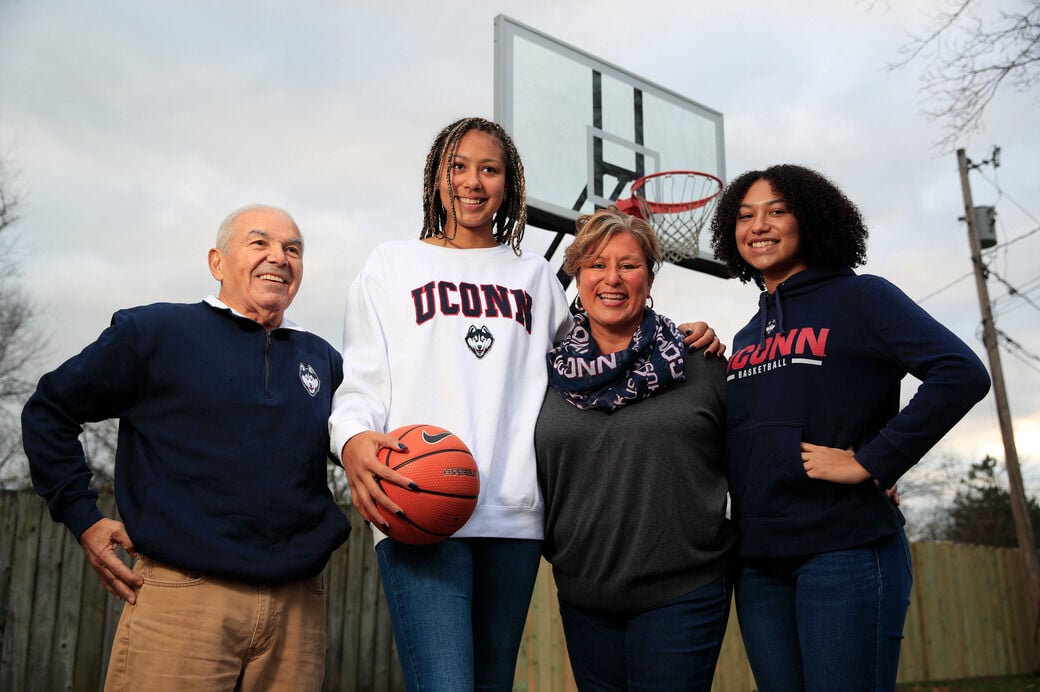 It's rare when a talent from the Buffalo area heads to a Division I school in a major conference and almost unheard of when it's one of the top college programs in the history of women's basketball.
With that in mind, of course, Williamsville South planned a special ceremony honoring Amari DeBerry, who made it official and signed her letter of intent back on Nov. 11 to attend the University of Connecticut. But the recent change from yellow to orange zone designation in Erie County due to an increase in Covid-19 cases resulted in the school being required to postpone the signing event slated for last Friday until a date to be determined. That of course is also pandemic pending.
The pause on the celebration doesn't change the fact DeBerry's signing is huge as she's believed to be the first Western New Yorker to sign with a program with the pedigree of UConn.
The 6-foot-5 DeBerry is ranked as the No. 15 talent by ESPN among incoming recruits, No. 3 for her position. She has helped Williamsville South win five of its current run of seven straight split-bracket Section VI titles, and last year's overall Class A championship when she averaged 21.0 points, 10.2 rebounds, 4.8 blocks and 3.6 assists.
DeBerry also played for a top-flight AAU team in the Philadelphia Belles and represented Team USA in 2019 in the FIBA Americas Under-16 Championships, helping the Americans win gold.
While the area does produce Division I talents, including 6-2 City Honors senior Kyra Wood who signed with Temple last week, UConn is another stratosphere. The Huskies are an 11-time national champion – their last coming in 2016.
Greater Buffalo Sports Hall of Famers Yvette Angel (Sacred Heart) and Dorothy Jones (McKinley) are perhaps the top prospects to come out of the area during the 1980s, with Angel going to Ohio State and Jones to Louisville. Kris Hanson (Pioneer) played at Oklahoma (1989-90) and Texlin Quinney (Sacred Heart) went to Seton Hall back when the Big East was in its heyday.
"I do think with Amari it is exciting for Williamville South, Section VI and all of Western New York that we have this young woman heading off to this prestigious basketball program," South girls basketball coach Kristin Dolan said. "She's very appreciative of the opportunities she's had along the way."
When asked who the signing was bigger for, the humble DeBerry said her mom, older sister and former high school teammate (Naomi), coach Dolan and South assistant Mike DeValle.
"There's definitely that standard I have to live up to and play to," DeBerry said. "I take that pressure and just turn it into what I play on the court and do what I do."
DeBerry has some gear from UConn already, including a T-shirt for her cat named Yukon (by a previous owner after Yukon Cornelius of "Rudolph the Red-Nosed Reindeer" fame).
South Athletic Director Adam Erickson said the school will sponsor a ceremony when it can. The plan included DeBerry gifting her Team USA jersey so that the school could put it on display in the foyer outside the entrance to the gym along with guest speakers and plenty of photo opportunities to commemorate the occasion.
DeBerry verbally committed to UConn last November prior to the start of her junior year. Huskies coaches kept tabs on her, making a couple of game-day appearances with head coach Geno Auriemma showing up for her last contest March 11, South's win over Hamburg in the overall Class A final.
Though she's disappointed the pandemic thwarted the Billies' potential run at a state title last winter and could potentially keep them off the court this season, DeBerry considers herself fortunate to be in a position where she could pick her college because there are others who likely won't be as lucky considering Covid-19's impact on high school sports.
High-risk sports like basketball have been delayed to Jan. 4, 2021, at the earliest. Low and moderate risk sports were supposed to start Nov. 30 but have been delayed until Dec. 14.
"I definitely want to be able to play my last season with my team at South but it's out of my control," DeBerry said. "I'm lucky to have my college decision made because if I didn't it would've been an important season to get a college offer.
"I'm just really lucky I was able to become part of UConn. I'm just super excited and ready to start."