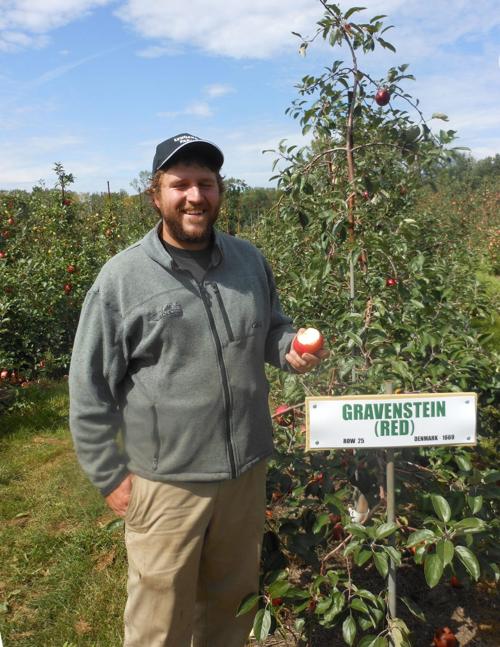 It all started with a sticker seen on a guitar case during a flight to New York from California. The sticker announced "Save the Gravenstein." What's a Gravenstein? A law firm, a fine wine, an endangered species?
When asking Chris Oakes, orchard manager at LynOaken Farms at 10609 Ridge Road in Medina, he amusingly said, "That has to be someone from California." Oakes explained the origins and current disregard for the once-popular, early-maturing apple-tree species during a visit to the five-acre U-pick area of the family's apple growing farm in Medina.
Chris, at 27, is a fourth-generation apple grower. His Dad, 63-year-old Darrel Oakes, also manages the Medina farm, an offshoot of the 80-acre family farm in Lyndonville that will celebrate 100 years of production in 2019.
A walk around the U-pick area with Chris and Darrel this past week provided a kind of history lesson in how things got started, developed and exists today.
The U-Pick area opened to the public for the first harvest collection this past Labor Day weekend. The rows of plantings took seven years to develop and signs identify the strain, origins and date of first production for more than 350 kinds of heritage and popular, modern-day apple varieties.
"It took a lot of work," Chris said of the rows of heritage stock, usually planted with just a sample tree supported with a metal pole.
The more popular red delicious, gala, Macintosh, honeycrisp, honeygold and other varieties are planted in long rows at the farther end of the planting rows.
Land owners interested in growing food plots for wildlife know the damage factor involved in planting fruit trees around deer, raccoons, rabbits and other tree-munching critters.
"Once the trees, even these dwarf trees, reach age three we don't have problems with deer," Chris explained as we walked between tree samples that go way back in history.
It also helps to have so much stock planted that deer do not have time to decimate the crop.
Chris noted that each generation of his family has planted apple trees closer in each row. "My great-grandfather planted standard trees that were 30 to 40 feet apart, my grandfather planted trees 18 feet apart, dad set these trees at six feet and I'm now working on 50 acres of stock planted three feet apart in rows 12 feet wide."
The heritage varieties hearken back to as early as an Italian tree developed in about 450 AD. Darrel pointed to a white winter pearmain that began in England in 1200. Through recent decades, the red delicious has been a store and farmers market favorite, but the Hawkeye, developed in 1872 was the origin of this variety.
The honeycrisp name is now challenging red delicious as a leading apple name. "Red delicious is picked before it's ripe for commercial sales; it's really good when left to ripen on the tree," Chris explained.
Honeycrisp could face serious competition from a Minnesota strain named sweet tango, a cross between a honeycrisp and zester, a crisp-textured fruit that develops more size and sweetness. This tree stock is not yet available at tree nurseries.
For now, a visit to LynOaken farms, for picking and a stroll down apple-history lanes along the sand and gravely soils along Ridge Road in Medina, could besimply delicious – and save a few gravensteins.