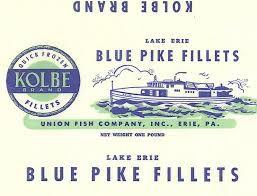 "At one time earlier in the 20th century, the blue pike was the most important fish for recreational and commercial fishermen in all of Lake Erie," said Don Einhouse, Lake Erie unit leader for the state's Department of Environmental Conservation. "In its heyday, night fishing was so popular that it looked like a small city on the water. My father and uncle fished for them."
According to Einhouse, biologists pinpoint 1958 as when the collapse of the fishery occurred. By the 1960s, the blue pike population all but disappeared. The blue pike, considered a subspecies of the walleye, was officially declared extinct in 1975 – the same year that concerned agencies formed a blue pike recovery team. The popular fish was doomed.
"It was a mystery as to why a fishery that had been so dominant in our waters to virtually disappear overnight," reflected Einhouse. "Lake Erie was going through some extreme environmental changes at the time. In the 1960s, Lake Erie was declared a dead lake. Excessive productivity caused oxygen depletion in the ecosystem."
Pollution was being dumped into the system unchecked. At the same time, there were very few controls on recreational angling. In fact, more than a few times stories were told of boat-loads of fish being caught. Seemingly every restaurant in Western New York listed blue pike on their menus. There were other factors that ultimately added to the demise of the blue pike, too.
"The introduction of smelt into Lake Michigan may have also contributed to the problem as well," Einhouse said. Smelt carry an enzyme that affects natural reproduction in some fish and that could have happened with blue pike.
Dieter Busch, former director with the U.S. Fish and Wildlife Service's Lower Great Lakes Fisheries Office in the 1990s, recognized the importance of blue pike and felt that there was still a chance for recovery. He had heard that some blue pike maybe have been transported to lakes in Canada or around the Northeast with the hopes that they would take hold and attract fishermen much the same way they did in Western New York. It was time to reach out to the sport fishing community and ask for their help. By 2000, the office had received numerous contacts about "blue pike suspects" and potential water bodies holding these prized fish. However, that was also when the money dried up and they could no longer fund its research.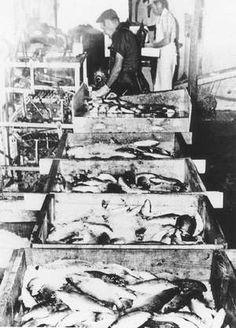 According to Busch when he was reaching out to the angling fraternity, there were three points that he used to help identify "suspects":
The typical blue pike was 1-1/2 to 3 pounds. If you had a fish that was 5 pounds or better, it was a walleye.
Check the eyes. The blue pike's eye is larger than the walleye's.
When you pick up the second dorsal fin of a fresh fish, it should not have any yellow spots on it.
Betsy Trometer, fish biologist with the Fish and Wildlife Service, remembered the outreach to the angling community. "Back then we had some historic and suspected 'blue pike' genetically tested and compared to walleye by Tim King with U.S. Geological Survey.  His report found no significant difference between the two subspecies.  I did keep a record of recent sightings of 'blue walleye,' but discontinued back in 2000.  Many were from Canadian lakes. The thought was that there may have been some transferring of blue pike historically, but we have no documentation of that."
Could there have been some movement of the popular blue pike to inland water bodies? While it makes sense, nothing could be confirmed. Anecdotal reports came in from anglers fishing in Ontario,  Quebec, New York and Minnesota. There were even some reports from Pennsylvania. In nearly every case, it was probably a blue color phase of the walleye. I have caught them myself in northern Quebec and have seen lower Niagara River fish with a blue hue to them. However, many of those fish were over 5 pounds and didn't fit the criteria set forth by Busch.
"We never encountered any documented history of blue pike in other waters either," Einhouse said. "Lake Erie today is very different from the waters in the 1940s and earlier. Commercial harvest was more than a million pounds some years. However, when the additional stress on the system started to occur, the harvest would drop down one year and recover the next. In the end, it was a recruitment failure from all of the stresses on the population."
"When you factor in that there were no limits on numbers of fish being caught between four states and two countries, it was good justification to get everyone working together to share information and establish harvest limits for all fish species so that something like this doesn't happen again."
Is the blue pike gone forever? The odds are in favor of that absolute. However, until the discoveries of the coelacanth off the shores of Africa in the Indian Ocean proved the continued existence of that "extinct" species, the same thing had been said for that particular fish. Time will tell. In the meantime, memories live on for the "blues" in the minds of an aging fishing community. Gone, but not forgotten … yet.