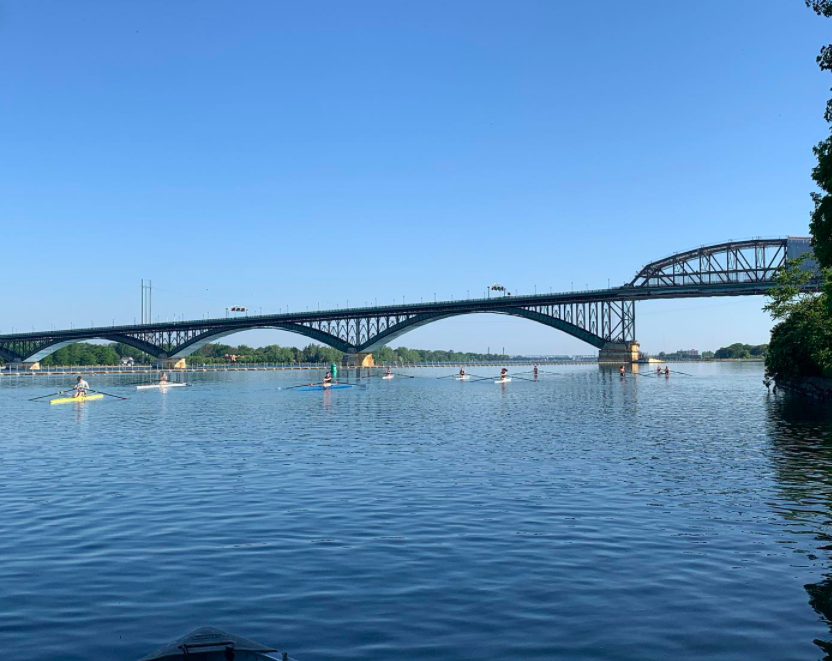 Separated from their crew and landbound to ergometers for the spring and early summer due to the coronavirus pandemic, some members of the West Side Rowing Club have eagerly returned to the Black Rock Channel.
The club welcomed 78 of its experienced scholastic rowers back for a month-long sculling camp as part of phase four in New York State's reopening plan. 
But in order to maintain social distancing requirements, this summer's program will be unlike any in the club's 108-year history.
Typically training and racing in boats with four or eight oars and a coxswain, West Side members currently can only row in single shells, or doubles if they live in the same household. 
"It's pretty much impossible to stay six feet away in a four or eight boat," said Ian Suchan, director of community outreach and administration for WSRC. 
Sessions are limited to six to eight rowers and three coaches, spaced throughout the week in two-hour shifts. Half of the group trains on Mondays, Wednesdays and Fridays, the other on Tuesdays, Thursdays and Saturdays.
Additional measures to prevent transmission of Covid-19 include keeping both of the club's boathouses closed. Shells and oars are stored outside in slings and sanitized after each session.
Some adult rowers are able to bring their own sculling shells to use at the club, but overall participation is less than a third of what it would be in a normal summer. 
"Usually we have 300 people or more rowing every summer. Now we have about 100," said Aileen McNamara, a board trustee and former president of WSRC.
"The summer is the pinnacle of the rowing season for us because the kids from different schools get to come row together, and the competition level is the highest that it will be all year. From our masters rowers down to the crew camp, it's a really vibrant place with many people down there every day."
West Side's 107th Invitational Regatta that was scheduled for Saturday has been canceled. Last year's event drew close to 1,000 rowers in 160 boats, including a crew from Newfoundland that made the three-day trip to compete. The club also canceled its 36th Charles Fontana All-High Regatta scheduled for Memorial Day. 
For those able to participate in the sculling camp, however, a limited program is better than not being able to row at all.
"They were so excited to be back on the water," said McNamara, a West Sider since 1979 who also coaches Nardin Academy's varsity team. "The kids didn't get to row during the school season and to be able to get back down there and interact with some of their friends, you could see that it was a relief for everybody."
Maddy Eberhard, a recent Sacred Heart Academy graduate, planned to participate in the U.S. para-rowing team trials in April in Sarasota, Fla., before the 2020 Summer Paralympics were postponed to next year. The pandemic has prevented Eberhard from training with her mixed doubles partner, Issac French, of the Saratoga Rowing Association.
Eberhard said she plans to get back on the water this month at West Side, but is unsure when she can resume training with her doubles partner. Last fall, the pair trained together every weekend, alternating between Buffalo and Saratoga.
Being forced to focus on sculling this summer should benefit rowers when they are able to compete in larger boats again, said Mike Cute, head coach and director of rowing for WSRC.
"You learn a lot more being out in a single," Cute said. "It's very much a self-teaching boat. Everything that happens is because of you. When you are one of eight or four in a boat, there are a lot of different things happening, and it's harder to fine tune individually."
Restrictions on group activity also has interrupted a WSRC initiative to introduce the sport to youths in Buffalo's underserved communities.
Over the past three summers, the club has partnered with the Buffalo Public Schools, the Willie Hutch Jones Educational & Sports Program and the Boys and Girls Clubs of WNY to offer access and transportation to summer crew camps for more than 200 participants.
"It's been a wonderful partnership," said Jones, the former NBA player and Greater Buffalo Sports Hall of Fame member. 
"Crew is a sport that is not common in the African American communities," said Jones, whose daughter Aaliyah learned to row at the crew camps. "We've realized that it's a great cross-training sport for our athletes who play basketball, football or baseball. And we've tried to let the children and parents know that there is more availability for a college scholarship in crew than in those other sports."
More than 70 middle-school aged children from the John F. Beecher Boys and Girls Club participated in crew camps over the past two summers, according to sports and recreation program director Joe Scarsella.
"Our members wouldn't get this chance to learn about rowing if not for this program," Scarsella said.
WSRC received a $25,000 grant last year from the Ralph C. Wilson, Jr. Legacy Fund for Youth Sports to support the program.
In a letter posted on the WSRC website last month, Club President Kirk Dorn announced that WSRC has secured another $300,000 to expand the program over the next three years. The funds will be directed toward retaining participants in the crew camp beyond the summer program and partnering with additional community organizations.
"We are dedicated to evolving the demographic of West Side to emulate the Western New York community," Dorn wrote. "We are committed to learning from others in order to educate ourselves to better serve the community."
The letter did not indicate who will provide WSRC with the additional funding. Suchan said the club is not ready to disclose that information.
Bridget Niland oversees the the Ralph C. Wilson, Jr. Legacy Fund for Youth Sports as part of her role as director of youth sports initiatives for the Community Foundation of Greater Buffalo and Project Play WNY. She could not confirm whether WSRC has been awarded additional grant money from the organization, but said the entities plan to continue working together.
"West Side, through their learn to row camp, has been a strong partner of the Wilson Fund for Youth Sports," Niland said. "It is a multi-year partnership to grow the sport of rowing in underserved communities."
Concerned about COVID-19?
Sign up now to get the most recent coronavirus headlines and other important local and national news sent to your email inbox daily.