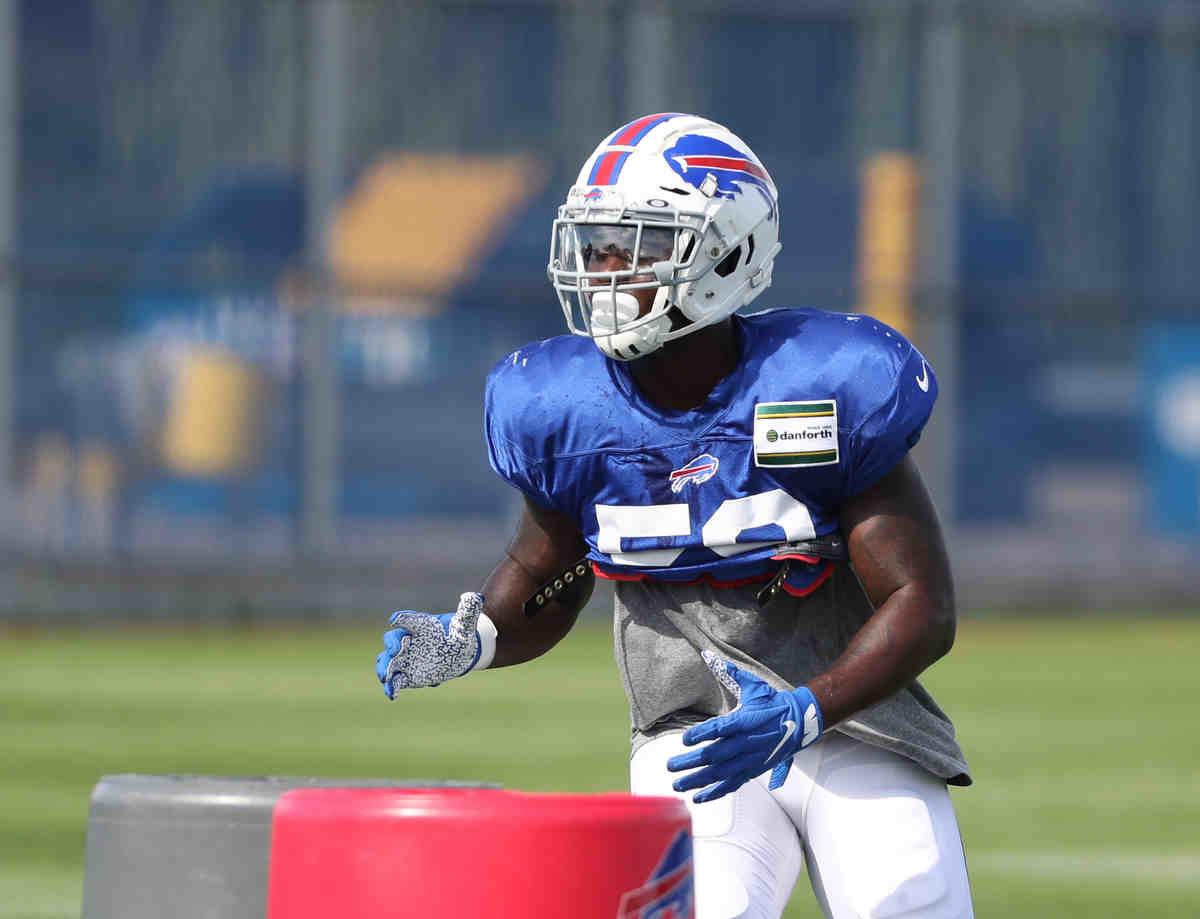 There aren't many unknowns on the Buffalo Bills' roster.
The team's starting lineup is basically set on both sides of the ball, and expectations are fairly clear for most of the team's young players. The one exception to that, however, is Vosean Joseph.
The second-year linebacker has yet to make his regular-season debut, having missed his rookie season because of a shoulder injury that landed him on injured reserve. Given that, there is a level of intrigue about what the 2019 fifth-round draft pick can provide. That's shared not just by the team's fans, but also the coaching staff.
"We have high hopes for Vosean," defensive coordinator Leslie Frazier said. "We drafted him with this in mind, that his first year would kind of a be a redshirt-type year and it turned out to be that way because of his injury."
Joseph is a Miami native who attended the University of Florida. He bypassed his final season of college eligibility to turn pro in 2019 after finishing with 161 tackles, four sacks, one interception and two fumble recoveries in 37 games with the Gators. A 6-foot-1, 230-pounder, Joseph's athleticism was a big selling point coming out of college. A hamstring injury suffered during the pre-draft process prevented Joseph from running the 40-yard dash, but NFL Network analyst Daniel Jeremiah touted Joseph's "excellent athleticism and outstanding closing burst" in his scouting report.
With reserve jobs behind Tremaine Edmunds, Matt Milano and A.J. Klein at linebacker readily available, Joseph will have a big opportunity in front of him when training camp starts July 28.
"We really wanted to have him to go through everything this offseason, so he'd be ready for the season," Frazier said. "Well, now you take out the offseason program, other than Zoom, and he has to come in and maybe be that fourth linebacker for us and help us at special teams, also. We'll see how it plays out. Hopefully, he'll come in and do everything that we expect him to do."
If Joseph is able to make an impact in his second season, it raises an interesting question for the Bills. Milano is scheduled to become an unrestricted free agent after the 2020 season and is line for a huge pay raise. At some point, the Bills will need to make some difficult decisions on which players they are going to re-sign. Left tackle Dion Dawkins is also entering the final year of his deal, and cornerback Tre'Davious White has two years left. The Bills likely aren't going to be able to pay everyone – especially if third-year quarterback Josh Allen takes the step forward the franchise is hoping he will.
With that in mind, there is a lot at stake for Joseph in both the short and long term.