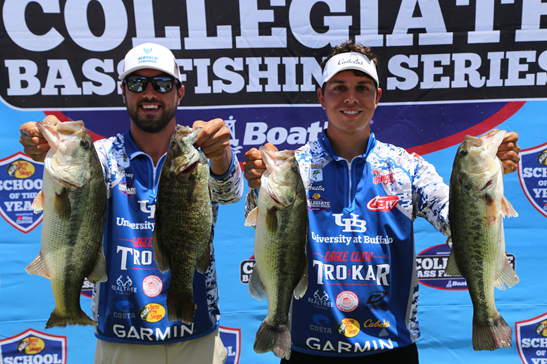 The University at Buffalo's Fishing Club recently received some national recognition when members Austin Ocwieja of Webster and Anthony DeGregorio of Queensbury teamed up to place fifth overall in the BoatUS Collegiate Bass Fishing Championship presented by Bass Pro Shops on Pickwick Lake and Wilson Lake in Tennessee and Alabama.
However, it was not an accomplishment that just happened overnight, and a core group of individuals helped to make that all happen since the club was first formed.
"When I started school at UB, I knew a lot of other schools had fishing programs," said Ocwieja, as avid bass fisherman at the time. "The school itself already had something like 160 other clubs and I wanted to pioneer a fishing group. With UB being such a great community and knowing how good the fishing was in the Western New York area, it was a natural."
In the spring of 2016, Ocwieja worked with some others who belonged to different clubs to get things going. By the fall, it finally hit the water and the school recognized them as a new club.
"We had to prove to the Student Association that it was a viable activity worthy as a club," said the mechanical engineering major who also earned a master's degree in Business Administration. "We have about 100 members in the club now, including about 20-25 members on the bass tournament squad. We've grown quite a bit in the last 4 years for being entirely self-funded.
"Some of the schools we compete against offer full scholarships to fishing team members. Some teams have full-time coaches who oversee their program. It's really been great for the school to compete against some of the top teams in the country."
This year's top 5 finish showed that the school could compete on the national fishing stage. Call it fate or chance, there was a series of events that took place that enabled the team to fish so high in the rankings – including the occurrence of the pandemic.
"It was spring break and our plan was to fish Kentucky Lake for an FLW tournament," said DeGregorio."The day before we were supposed to leave, the school canceled all funding. We decided to make the trip anyway using our own funds. We had about a dozen club members with 4 boats heading down and the tournament was canceled last minute because of Covid.
"We decided to head over to Pickwick and Wilson lakes, part of the Tennessee Valley Authority impoundments that are connected to each other and where the national collegiate fishing tournament was going to be held."
It really made a difference for them.
"This was the fourth time that I have fished in the nationals," reflected Ocwieja. "I'm familiar with the waters. Last year I placed 25th fishing with Andy Wengenger, who I grew up with back home. That is when I became familiar with the tailwaters of the Wheeler Dam on Wilson Lake, the only place we fished this year.
"We were the only boat fishing at the dam, and it took us the first day to figure it out. We caught mostly a mixed bag of fish in addition to the bass for the tournament, weighing in 14.49 pounds of bass. The second day was when we dialed in our program, using bigger craw-style plastic baits to target bigger fish. It was an exciting time for us for a couple of hours, at a time when everyone else struggled in the tournament. We weighed in 18.51 pounds of bass and it was enough for us to improve on our 24th place standing going into the final day."
The angling duo weighed in a 2-day total of 33 pounds of bass to place fifth overall out of more than 200 boats in the national tournament – finishing less than 3 pounds out of first place won by Bryan College with 35.99 pounds of bass. It is the highest finish ever for UB.
It did not end there for Ocwieja. He teamed up with Jessica Wilson of Niagara Falls (the current club secretary) to fish a FLW bass tournament on Smith Mountain Lake in Virginia on the way home. They placed in the Top 10 (tied for 10th place) and ending up qualifying for FLW's national championship.
Even though Ocwieja has now graduated, he can continue to compete for another 6 months based on collegiate rules – just in case an angler qualifies for a bigger event.
The UB Fishing Club is not just for bass fishermen either.
"Probably a quarter of our members are into fly fishing," said DeGregorio, the current president of the club. "Another quarter is just interested in learning more about fishing in a general sense. It's a great way to travel and meet new friends along the way."
There are other offerings, too, such ice fishing and fly tying.
If you want to get involved with the bass fishing, though, and you do not own a boat, the group uses a point system to determine who can fish as a co-angler. If you come to a meeting, you can earn a point.
You can earn more points by working a concession stand at one of the UB football games, one of the ways that the club helps to fund the program. If you work a fund raiser or help to run an event, you can earn even more points.
One of the big money-makers for the club is sponsoring a Fly Fishing Film Tour that often travels the country, sponsored by Trout Unlimited and other companies. Unfortunately, the tour was canceled this year due to Covid-19. For more information on when it might show up in our area, check out www.flyfilmtour.com.
What happens at UB this year is still up in the air. Tournaments are also a question mark. When we do see a bit more normalcy, we hope the UB Fishing Club will continue to make a name for itself in the fishing world, thanks to some dedicated anglers who want to share their passion with others.