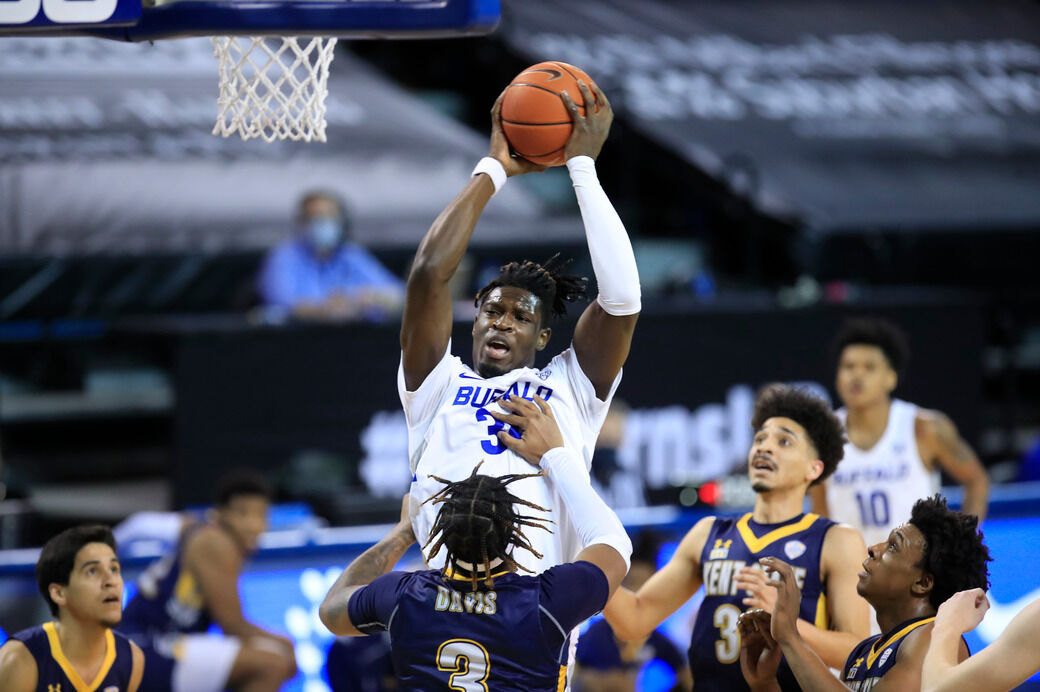 Josh Mballa will test the NBA Draft waters.
Mballa, a 6-foot-7 forward on the University at Buffalo men's basketball team, announced Wednesday that he will declare for the NBA Draft while maintaining his college eligibility.
"For years my dream has been to play in the NBA, and it is time for me to turn those dreams into reality," Mballa wrote in a post on his social media accounts. "With that being said, I will be declaring for the 2021 NBA Draft, while retaining my collegiate eligibility.
"I want to thank my family, my kameet basketball family and my coaches for guiding me through this process. Coming from France, I had big goals, and I feel that I am now closer than I've ever been to achieving those goals."
Mballa, a junior from Bordeaux, France, averaged 15.3 points and 10.8 rebounds, including 6.5 defensive rebounds, in 34 games for the Bulls in 2020-21. He was 10th in the nation in rebounds per game, and helped the Bulls finish second in the nation in offensive rebounds per game (14.8) and ninth in the nation in defensive rebounds per game (28.96). UB led the nation in rebounds per game (43.76).
The University at Buffalo men's basketball team will get some additional height and depth inside for the 2021-22 season.
Mballa transferred to UB from Texas Tech prior to the 2019-20 season. He was named the Mid-American Conference defensive player of the year, he was an All-MAC second team selection and was named to the MAC All-Defensive team this season.
College players can declare for the NBA draft without forfeiting their future college eligibility if they do not hire an agent. College players must also withdraw their name from draft consideration by July 19 in order to maintain their college eligibility.
The NBA Draft combine is scheduled for June 21-27.
Last year, UB guard Jayvon Graves also entered his name into consideration for the NBA Draft, but did not hire an agent. He ultimately withdrew from NBA Draft consideration and returned to UB for his final season with the Bulls in 2020-21.
NBA teams select 60 players in the two-round NBA Draft. Mballa was not projected in mock drafts on NBADraft.net or ESPN on Wednesday evening.
If Mballa decides to pursue a professional career and leave UB, the Bulls would still have plenty of inside height, but wouldn't have the same seasoned presence on the boards. The Bulls will return forwards Jeenathan Williams, David Skogman, Laquill Hardnett and Brock Bertram, and will bring in incoming freshman Kuluel Mading, who is 6-foot-9, but of those four returnees, only Williams averaged more than six rebounds per game last season.