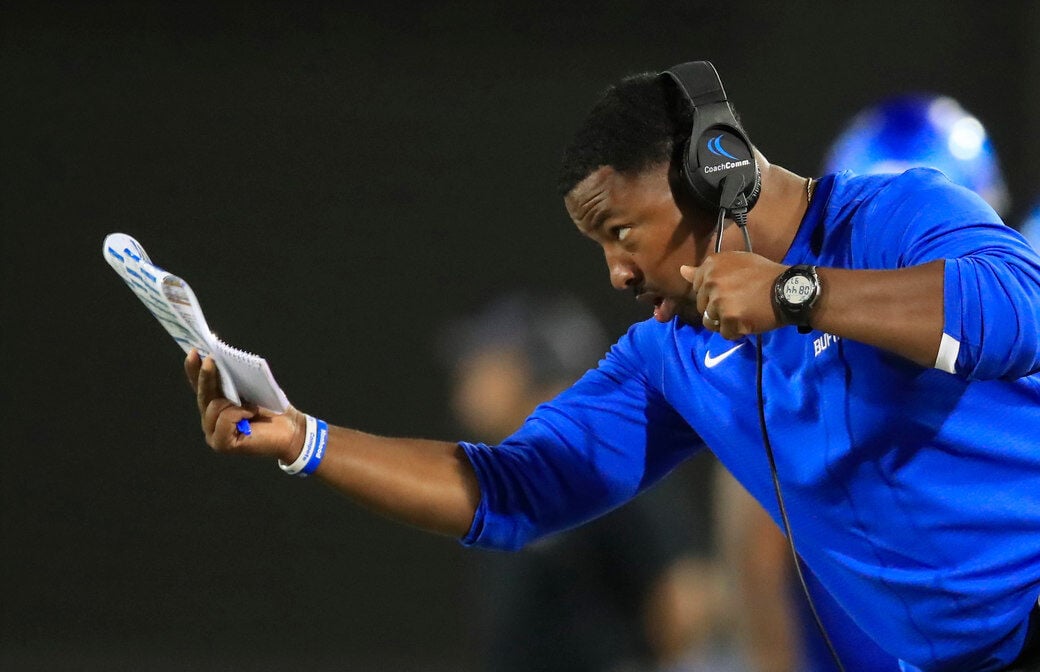 The University at Buffalo football team found itself at a crossroads around this time two years ago. The Bulls were 0-2 in Mid-American Conference games and in last place in the MAC East Division, and their chances for qualifying for a bowl game were questionable.
UB quarterback Kyle Vantrease made the goal clear for his team, which had only two wins after a 21-20 overtime loss against Ohio in October 2019: Win out, and perform at a maximum level for the final six regular-season games.
The attempt to close out a victory Saturday night at Kent State fell short, after taking a lead in the final minute of the third quarter, and UB has now lost four of its last five games.
This year's team is in a similar predicament. The Bulls (2-4, 0-2 MAC) are winless in conference play and are tied for last in the MAC East with Bowling Green. The Bulls host Ohio (1-5, 1-1) at noon Saturday at UB Stadium, and UB needs a win to breathe life back into its hopes of reaching bowl eligibility.
"That is a goal, oh my gosh, yes," Vantrease said Tuesday of the Bulls pursuing bowl eligibility. "But the goal is to go 1-0, every week. And then the long-term goals will come with them. To do that, you have to focus on the little things, because how you do the little things is how you get the big things."
The Bulls have earned bowl bids in the last three seasons, but like in 2019, the Bulls need to win four of their final six games to reach the six-win threshold. UB's wins are against Wagner, which is a Football Championship Subdivision program, and Old Dominion.
The key for the Bulls, particularly as they move closer to the MACtion part of their schedule – mid-week, high-scoring games that are highlighted by wacky plays – is to continue first-half consistency into the second half.
The more wins, the better, too. UB did not earn a bowl bid after it won six games in 2017, but seven wins would make the Bulls a lock for a bowl bid, as it did in 2019 when UB earned a berth in the Bahamas Bowl.  
UB coach Maurice Linguist said Tuesday during his weekly news conference at Murchie Family Fieldhouse that he'd had a conversation with Vantrease earlier in the day about the 2019 season. That perspective from 2019 could lend itself to the second half of UB's 2021 season. 
"It's the way you see things, based on your past experiences," Linguist said. "When you go through certain experiences, you can grow through them, you can gain confidence for things in the future because of what you've been through. I think the connection and the experiences our players have had in the locker room and the success they've individually had and the feeling we know we have something special here together, it creates something really good."
But, it's halfway through the season and the Bulls are still trying to negotiate their identity. Linguist describes it as individual players who can make plays, but who need to be knotted together to create a cohesive unit.
Consistency, intensity and resiliency, Vantrease said, will be key for the Bulls as they pursue bowl eligibility in the second half of the season.
Saturday at UB Stadium, the Bulls and Broncos were long on plays – a combined 133 between the two teams – but combined for only seven scores in Western Michigan's 24-17 win.
"We have the culture we've installed, and that coaches instill in us, and that's having a dominating mindset and doing everything at a high level," Vantrease said. "But right now, we're going through a lot of adversity. The last two years we were very successful. We're going through things we haven't gone through in a couple years. The identity of this team needs to be resilient, and be relentless with the resiliency and finish out the rest of the season, and our goals will come."
Linguist outlined what it will take for the Bulls to earn a bowl bid, especially after UB was unable to maintain a four-point lead going into the fourth quarter of a 48-38 loss Saturday at Kent State, whether it was due to defensive lapses or missed field goals.
He also returned to the goal he outlined Saturday: Finish games.
"We're playing extremely hard and with a ton of conviction," Linguist said. "You don't come back from 21 points down (against Kent State) and take a lead in the second half without there being some grit and some toughness to you, and a lot of resolve. Right now, we've got to finish and close things out. That's the next step for us. I believe we have the ability to do it."