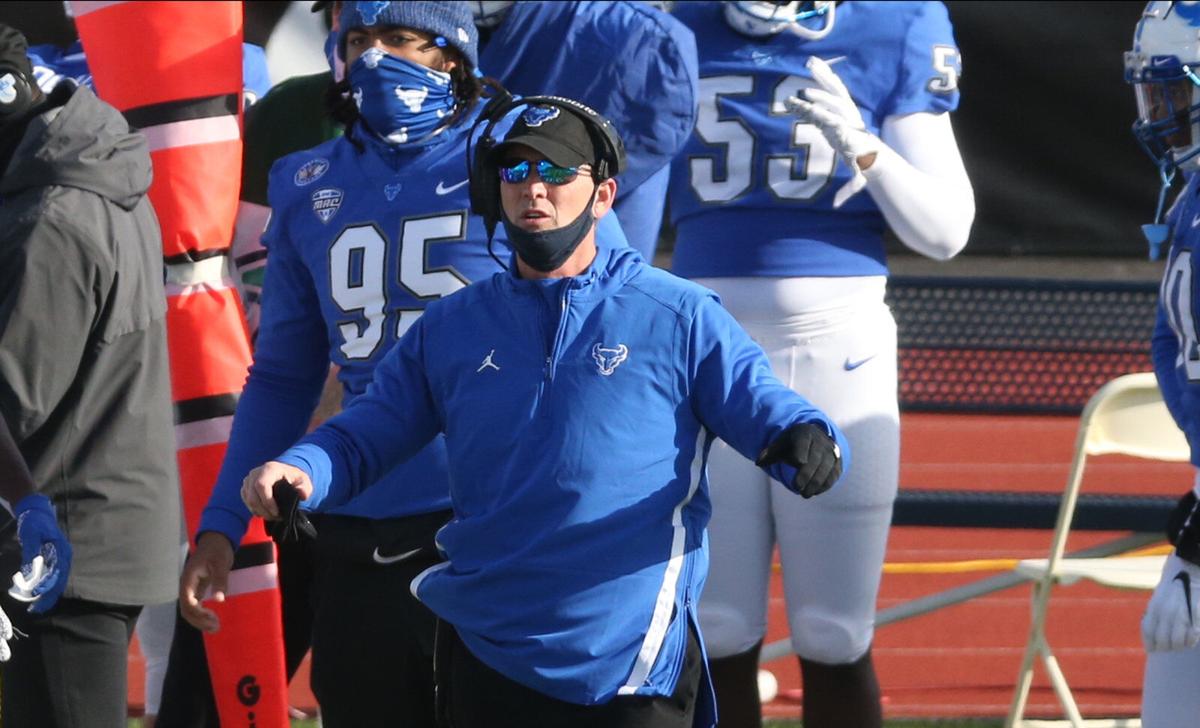 Lance Leipold's tenure as coach of the University of Kansas football team began Friday, when the school announced his hire. Meanwhile, at the University at Buffalo, Athletic Director Mark Alnutt already had a template in place to begin the process of hiring a new football coach.
Not just any football coach, but one who can continue the success that Leipold constructed in six seasons at the helm of the Bulls.
"We're still in position to be an outstanding program," Alnutt said. "Not just this year but in future years to come. The foundation's been more than laid here, and we'll move forward. We've begun a national search and we're going to cast a very wide net as we move forward."
Kansas announced its hire of Leipold, after two sources initially confirmed the hire to The News Friday morning. Leipold replaces Les Miles, who coached for two seasons at Kansas. Kansas is expected to formally introduce Leipold as its head coach Monday morning.
Leipold finished 37-33 in six seasons as coach of the Bulls. UB won the 2018 and 2020 Mid-American Conference East Division titles and was bowl-eligible for the last four seasons. 
Leipold did not return a phone call to The News, but said in a statement released by Kansas that coaching the Jayhawks was "an exciting and humbling opportunity."
"This is a day I will never forget," Leipold said in the statement. "We are going to build this program through developing players, discipline and determination. The philosophies engrained in our programs along the way will be key as we turn this around. This is a program that has a lot of young talent on the roster and has the infrastructure in place to succeed. The best days for this program are ahead, and my family and I are ecstatic to be a part of it. I am ready to get to work and give everything I have to the Jayhawks. Rock Chalk Jayhawk!"
Alnutt told reporters on a video conference Friday that Leipold informed him of his decision to take the job at Kansas earlier in the day.
"I could hear it in his voice, that he was going to inform me of him resigning from this position, to become the next head coach at the University of Kansas," Alnutt said. "I was aware this was a definite possibility."
Alnutt confirmed that Rob Ianello is UB's interim head coach. Ianello is UB's associate head coach and recruiting coordinator, and coaches tight ends.
However, Alnutt forecast a timeline of between seven and 14 days to hire a new coach to replace Leipold, who built the Bulls into one of the MAC's top-tier football programs. Alnutt said he has formulated a short list of candidates, and said UB will use a search firm in assisting the hiring process; UB used Parker Executive Search in 2019, when it hired Jim Whitesell as its men's basketball coach after Nate Oats left for Alabama.
"We're not going to rush this just to rush this, but in the same token, for me, there's an urgency because the semester is coming to an end," Alnutt said. "A lot of student-athletes are heading home and home is a place that's all over the country. I want to be in position to hopefully secure a head coach prior to them going home after finals.
"We realistically believe we can accomplish that goal."
Alnutt also wants to find what he calls "the best fit" for the vacancy. In that category: someone who is a proven winner, who has integrity on and off the field, who understands the dynamics of being a college athlete, and someone who understands UB's culture and the challenges it faces.
"But, more importantly, someone that can embrace the opportunity that's here," Alnutt said.
Alnutt, however, would not comment on potential departures from UB's assistant coaches and coordinators to join Leipold's staff at Kansas.
Leipold's departure comes a little more than four months after he led the Bulls to the MAC Championship Game and to a win in the Camellia Bowl. It also comes less than two months after Kansas decided to "mutually part ways" with Miles on March 8. Miles was initially placed on administrative leave March 5, stemming from a report that detailed accusations Miles had sexually harassed female students who worked in the LSU athletic department, while he was coach of the Tigers from 2005 to 2016.
Kansas ramped up its coaching search in the last three weeks, after Travis Goff was hired April 7 as its athletic director to replace Jeff Long, who had hired Miles. One of Goff's first charges was to replace Miles, and Leipold is Goff's first major coaching hire at Kansas.
"We conducted an extensive national search that was guided by feedback from many constituents and this opportunity garnered interest from outstanding coaches across the country," Goff said in a statement. "We have an obligation to providing a world-class experience for our student-athletes and that remained at the forefront throughout the search. Additionally, we owe our fans, donors and alumni a football program that will be built for sustained success. I am confident that is what we will provide under the leadership of Coach Leipold."
Leipold was part of a pool of finalists that reportedly included Army's Jeff Monken, Louisiana Tech's Skip Holtz and Texas A&M defensive coordinator Mike Elko.
Leipold was also a finalist for the head coaching opening at Illinois in December. Illinois hired Bret Bielema to replace Lovie Smith, who was fired after five seasons.
Much like his arrival at UB, Leipold will be faced with a challenge to build a program. Kansas has not had a winning season since an 8-5 campaign in 2008 and went 3-18 in two seasons under Miles. 
Leipold's accomplishments at UB
Leipold replaced Jeff Quinn as UB's head coach in December 2014, after Leipold led Division III Wisconsin Whitewater to six Division III national championships. He was named the Division III national coach of the year six times and reached 100 career wins faster than any football coach in NCAA history at any level.
However, Leipold took over a program that had five losing seasons in the previous six, and the Bulls struggled in his first two seasons, including a 2-10 finish in 2016.
"People talk about winning and losing, but there was no way I expected to come here and we were just going to, all the sudden, snap our fingers and things happen," Leipold told the News in 2018. "It's humbling, sure, but it was a test. We wanted to take this test. I knew it'd be bumpy. I didn't know how much and how long."
The Bulls were not selected for a bowl game in 2017 after finishing 6-6, but played in the Dollar General Bowl in 2018 and won the Bahamas Bowl in 2019 and the Camellia Bowl in December.
The Bulls also earned the program's first national ranking in school history, finishing at No. 25 in the final Associated Press Top 25 poll.
Leipold also was coach during a facilities expansion that saw UB construct the $18 million Murchie Family Fieldhouse, a 92,000-square-foot venue that opened in August 2019 and allowed the football team and other UB programs to practice indoors along with a locker room renovation last fall. Both projects were privately funded through donations. 
"The impact that you had on me and my brothers on and off the field can be seen a mile away," running back Kevin Marks tweeted in a lengthy statement. "We will miss you. Kansas, not only have a great coach but a father figure as well. Congrats coach."
"Took us from worst to first!! Congrats @CoachLeipold," former UB defensive star Khalil Hodge tweeted. 
"Sad for the UB family, but happy for @CoachLeipold and his family. Thanks for a great run, coach. #GoBulls," former UB quarterback Joe Licata tweeted. 
"Kansas, you are getting a WINNER! Congratulations Coach. Sad for us, but happy for you. Blessings to you and your family," women's basketball coach Felisha Legette-Jack wrote on Twitter.
Leipold and Kansas agreed to a six-year contract, according to a release from the Kansas athletic department. Financial terms were not disclosed, either by Kansas or by UB.
"I knew that he was going to be a highly sought-after candidate, and I was very supportive of him wanting to explore this opportunity," Alnutt said. "Even until yesterday, knowing that this might be upon us, but also in the same token, we might have had a chance to be able to retain Lance. But when he shared with me what they were offering him, to be the next head coach at Kansas, you have to look at his family, whatever staff is going to go with them, their family, and what a difference of what that can do for somebody. I don't fault him for that."
Leipold signed a contract extension on Jan. 1, 2020, that would have kept him at UB through Dec. 31, 2024.
According to Leipold's contract, obtained by The News through a Freedom of Information Law request, Leipold earned an annual base salary of $474,300 and annual additional compensation of $150,000. 
The buyout clause in Leipold's contract states that if he terminates the contract between Jan. 1 and Dec. 30, 2021, UB would be owed $600,000.
Leipold should be in line for a significant salary increase in the Big 12. According to USA Today salary databases, Miles had an annual salary of $3.3 million, while David Beaty, whom Miles replaced in 2018, had an annual salary of $1.6 million.
Leipold is the second UB football coach to head to Kansas to take the same job. Turner Gill coached the Bulls for four seasons, from 2006-09; the former Nebraska quarterback became the Jayhawks' head coach in December 2009.
What happens with incoming recruits?
Leipold's departure also comes two weeks after the conclusion of the spring practice, and as UB prepares to ramp up its recruiting efforts for its incoming 2022 freshman class. The NCAA's recruiting dead period is scheduled to expire June 1.
Sixteen players signed National Letters of Intent to join the Bulls as freshmen in 2021, and several told the News they plan to join the Bulls in the fall, regardless of the change at head coach.
Alnutt said Friday that UB will grant recruits who signed with the Bulls releases from their NLIs, but he also plans to address UB's recruits this weekend.
"My conversation with them on Sunday evening, when we have it, is that I hope they would wait until a new coach is in place so they know the direction of this program, and then make an informed decision," Alnutt said. "Don't rush the decision because the head coach left. My message to them: trust this search process, see how it shakes out, have an opportunity to meet with the head coach and if you feel UB is not the right fit, we will grant the releases."