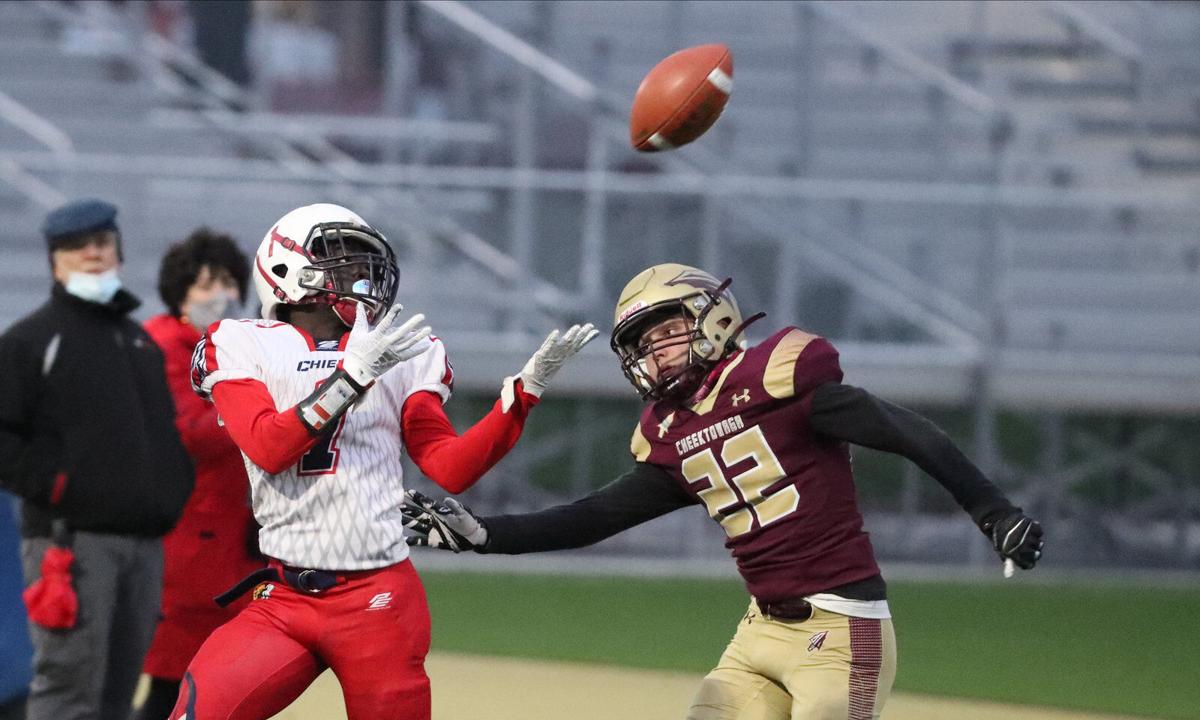 The Covid-19 pandemic altered a lot of plans for a lot of high school football teams in Western New York.
But while the pandemic initially appeared to displace the Iroquois football team more than a year ago, it didn't derail much of its plans.
The Iroquois Chiefs beat the Ceektowaga Warriors 31-0 in Friday night football action at Cheektowaga High School on April 16, 2021.
The Chiefs installed plays through team meetings on video conferences and hosted online workouts. They even added some levity to their virtual training sessions during the year they couldn't play football. Sometimes there were online Madden NFL video game tournaments, or bracket-based tournaments in which the Chiefs voted for their top plays from the 2019 season.
Iroquois eyed a payout for all of the time and creativity they had invested in preparing for a season – which finally came this spring – and the Chiefs got one in a 31-0 win Friday at Cheektowaga.
"This was validation," said Iroquois coach Robert Pitzonka, whose team began the week in a three-way tie for eighth in the News' small-schools poll. "To come out here and see the guys come out and get this kind of win for the program, it's validating, it's huge.
Michael DePasquale, 18, has figured out how to do daily and not-so-everyday tasks some might take for granted, even though he was born without a left forearm and hand.
"The adversity that not just us, but everybody in Western New York has faced, it's been incredible to see these kids overcome and play this sport, on such short notice."
Tyler Barry scored a pair of touchdowns and quarterback Trey Kleitz threw for 241 yards and four touchdowns for the Chiefs (2-0). After the win, Kleitz, a junior, thought back to more than two years ago, when the Chiefs hosted Cheektowaga and were simply outmanned in a lopsided loss to the Warriors.
"They beat us 39-0 at our place, so we came in and said, 'This is our game to win, this is their field,' and this is a special group of guys," Kleitz said. "We were just ready to roll."
The fact that Iroquois was only playing its second game didn't prove to be a hindrance, either. Five days after it defeated West Seneca East 12-0, Iroquois found its rhythm early against the Warriors (1-1).
"We've been doing this the whole summer, and we were ready for it," Kleitz said. "We worked on the offense, the defense in the offseason, you name it, we did it. We knew what they were going to do offensively, so our defense bore down, studied film, and we got ready for it."
Kenmore West was playing football, not dodgeball, at balmy Max D. Lederer Field.
Iroquois scored a pair of touchdowns in the first seven minutes at Cheektowaga – a 47-yard catch by Barry and a 13-yard run by Blake Nolan – to take a 12-0 lead.
Then, Barry scored his second touchdown, a 7-yard catch on fourth down with 2:40 left in the first quarter, and 17 seconds into the second, Johnathan Bool's 44-yard touchdown catch from Kleitz (13-for-22 passing, one interception) made it 25-0 Iroquois.
Four minutes later, Cheektowaga's Marquan Paige intercepted Kleitz off a pass deflected by the Warriors' defense and returned it to the Iroquois 24, but the Warriors were unable to create much offense on the possession. The Warriors, though, kept the Chiefs from opening their lead any wider in the first half, stopping Iroquois on a goal-line stand as time expired in the first half.
Noah Kedge's 30-yard touchdown catch less than four minutes into the second half opened Iroquois' lead to 31-0, but while the Chiefs' first half was crisp, they looked a little more mortal in the second half. Iroquois had trouble managing much of a ground game, took seven penalties for 49 yards and lost a fumble to the Warriors. However, Iroquois was still able to maintain the shutout.
In a few short hours, the Flames and West Seneca East Trojans went from not having anyone to play as of Friday afternoon on opening weekend to battling each other at Williamsville East on Saturday afternoon.
"Consistency is going to be the key, going forward," Pitzonka said. "Our goal, when Covid struck, was to be the team that made the greatest improvement. We know we're not the biggest, the strongest or the fastest, and maybe not the smartest, but we want to have the greatest gains. And tomorrow, we're in the film room, and we're back to 0-0."
With Saturday's scheduled game between Western New York Maritime/Health Sciences canceled, each team will play early next week. Maritime visits St. Francis on Monday at 7. Cheektowaga plays Burgard at 6 p.m. Tuesday at Riverside Field.