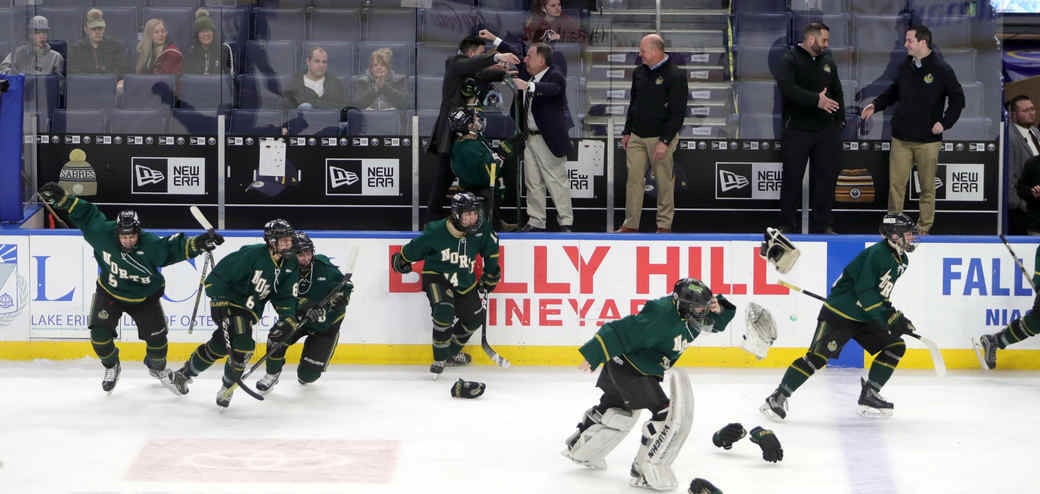 Just as a Buffalo area law firm was planning to file a petition on behalf of those wanting the state to reclassify seven high-risk sports so that competitions could resume, the New York State Department of Health announced Friday that those sports will be allowed to return Feb. 1.
That did not deter HoganWillig Attorneys at Law from filing a lawsuit with the purpose of getting high-risk sports basketball, ice hockey, football, wrestling, boys lacrosse, volleyball and competitive cheerleading reclassified as moderate-risk sports. The filing, on behalf of the Western New York Amateur Hockey League, along with the state amateur hockey association and area hockey rinks, came an hour after the state's announcement. 
Though that potential legal battle is yet to play out, local scholastic coaches and players were equally stunned and thrilled that their dark winter season could come back to life, pending approval from area health officials.
The winter scholastic season for low- and moderate-risk sports – bowling, swimming, skiing and rifle – began Jan. 4 for most Catholic/private schools and Monday for public schools in Section VI. The high-risk sports had been in limbo, awaiting word from the state.
That changed Friday as that announcement came shortly after HoganWillig live-streamed a press conference from its Amherst office detailing its plans for filing petitions against the governor, state Department of Health and Empire State Development Corporation.
"I'm excited," reigning Allen Wilson Buffalo News Boys Basketball Player of the Year JaVaughn Jones of Health Sciences said. "It came out of nowhere. I didn't think there would be a season."
"I was ecstatic," Lancaster senior and three-sport star Jason Mansell said. "Obviously, we've been hoping for a long time. We've just been working out and grinding by ourselves because we couldn't do it as a team. For this to come out randomly … to get one last season in with the guys for basketball, football and baseball is huge. All the guys who were missing it are fired up and ready to go. In December and January, it didn't look too good. We're super blessed with this opportunity." 
According to guidelines released by health officials, participants in high-risk sports and recreation activities may partake in individual or distanced group training and organized no- or low-contact group training and may partake in games and tournaments only as permitted by their respective local health departments.
As part of the guidance, the state said local health authorities should consider the following factors in authorizing or continuing to prohibit higher-risk sports. Those factors are:
– Whether there has been a more-transmissible variant of Covid-19 identified in the area.
– Local rates of Covid-19 transmission or rate of positivity.
– Local ability to monitor and enforce compliance.
Traveling for practices or competitions outside a school's region remains prohibited.
Travel for practice or play to, or from, any area within New York that has been designated as a "red" or "orange zone" may only be permitted following consultation with respective health officials.
The New York State Public High School Athletic Association said it plans to release updated return to play documents Monday for winter sports and for Fall Season II, which impacts football, volleyball and competitive cheerleading. 
"We are extremely thankful to Governor Cuomo and the New York State Department of Health for providing authorization for all sports to begin," NYSPHSAA Executive Director Robert Zayas said in a statement. "I am thrilled our association's member schools will be able to provide over two hundred thousand students with valuable and beneficial participation experiences.  Today is certainly a great day for the students of New York State." 
Last week, state legislators announced they were going to propose legislation compelling the state to allow all winter high school sports. Pressure ramped up from others either filing or preparing to sue the state. 
"It's a good day for us," said Larry Jones, the longtime Section VI boys basketball chairman and Depew coach. "I know there have been lawsuits from other sections and parent groups. I don't know if it is a direct correlation, but now we're just waiting to find out what protocols and what restrictions we'll be under." 
Among those preparing to file suits was HoganWillig. The firm plans to file its other petition on behalf of Safe Return to Play Athletes on Monday, which includes more than 100 high school athletes, their fans and coaches impacted by not being allowed to play.
In a statement, the state health department said the basis for the lawsuits no longer applied because of the revised state guidance. 
'While we don't comment on pending litigation, DOH's updated sports and recreation guidance essentially makes these claims moot," spokeswomen Erin Silk said in an email.
HoganWillig used data provided by the state as a way to convince a judge to order a preliminary injunction to lift the ban on dining in restaurants last week. Last month, HoganWillig did the same for hair salons that had been ordered to close when the state changed Erie County's Covid-19 designation from a yellow zone to an orange zone due to a rise in cases. 
The firm intends to use a similar approach with youth sports.
"We believe there's no evidence that shows viral transmission as a result of hockey being played," HoganWillig Director of Media Relations and Case Manager James Minner said. "There's youth hockey being played throughout all areas of the country. New York State is the last state in the country prohibiting hockey. There doesn't seem to be any issue with them playing (elsewhere), so why shut it down here."
For now, high school sports coaches and parents such as Dave Mansell, who is involved in the suit, are relieved their children will have a chance to compete again.
"Returning to sports will provide kids hours of structure and meaningful social interaction each day under the guidance of well-trained and certified professionals," said Mansell, a teacher and assistant football coach at Lancaster. "The kids are excited beyond words."