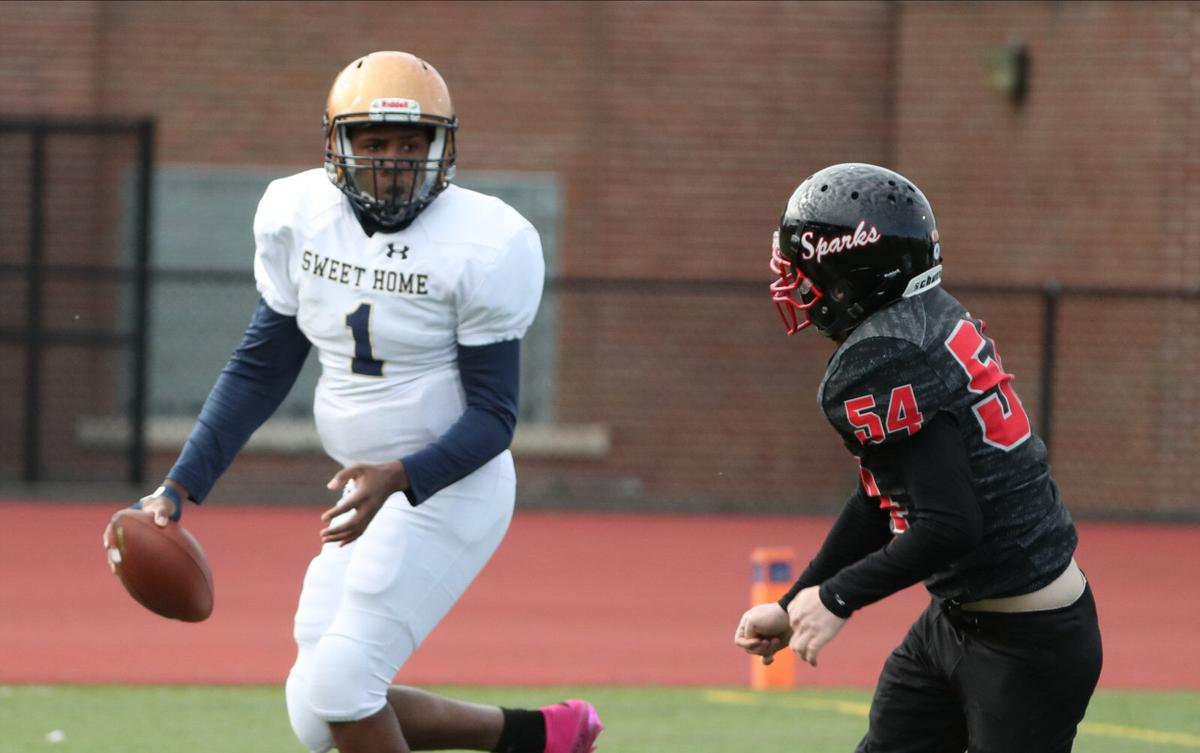 In the biggest game of the year, current and future leaders of the South Park football team came together and delivered a performance one would expect from a reigning champion with its back against the wall.
The result left the Sparks giddy with anticipation, and Sweet Home frustrated.
In a Class A-2 division game in which the winner secured a playoff berth, South Park's line dominated both sides of the line of scrimmage during a 54-0 victory over the Panthers on Saturday night at All High Stadium.
Last year's Connolly Cup finalists and seniors Keith Jackson and Marqwan Fluitt led a Sparks defense that posted its first shutout of the season. They weren't the only South Park defenders to make an impact before a friends and family gathering of 80.
Sophomores Demarie Johnson and Saiquan Bland combined for 15 tackles and three forced fumbles. Junior Antonio Halton had eight tackles and two sacks for the Sparks, who clinched their sixth division championship in eight seasons.
South Park will be a No. 1 seed and likely face second-seeded Grand Island in a Section VI Class A semifinal later this week. The other side of the bracket has A1 champion Jamestown hosting A2's Williamsville South.
The playoff seeds will be unveiled Sunday by Section VI.
Getting in as a division champion ...
"That's always the first goal," South Park coach Tim Delaney said. "The next is to get to a sectional championship game.
"I think overall we played with great energy and we played our first full 48-minute game today. Our seniors, the guys we lean on in Jackson and Fluitt, they really came to the plate and stepped up on both sides of the ball and did the things we expect our seniors to do here on Senior Day."
In order to secure Class A2's No. 1 seed, South Park needed to beat Sweet Home by at least 20 points. A win by less than 20 and the Sparks would have been a No. 2 seed on the road in the semifinals.
They left some points on the board in the first half (they came up empty three times inside Sweet Home's 25) before methodically pulling away.
Jackson and junior tailback Parrell Fulgham each scored three touchdowns, Fluitt and Isiah Kelley also scored for the Sparks (4-0). Jackson rushed 16 times for 131 yards and had nine tackles and a sack. Fulgham had 121 yards on seven carries and made six tackles.
Jackson got the Sparks on the board just 3:41 in on a 13-yard touchdown run. He also ran in the conversion to make it 8-0. Fulgham scored on a 31-yard run left to make it 14-0. Jackson scored later in the second quarter on a nifty juke to get away from a couple defenders and power his way into the end zone to make it 20-0.
The Sparks' defense gave senior quarterback Tyrelle Laws little room to move, and administered a series of punishing hits.
South Park also hit a few home run plays in the second half to further discourage its foe.
Fulgham ran the Sparks' first offensive play of the third quarter, 50 yards. He also had a 40-yarder with under two minutes left in the period – one of two TDs in that span for South Park.
"Our up-front guys just played great," Delaney said. "I can't stress enough how well our defensive line played and our sophomore linebackers had their  eyes on the prize."
Sweet Home began last week 3-0 and in the running for the division title. The Panthers lost a thriller to Williamsville South on Tuesday night at home, a game in which the Billies outscored them 24-6 after the teams went into a lightning delay late in the second quarter tied 28-28.