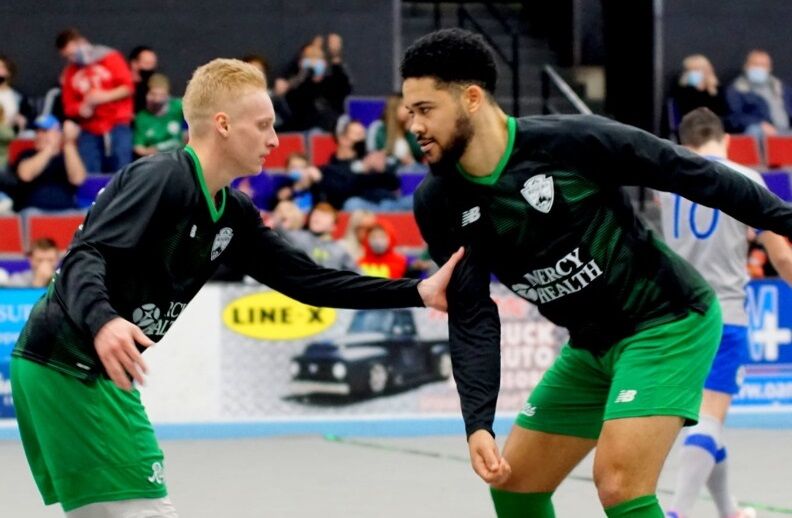 William Banahene, Robert Williamson and Colin O'Keefe didn't want the professional indoor soccer season to be a waste, and when their respective Major Arena Soccer League teams decided not to compete this spring due to Covid-19 risks, the threat of a lost season of development loomed.
For Banahene, avoiding that fate meant cold-calling MASL teams that might need a goalkeeper – and being turned down repeatedly. For Williamson, that meant temporarily moving to a place of which he'd never heard. For O'Keefe, that meant beginning his indoor journey about 500 miles from where he anticipated.
All three, however, share a common Buffalo State College soccer bond, a spoken and unspoken connection forged by a "chip on their shoulders" mentality, in Banahene's words. That bond – coupled with their hunger to play – berthed an unexpected soccer situation, one found only during a pandemic.
All of Banahene's calls to the seven MASL teams participating in the truncated indoor season ran into dead ends. One coach suggested waiting for an injury to occur, but Banahene's reaction was thoughtful: "I didn't want to look at games hoping someone would go down," he said.
Banahene, who was about to his enter his third pro indoor season in Harrisburg, learned that M2 – MASL's affiliated, semi-professional developmental league – had a makeshift season planned among teams farther east, and upon reaching out to the Muskegon Risers – at 2 a.m. on Instagram, remembers Banahene – learned a few hours later that the fledgling M2 club would welcome him on a loan with open arms.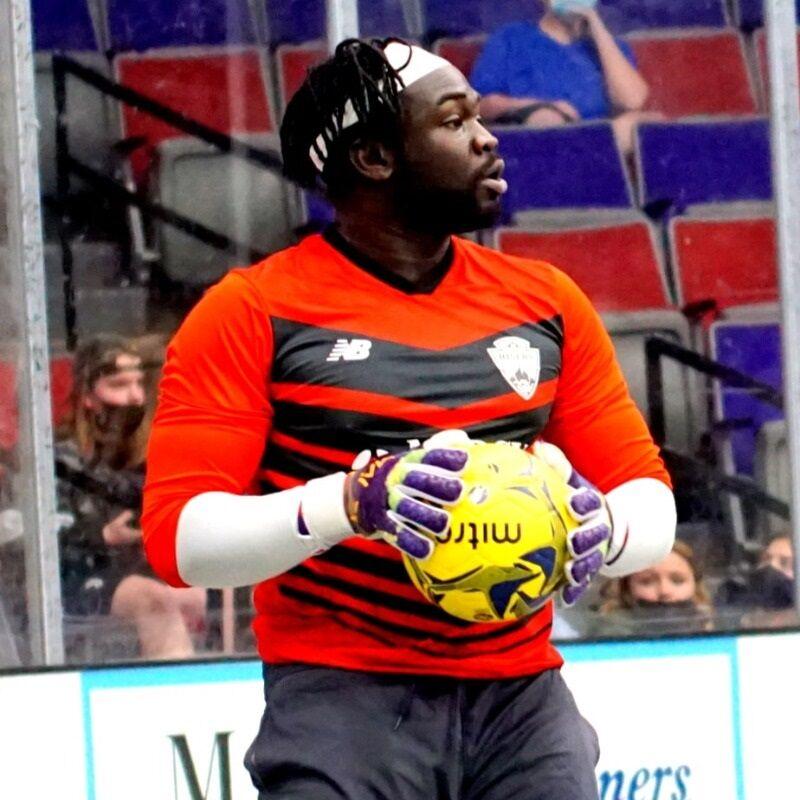 The goalkeeper, who began his college career at Niagara before starting his final two years at Buffalo State, had reservations about going alone to Muskegon, so he recommended Williamson, his college roommate, to Risers coach Ben Ritsema and president Matt Schmitt. While Williamson was an easy sell on Muskegon's brass because he'd merited signing with Harrisburg, finding room for O'Keefe – who had been training with the Rochester Lancers of the MASL until their shutdown – was more of a challenge given the FC Buffalo fullback's lack of indoor history or firm affiliation. Plus, Banahene had never seen O'Keefe play.
But knowing the Buffalo State mentality, Banahene felt comfortable vouching for O'Keefe. "Even though we're at a D-3 school, Buffalo State guys can get it done at major levels," said Banahene before referencing Luke Pavone, another Bengal who dealt with many setbacks in his journey to a professional career with Richmond of USL 1. When Muskegon's staff wavered on O'Keefe, the goalkeeper said, "That's the kid, he'll run through a wall."
Taking Banahene at his word, Muskegon accepted the trio to the club for spring, supplying them with a house to share and a stipend ahead of a three-game Great Lakes Invitational campaign, which – while not a full M2 season – was the best they could manage together.
"There was an expectation for us to make an impact," said Banahene.
Risers GK William Owusu Banahene aka "Willie B" shares his thoughts on Muskegon, Mercy Health Arena being in his Top 5, and MKG's opponent (@CRUNCHTime_CLE) next Saturday night! MUSIC by Risers legend Odd Ity pic.twitter.com/eIQ7BWSKEp

— Muskegon Risers (@MuskegonRisers) March 27, 2021
Muskegon is in western Michigan, where Lake Muskegon connects to the much-larger Lake Michigan. With Muskegon County holding about 175,000 people – roughly the same population as Clarence and Amherst combined – the area is small enough where a semi-pro indoor soccer team is relevant.
"If you'd told me a year ago I'd be playing in Muskegon, I'd say, 'What is going on?!'" Banahene reflected last month.
Williamson was even less familiar with the port city. "I didn't know where it was, but it's kind of nice. I like the vibe and people here – they're very friendly ... It's right on the water with nice beaches; it's something I didn't really expect." 
The biggest draw for the trio was regular access to their home stadium, Mercy Health Arena, a 3,000-seat venue renovated with indoor soccer in mind. Unlike when the Buffalo Blizzard played in the cavernous, roughly 17,000-seat Marine Midland Arena, Mercy Health better accommodated a small crowd of energized soccer fans.
When Harrisburg would be training almost daily as a full professional indoor side, many of Muskegon's players worked other jobs, so training was two or three times each week throughout the spring. Even with Banahene managing his youth club back in Rochester, this schedule still allowed for significant downtime, which meant trips to the beach and the golf course, where Banahene served as instructor for O'Keefe and Williamson.
The three former Bengals didn't shirk their soccer responsibilities, however, training on their own at the arena, gathering to watch MASL games at night and generally learning from Banahene, who's had the most exposure to the indoor game and the most time with Harrisburg coach and general manager Pat Healey, an MASL star in Baltimore for a decade preceding his move to coaching.
"It's a sanctuary where we're all soccer right now," Banahene explained.
The challenges were more mental for Williamson and O'Keefe, who were learning the intricacies of the 6-vs.-6 indoor game on a boarded field – which more heavily relies on specific sets and plays than outdoor soccer – and then passing along the info to their Muskegon teammates.
Making the most of matches
With just three games on the schedule, there was little time for Muskegon to grow together on the field in game situations. That meant leadership had to come from somewhere, and the outspoken Banahene – referred to often as "Willie B" – was happy to fill that void. Thanks to Williamson's presence, however, Banahene's energy – which can bubble over at times – was better channeled to the rest of the Risers.
"Robby understands me – I'm a really intense guy," Banahene said. "It's beneficial for me for him to relay that information [to our teammates]."
Banahene has been impressed by Williamson's maturation as a player and a person from when they were last college teammates in 2016. "It's funny to see – it's much different," Banahene said. Much of that growth Williamson attributes to the coaching he received at Buffalo State, from Mark Howlett and Francesco Cardillo.
O'Keefe, the player Muskegon was most reluctant to bring on, has been the most pleasant surprise, scoring twice in each game and earning the admiration of fans for his frenetic work rate. Williamson, named the Risers' player of the week earlier in April, has been an asset through his composure on the ball and vision, collecting three assists in the opening win. Banahene's excellence between the pipes was vital in the win over Fort Wayne, and he didn't lack for humor when asked by Muskegon's Local Sports Journal after the match about his slew of diving saves.
"I'm 237 pounds so I don't like to do them," deadpanned Banahene.
For two soccer players who've spent a ton of time together, you'd think Williamson and O'Keefe would be smooth with their goal celebrations.
When Williamson assisted on O'Keefe's second goal against Fort Wayne, the pair confidently approached each other, ready to heighten the cool factor of their goal. It went horribly awry.
"We planned what 'cellies' to do the whole night before in the living room," Williamson recalled. "We had six different celebrations and everyone was on board. But me and Colin already have our celebration we do when one of us scores from the Buff State days. He was doing that one, and I was doing the one in the living room the night before. I guess we each were trying to do our own thing."
Following the April 24 match, Banahene will return to running his youth club in Rochester, while O'Keefe and Williamson will again suit up for FC Buffalo in the National Premier Soccer League season that begins May 23. Both Williamson and Banahene plan to play for Harrisburg in the MASL next winter, while O'Keefe is expected to return to the Lancers.
Ultimately, Banahene knows he was right about advocating for O'Keefe. "Even though I'd never played with Colin, it's felt like I've played with him for years. It's that Buff State grit, that culture."