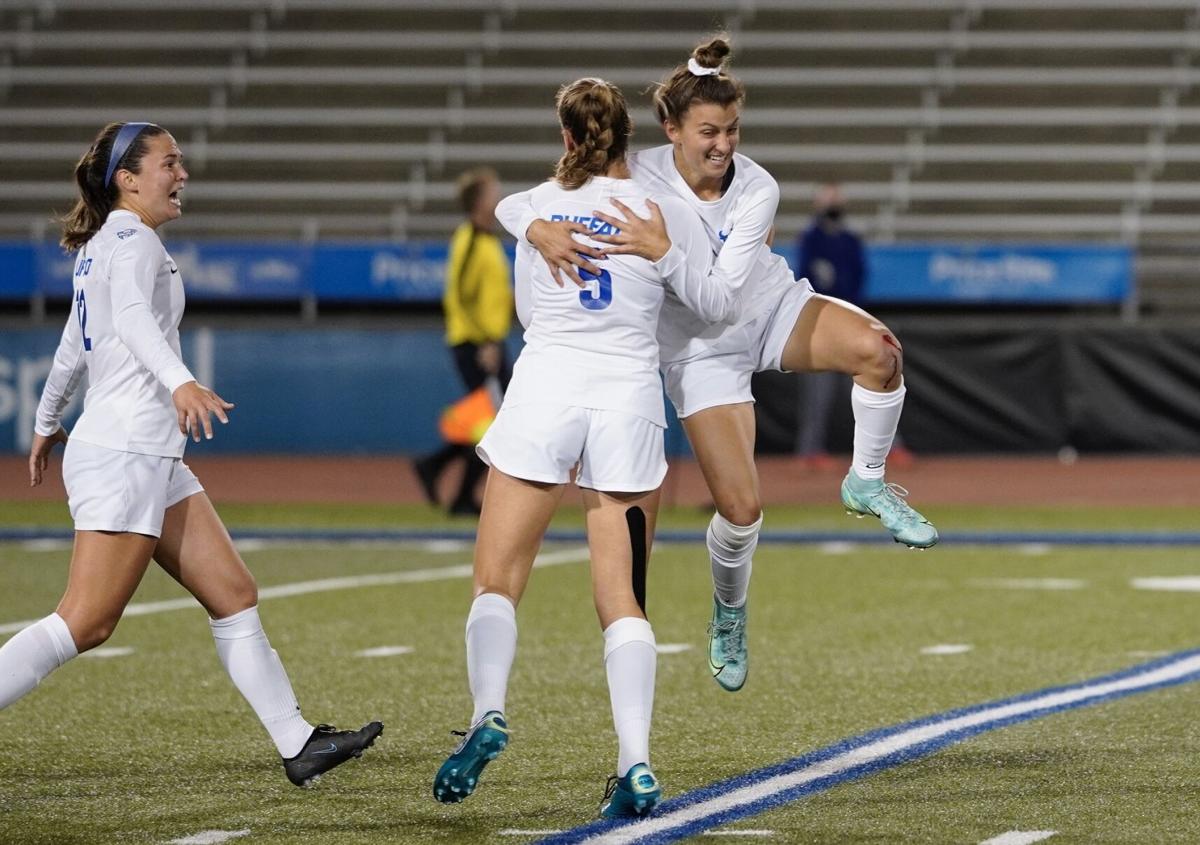 University at Buffalo women's soccer has been no stranger to adversity over the past six months, but a short spell into Thursday's game presented arguably the most difficult circumstances to date.
Winless through two Mid-American Conference games and All-American Marcy Barberic out due to injury, the preseason darlings conceded a goal to Ball State – a foe no one on the roster had beaten – in the eighth minute. That could have spelled disaster.
Instead, it brought out UB's best. Showing significant resolve and playing gorgeous soccer, Shawn Burke's Bulls claimed a 2-1 win over the Cardinals at UB Stadium to even their conference record at 1-1-1.
"Maybe [their] goal was the punch in the face we needed," Burke said after the match. "That might have been the best performance we've had in eight seasons, just everything we work on – the tempo, the competitiveness – because that's a fantastic Ball State team. I think we did a great job disrupting what they wanted to do, and I think we showed just how deep and talented this team is."
The Bulls' equalizer in the 22nd minute was a microcosm of Katherine Camper and Alya Ruken's offensive strengths, with the former alertly placing a through ball between defenders to Ruken, who was eager to get behind the Cardinals' back line all night on the right wing. Ruken's driven cross caromed off a tightly marked Arianna Zumpano, whose first touch wrong-footed Ball State keeper Alex DeRuvo.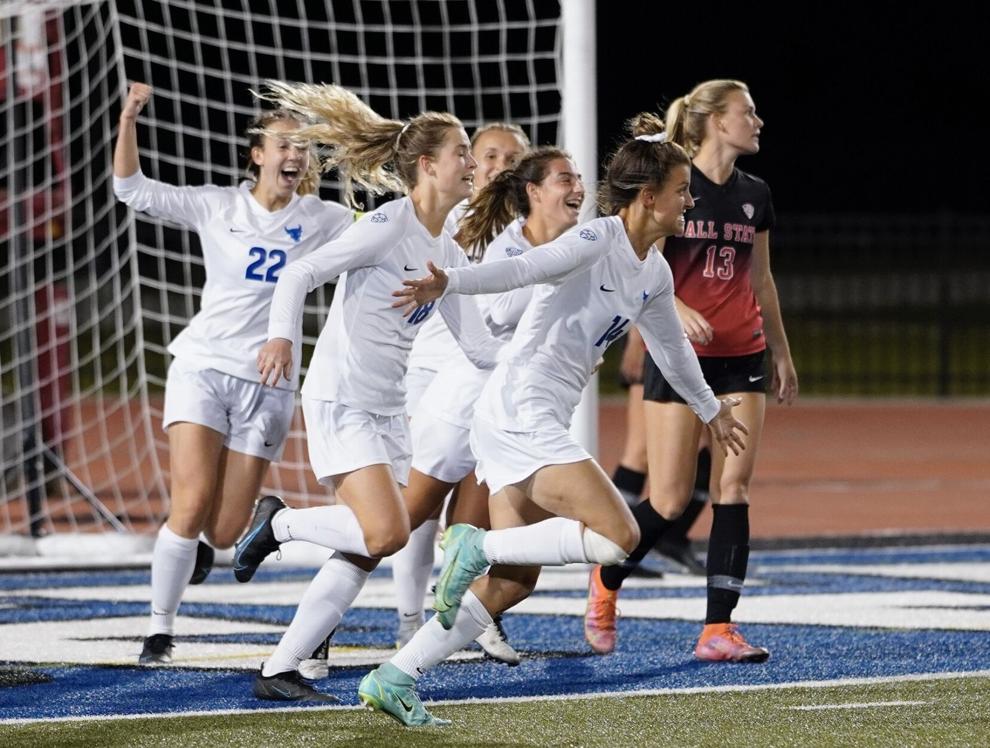 "I think we realized there's no time to sleep in this conference; everyone's talented and you can't let anyone get just a second on you," Camper said of the collective response to the Cardinals' opening tally. "We needed to fix up some mistakes, clean it up in the back, get more opportunities up front, and we just executed on all the things we said we needed to fix."
UB's go-ahead goal was a training ground masterpiece. About 20 minutes into the second half, the Bulls won a free kick about 40 yards from Ball State's net. Instead of swinging the free kick into the 18-yard box as the Bulls had done previously, Abbey Callaghan passed short to Camper, who had sneaked into a small gap about 8 yards away. As Camper settled, Ruken sprinted behind the Cardinals' defense and was quickly found. Ruken's cross was lofted over DeRuvo toward the back post, where Caridi headed the ball into a gaping net. 
While Camper, Caridi and Ruken were all considered for UB's player of the game determined by the coaching staff, the honor went to Payton Robertson, the industrious center midfielder who was instrumental in the Bulls protecting their one-goal advantage without much worry. While the Memphis transfer was a particular standout, a group that included Hannah Callaghan, Tess Ford, Emily Lazenby and Abbey Callaghan rarely put a foot wrong all night.
"[Robertson] is a machine. She wins everything in the air, on the ground – she's everywhere," Burke said. "That shouldn't overshadow how good Hannah [Callaghan] is in her role, and our back three. I think a testament to them is we didn't feel we needed to change anything late in the game to kill it off, because of how well they were playing."
The statistics reflect UB's dominance of an opponent that won the Mid-American Conference's West Division last year and is perennially a playoff team. The Bulls outshot the Cardinals 18-6 (10-4 on goal), with Zumpano denied an insurance goal by the right post and DeRuvo's impressive eight-save effort, many of which were not easy stops.
Beyond the numbers, though, was UB's ability to impose its style of play on Ball State. The Bulls were probing and aggressive in their possession – a contrast to teams that keep the ball conservatively – and when they lost the ball, the intensity and desire to win the ball back left the Cardinals rarely able to complete three or four passes in succession. 
"If you know soccer, when you get on that field and it's good possession, it's really beautiful to watch and it's fun to be a part of," Camper described. "It was that kind of game today – it was a lot of fun."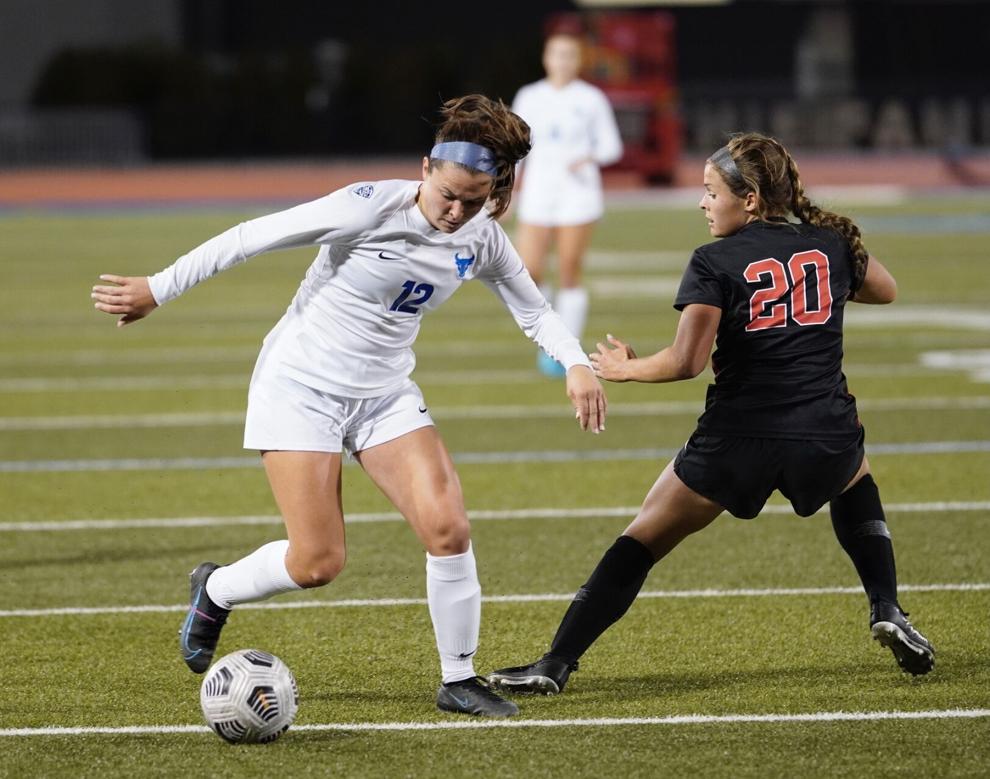 Compensating for Barberic's injury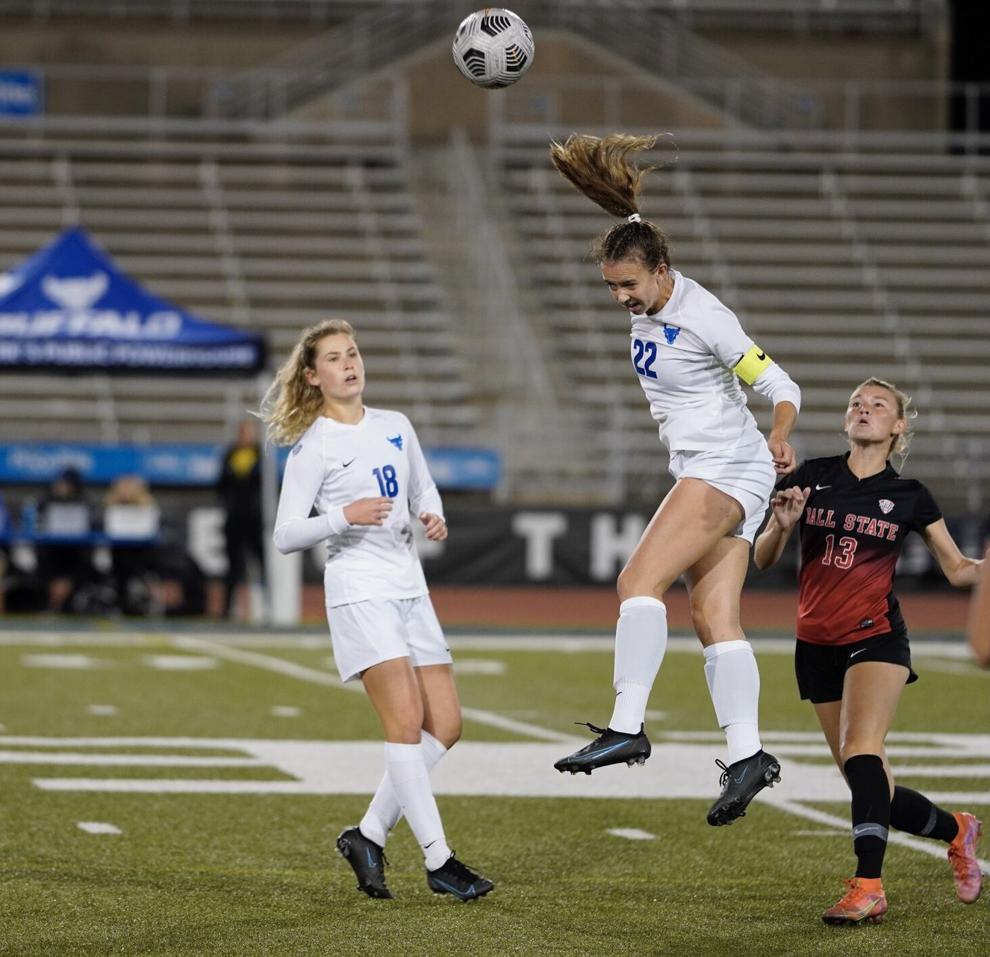 The shoulder injury Marcy Barberic suffered against Kent State will likely cost her multiple games, but her exact timeline to return is uncertain.
The second-team All-American and Hermann Trophy watch list selection from Grand Island, who paces the Bulls with 16 points, joined her team on the bench for Thursday's game.
"Burke always talks about how much depth we have on this team," said Camper. "Losing Marcy for the next couple games is such a hit, we know that, and it's definitely missed, but we know there's other people who can step up and carry on that role that's needed."
Following Barberic's injury last Sunday, Burke said he gathered a group of five seniors to discuss how the leadership void would be filled in the meantime. Center back Tess Ford wore the captain's armband in Thursday's win, but that responsibility will likely be shuffled around.
Barberic, the second Bull to earn All-American status and be listed on the Hermann Trophy watch list, has vaulted her name among college's best through her drive and focus. 
"We told them, 'You've got to step up a little bit more now on the leadership side of it,' " Burke said. "They've all been performing, but now how do you bring everyone along with you?" I don't think it's one person, I think collectively a lot of people just holding each other accountable and saying, 'This is how bad we want it.' "
Burke referenced the 2018 season, in which decorated forward Carissima Cutrona suffered a torn ACL when the Bulls were 9-2 with championship aspirations, as a lesson from which to learn. UB went 2-6 after Cutrona's injury and missed that year's MAC postseason.
"You could tell there was a moral letdown, morale was just shot and we struggled. We didn't bounce back from that [in '18], where this group knew that, 'no, we're more than OK,' so there was definitely something to prove tonight."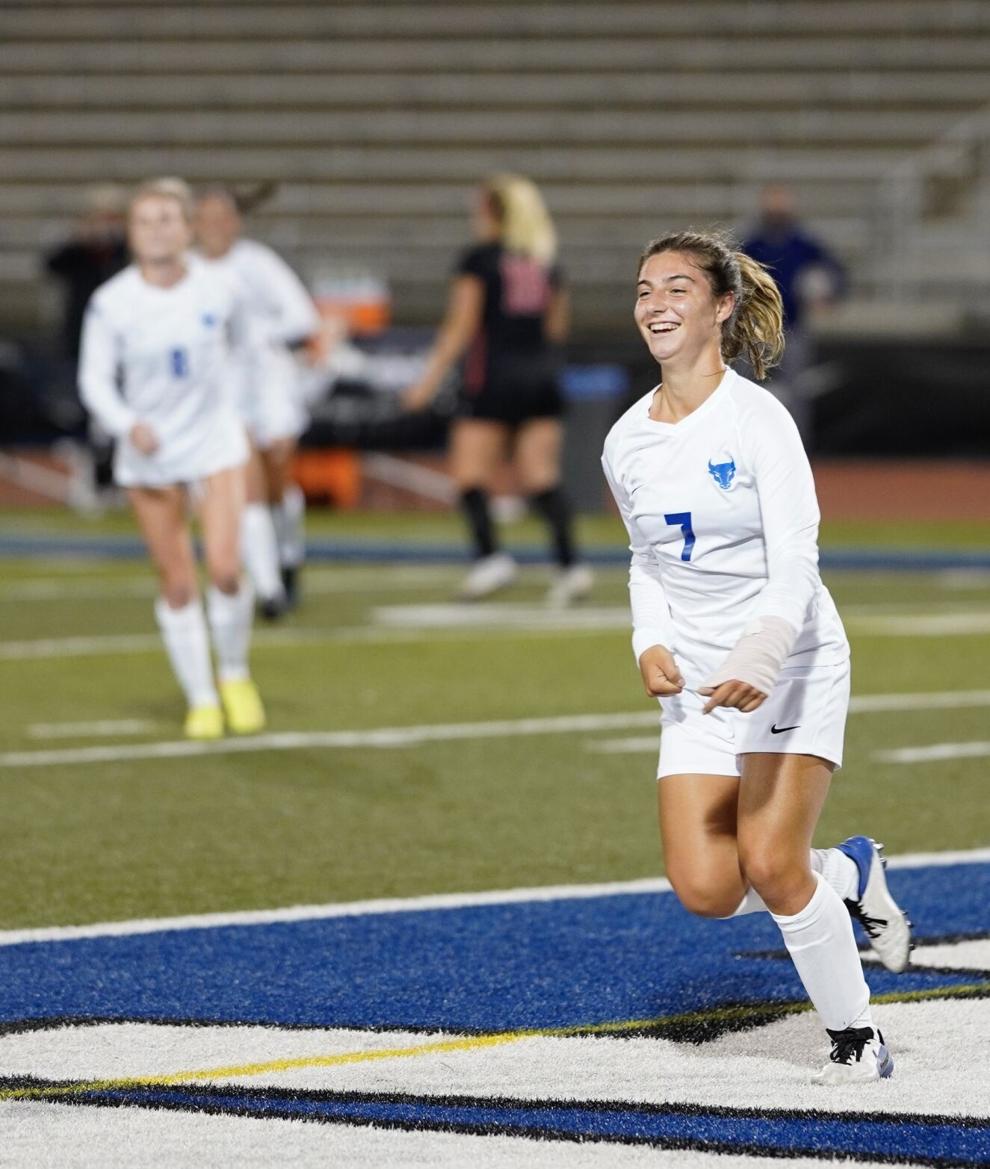 At a time when the NCAA granted all players an additional year of eligibility due to the Covid-19 pandemic – and the Bulls returned 18 contributors from last year's 6-1-1 squad – it's ironic that three of UB's most prolific players are true freshmen.
Freshman Arianna Zumpano, a newcomer with some similar traits to Barberic, earned her second start of the season Thursday, while Ruken, a regular starter, was UB's most dynamic player in the first half after earning player of the game honors against Ohio in the MAC opener. Kaya Schultz has been a key reserve for Burke's team all year long; she nearly dented the score sheet late in the first half and showed plenty of poise in protecting the lead over the last 20 minutes.
From Camper's perspective, these standout freshmen have required less instruction and more of a pat on the back. 
"You don't have to say much to them," she said. "They're talented enough, they know what they need to do, sometimes it's just giving them that confidence booster. It's a bit scary coming into a college team your freshman year."
"We have a bright future ahead," Burke added. "You hate losing Marcy and a player of her caliber, [but] I think tonight a lot of players wanted to prove that hey, we'll be just fine."
In a discussion about the jumbled conference table, Burke took responsibility – unprompted – for UB's conference-opening loss to Ohio on the grass of Athens.
"Us coaches got in the way, we changed things on them too quick, we overreacted and I think we took away from the players, and the players have shown what they're capable of," Burke said Thursday. "I think we cost them that. We've got another big one on Sunday [vs. Miami]; we haven't traveled well on grass."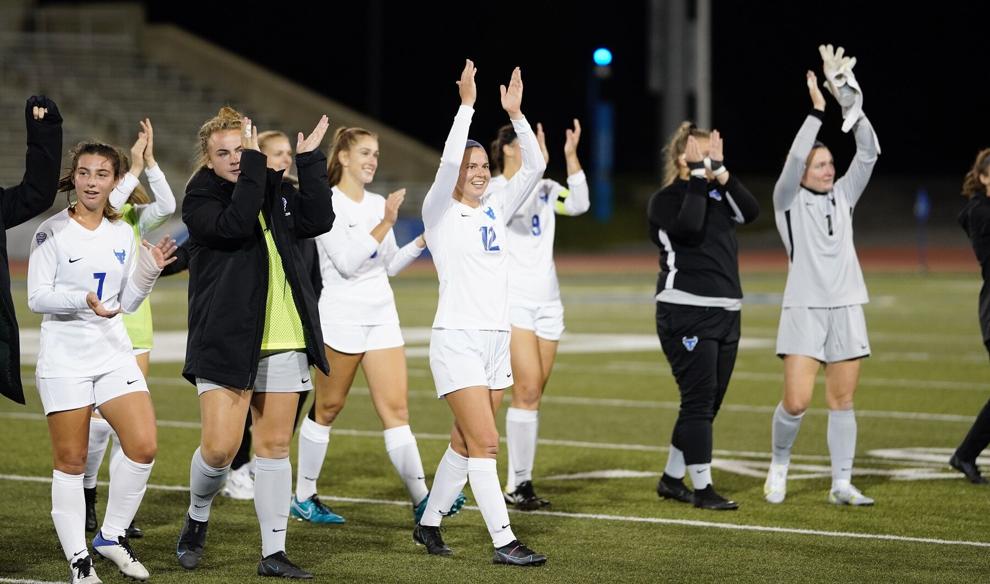 That road clash against the RedHawks arrives at 1 p.m. Oct. 3 in Ohio. The Bulls return home at noon Oct. 10 vs. Central Michigan, with another home match four days later vs. Western Michigan.
If Burke shouldered blame for the management of the Ohio loss, then he and his staff deserve credit for Thursday's cleverly designed set piece that produced the game-winning goal. The eighth-year coach deflected credit.
"We spent time last night implementing two new set pieces and it didn't go well at all," Burke said. "I just told them before we're not going to this. But the way it's set up – it's the players; we drew that up, we had the idea, but the players have to sell it and execute."