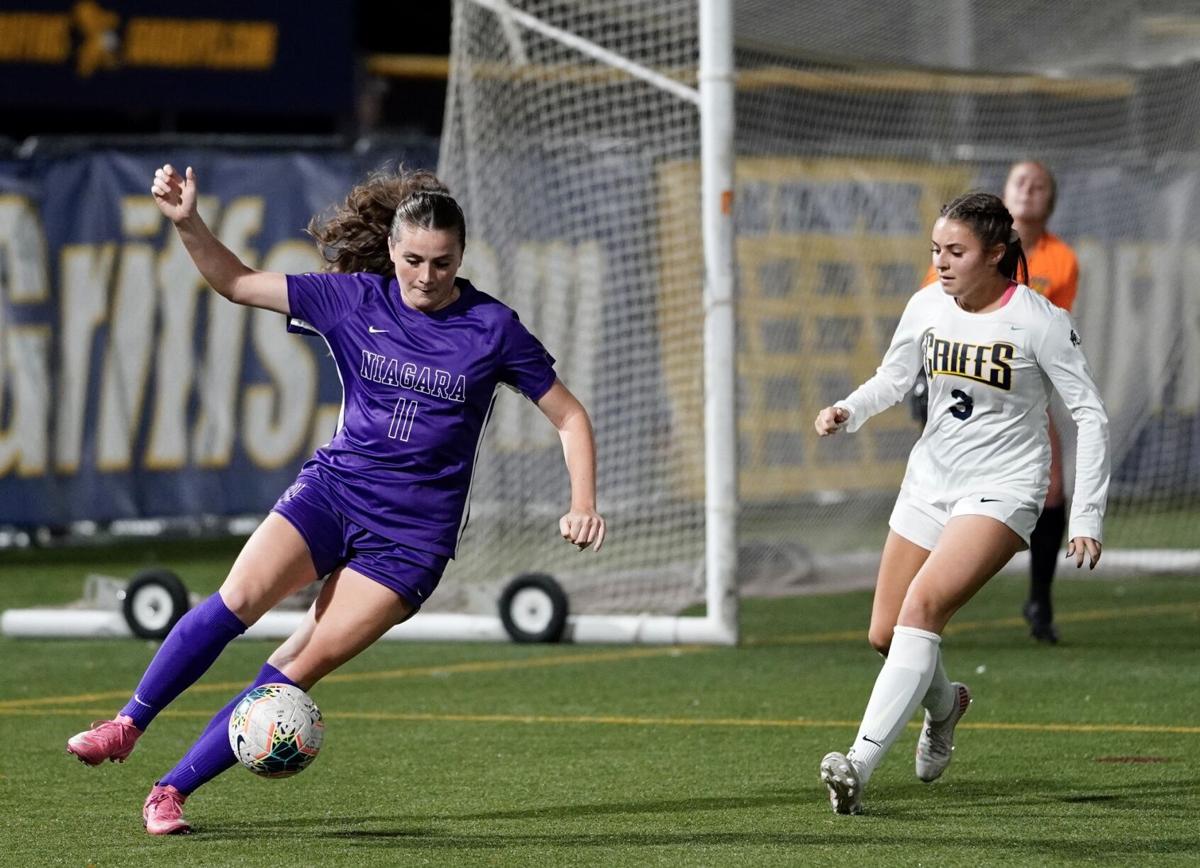 It's been a steady stream of success for most of the Buffalo-area NCAA Division 1 women's soccer teams this fall, with three of the four programs reaching the postseason. 
The University at Buffalo, Niagara University and St. Bonaventure University will all kick off their conference tournaments with quarterfinal matchups on Sunday, with UB and Niagara playing at home and St. Bonaventure in Massachusetts on the road.
Here's a detailed breakdown of each situation.
Records: 12-3-3 overall, 6-2-3 in Mid-American Conference
MAC quarterfinal matchup: No. 4 UB hosts No. 5 Central Michigan (see full bracket)
Time/date: 1 p.m. Oct. 31 at UB Stadium, Amherst
Barberic, the second Bull to earn All-American status and be listed on the Hermann Trophy watch list, has vaulted her name among college's best through her drive and focus. 
Regular-season matchup: The Chippewas won 1-0 on Oct. 10 at UB. The Bulls outshot Central 23-10, but CMU goalkeeper Allison LaPoint made seven stops for the shutout. UB was missing Marcy Barberic due to a shoulder injury.
The season, simplified: Shawn Burke's Bulls were projected to win the Mid-American Conference regular season title after a terrific spring Covid season, but UB fell short of those expectations with adversity along the way. Graduate student attacker Barberic missed a little over four matches in total with a shoulder injury, while Hannah Callaghan – the MAC Defensive Player of the Year in the spring – has been out for the last two weeks with a foot injury and could miss more time.
Even without two of their best players for long stretches, the Bulls have seen excellent contributions from unexpected contributors, especially forward Taylor Caridi and freshman midfielder Kaya Schultz, and vital leadership from co-captain Gianna Yurchak, veteran midfielder Katherine Camper and center back Tess Ford.
UB's Players to Watch: Barberic (11), Ford (22), Payton Robertson (18), Camper (12).
Scouting the Chippewas: Central Michigan has a flair for the dramatic, and Jeremy Groves' team is not overmatched against foes with better records. In addition to the gritty road win over UB, the Chippewas stunned first-place Ohio on CMU's Senior Day, a 3-2 come-from-behind victory in the second overtime. 
If they win: As fate would have it, the Bulls would travel to Bowling Green – the opponent at the heart of the spring controversy – to face the Falcons in the MAC semifinal on Thursday. UB's 1-0 win at Bowling Green on Oct. 21, with Barberic's 61st minute strike the game's lone goal, was unquestionably the Bulls' biggest win of the regular season.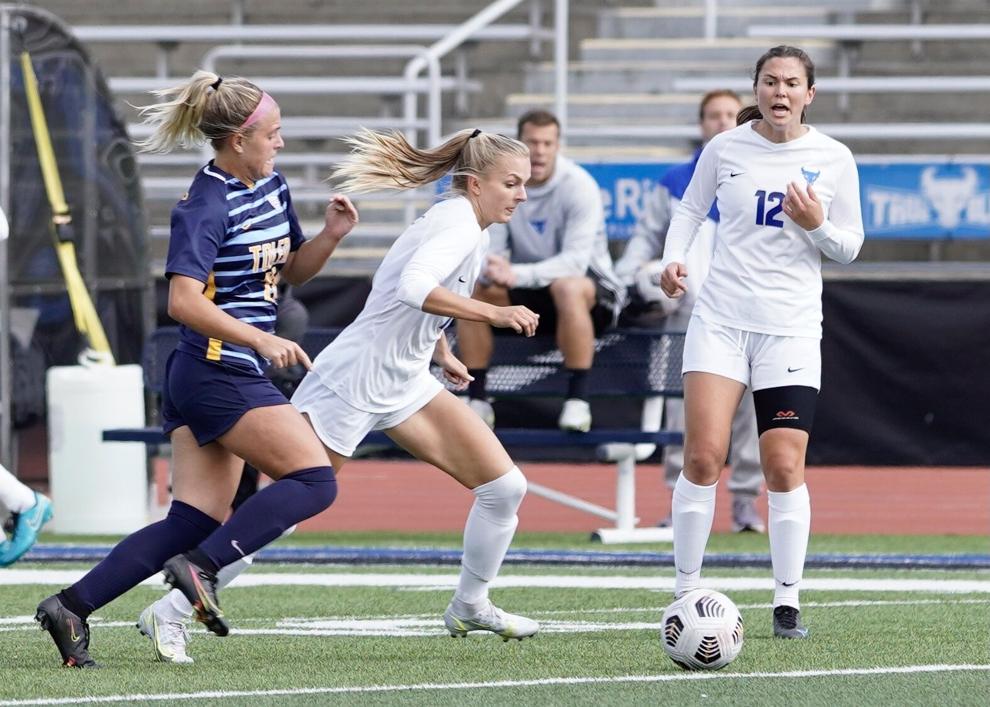 Records: 13-4 overall, 7-3 in Metro Atlantic Athletic Conference
Time/date: 1 p.m. Oct. 31 at Niagara University
Regular-season matchup: Niagara won 3-2 on Oct. 2. Peter Veltri's team rode goals from three different players to a high-scoring home win. 
"It was definitely bittersweet, but I'm lucky to have a team behind me – they definitely made me feel loved," Mix added. "They're like all my little sisters, really."
The season, simplified: The Purple Eagles stormed out of the gate in non-conference play following a 6-2 loss to UB in the season opener, winning eight in a row after the early blemish. In a mid-season interview, Peter Veltri felt that his team shouldn't have lost some of the games it did, suggesting that Niagara was on the cusp of an even better record.
Outstanding production from forward Florence Vaillancourt (MAAC-leading 13 goals) and super substitute Maia MacLean (three-time league rookie of the week) were individual highlights, while Emma Davies proved the team's metronome as an omnipresent force in the midfield.
The Purps' pressure on opposing defenses – with and without the ball – rattled many an opponent, but Niagara's defense struggled when the high-press was solved. Niagara's attack tied for the league-best during the regular season, with its 23 goals in 10 games matching Quinnipiac's output.
NU's players to watch: Vaillancourt (11), Davies (44), Ida Miceli (21), MacLean (8).
Scouting the Stags: Fairfield was an exceptional 7-1-1 at home, but just 2-5-2 on the road, giving the Purple Eagles a significant edge on Halloween. The Stags have peppered shots toward goal, pacing the conference in that category, but their finishing has been spotty this year. Still, Elle Scott and Gabby Diodati are a formidable one-two punch, almost evenly splitting 13 goals this year. This is a very capable quarterfinal foe.
If they win: The Purple Eagles would play the winner of the battle between No. 2 seed Quinnipiac vs. No. 7 seed Marist. 
Records: 7-7-4 overall, 5-4-1 in Atlantic 10
Atlantic 10 quarterfinal matchup: No. 4 UMass vs. No. 5 St. Bonaventure (see full bracket)
Time/date: 1 p.m. Oct. 31 at UMass.
Regular-season matchup: Scoreless draw on Oct. 21. The Bonnies were outshot 18-7, but freshman goalkeeper Chiara Gottinger made three saves to keep the sheet clean.
The season, simplified: The Bonnies were given no chance in the coaches' preseason poll, predicted to finish in the cellar by a significant margin. Head coach Steve Brdarski had a few tricks up his sleeve, however, with graduate student Cristina Torres and freshman goalkeeper Gottinger entering the fold. 
Torres, an offensive dynamo who's a member of the Puerto Rico national team, scored 13 of the Bonnies' 18 goals this season and seems a legitimate contender for Atlantic 10 player of the year. Gottinger led the A-10 in save percentage during conference play, stopping 85% of shots she faced, and kept six clean sheets over the course of the season.
The entire back line deserves credit for the Bonnies, too, as Kenzie Tarmino, Alex Thompson and Bridget Kennedy were reliable. Christine Napoli, Kacie Filian and Kristin Pickard all deserve credit for their work rate in the midfield, too.
Bonnies' players to watch: Torres (11), Gottinger (35), Filian (1).
Scouting UMass: Sunday's hosts are comfortable playing closely contested, low-scoring matches – and the scoreless result against Bonaventure in the regular seasons is a testament to that. A whopping five of their 10 Atlantic 10 matches went to overtime.
Unlike St. Bonaventure, which has relied on Torres for its goal-scoring this year, UMass has received multiple goals from six different players. Chandler Pedolzky (four goals, eight assists) led the team in points during the regular season.
If they win: The Bonnies would play the winner of top-seeded VCU against No. 8 seed St. Joseph's.