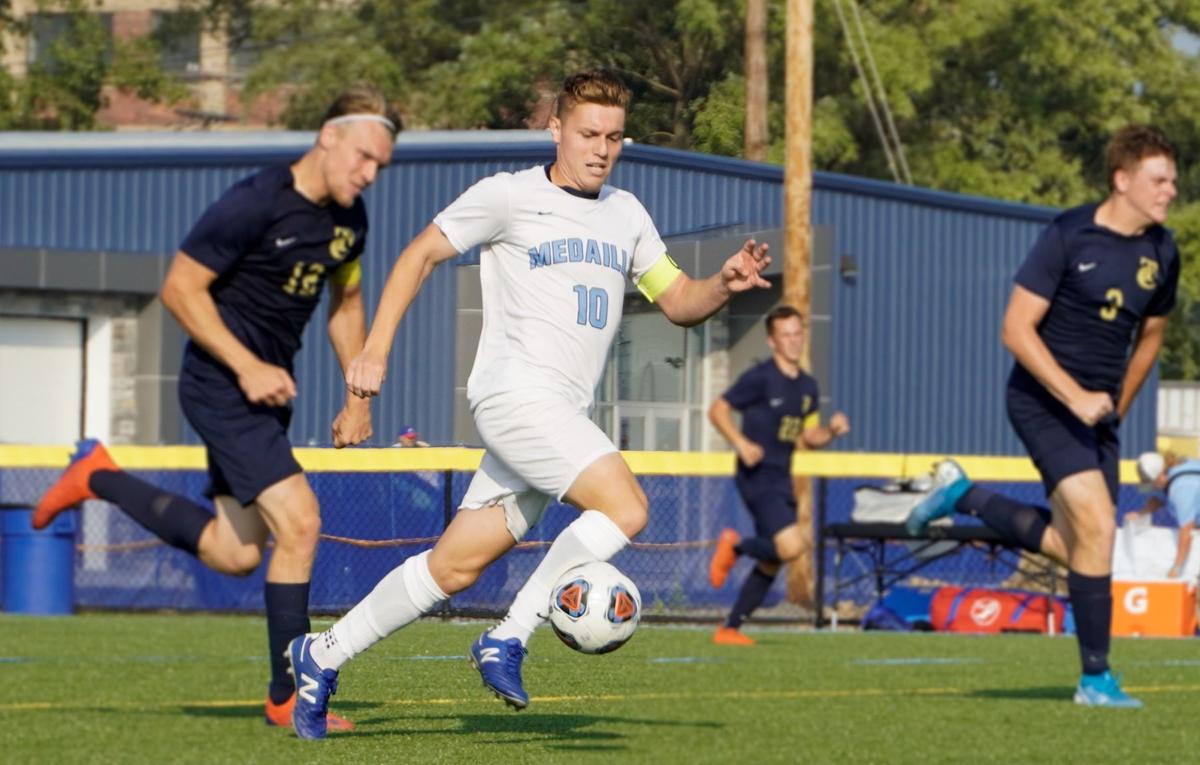 Mitchell Ali's 20th goal of the season could not have come at a more crucial time.
Medaille men's soccer was pressing, and the conference semifinal match against Franciscan was barreling toward tense territory.
Over the first 75 minutes, the Mavs had fired 23 shots, 11 of them on goal - and come away with nothing. Frustration from blown chances became more evident in their body language, interactions and in their own minds.
"I was thinking that it only takes one chance for [Franciscan to score]," admitted Mavs senior goalkeeper Jonny Pitts, who was called upon sporadically for key stops that interrupted long periods of inactivity.
But Ali - the Allegheny Mountain Collegiate Conference preseason player of the year and overwhelming favorite for offensive player of the year - finally took matters into his own hands.
Receiving the ball deep on the left wing, the Englishman used a variety of body feints and cuts to wrong-foot a defender, then dribbled horizontally across the box, faking several shots to lose help defenders before finally rolling a slow but well-placed finish inside the left post.
"The coaches had been yelling at me all game to keep driving at defenders," Ali said, "and I knew I could go at their center backs, who were a little heavy on the turn."
"When it finally goes in it's just huge relief, and then elation," Ali said.
The 1-0 win, which catapults the Mavericks to their fourth-straight conference final - all against Penn State Behrend - was far from comfortable, with Franciscan's Sebastian Koehler threatening on the counter with regularity, forcing a reaction save from Pitts and a key block by center back Henry Allan in the second half.
With attackers like Eric Metade, Juan Montoya and Ali who are all very expressive in their play - brimming with confidence and chatter when things are going well, but exhibiting negative body language and voicing their frustrations when a game is slipping away - keeping their control was the difference in the eventual victory.
As a senior captain, Ali elaborated on a few ways he implores his teammates to combat considerable missed chances, especially when they come in droves like Wednesday. "You just have to keep your heads up and keep going," he said, while shifting the collective emphasis to defending and winning the ball back.
Medaille will host the Lions at 2 p.m. Saturday at Medaille Sports Complex (427 Elk St.). Penn St. Behrend has won the Allegheny Mountain Collegiate Conference playoffs in four of the past six seasons, assuming dominance from Medaille, which won six of the eight previous.
"It wouldn't be a conference final without us and Behrend, would it?" Ali asked rhetorically.