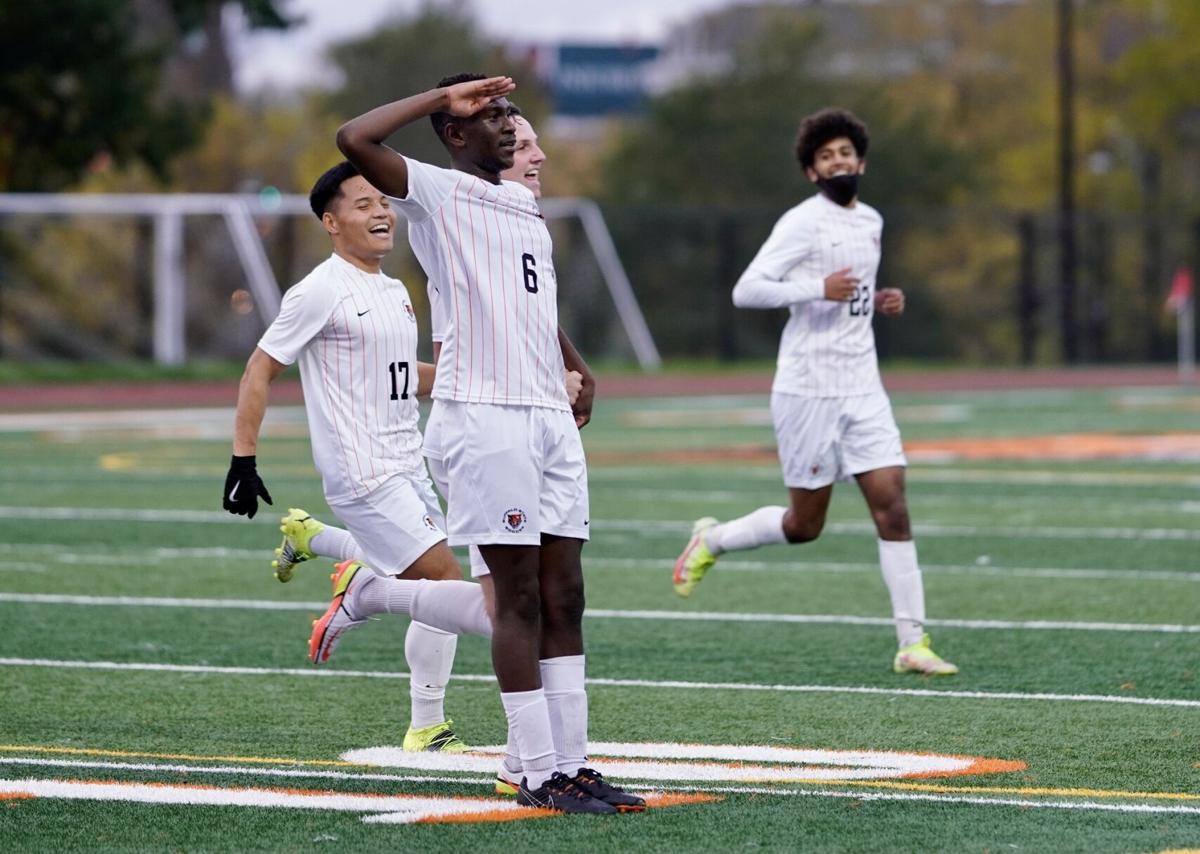 Had Buffalo State men's soccer repeated its listless first-half performance in Saturday's SUNYAC quarterfinal against Geneseo in the final 45 minutes, it would have been a bitter conclusion to a college soccer career for 10 seniors with big expectations for their swan song.
But, as the Bengals have done all year, the second half meant greater urgency, and Francesco Cardillo's experienced team seems to thrive when backed against a wall.
Trailing 1-0 about 15 minutes into the second stanza, seniors Theo Pencic and Saleman Salim scored six minutes apart to propel the Bengals to their second-straight SUNYAC semifinal, against Cortland next weekend.
"It's the last 45 [minutes] of your senior year, what are you gonna do? What are you gonna give to it?" Salim asked rhetorically after the match in describing the veterans' desperate approach to the second half.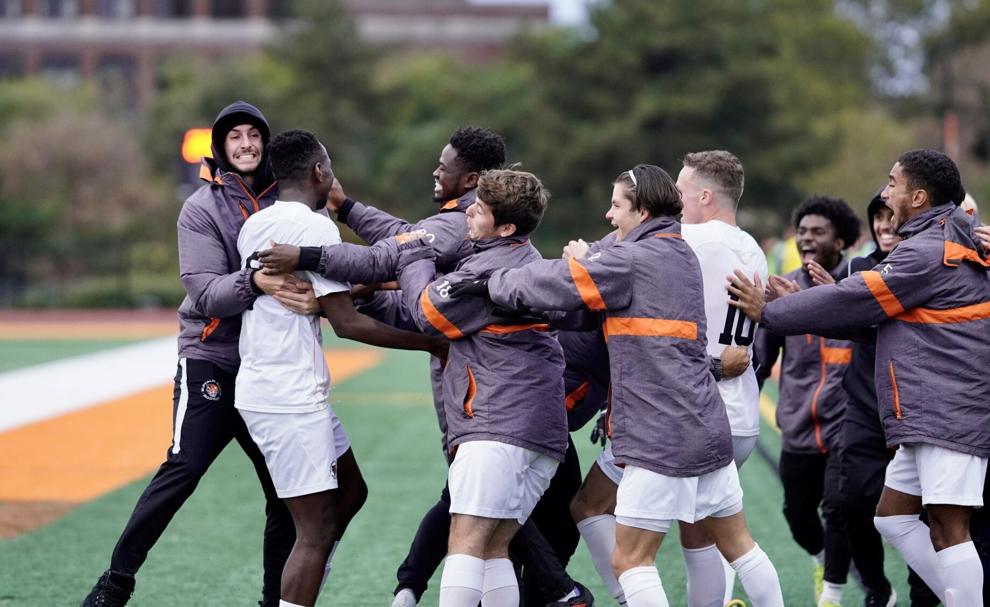 Long stretches of erratic play, with occasional moments of brilliance sprinkled in, have kept Buffalo State a contender instead of a favorite this year. The Bengals will look pedestrian for 45 minutes, then inexplicably unbeatable for the next 45.
"I think this has been the story all season – the tale of two halves," Cardillo said. "It's either the first half we play or the second half we play, and thankfully we came out in the second half and the deficit wasn't too big. They outplayed us in the first half big time; they were the best team in that half. We made the adjustments in the second half tactically, and I think a little bit of an understanding of 'listen, this is your season.' "
The Bengals' equalizer in the 63rd minute was a beautiful connection between three seniors. Fullback Trevor Moreland evaded a tackler and reached for a loose ball along the left sideline, poking it forward to Zak Shaibi. Shaibi accelerated to his left to beat his defender cleanly along the boundary, then whipped in an early cross to Pencic waiting atop the 6-yard box. The service was inch-perfect, allowing the Norwegian to smash a header on goal that had too much bite for Geneseo goalkeeper Will Price to keep out.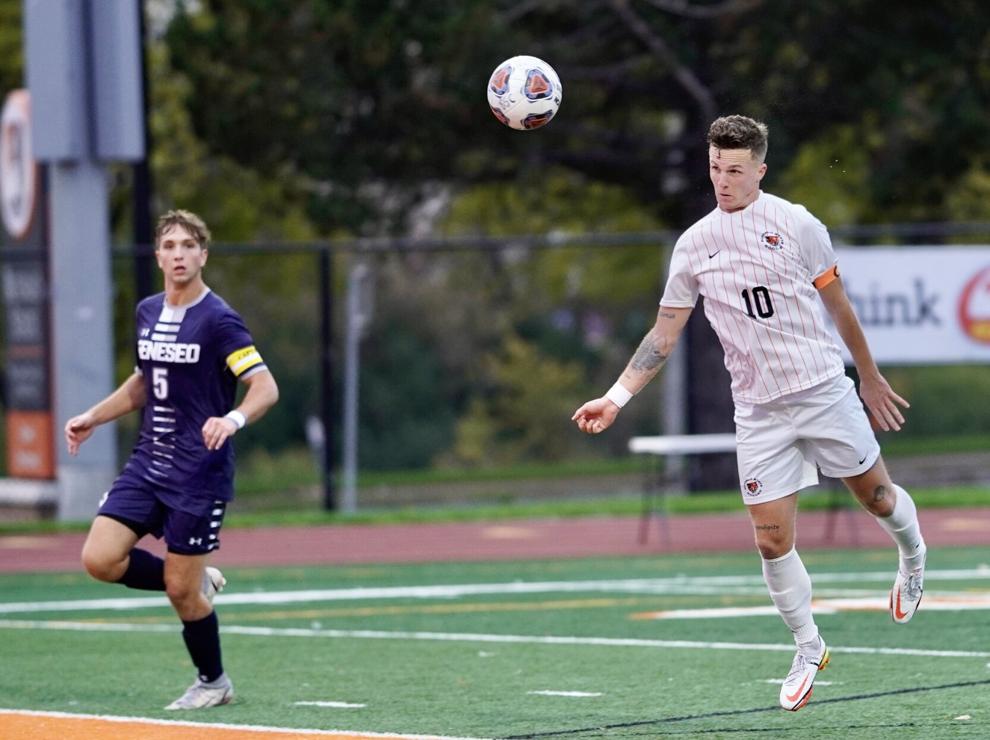 "Once we scored that first goal, the tension just kept rising, rising and rising, and just thinking about your game, your senior year to end like this, it just can't," Salim said. "We kept persevering."
Buffalo State didn't have to wait long for the go-ahead goal, as following two close chances by Pa Lu, Pencic drove a low corner kick back toward the top of his 18-yard box, where Salim arrived late and banked his first-time shot in off the near post. The run and finish seemed to catch the Knights by surprise – but the marker was no shock to Salim.
"Honestly, I'm not going to lie to you, I expected it," Salim said. "Last night I just knew, I had a feeling I was going to score a goal, it was either going to be the first goal or the game winner."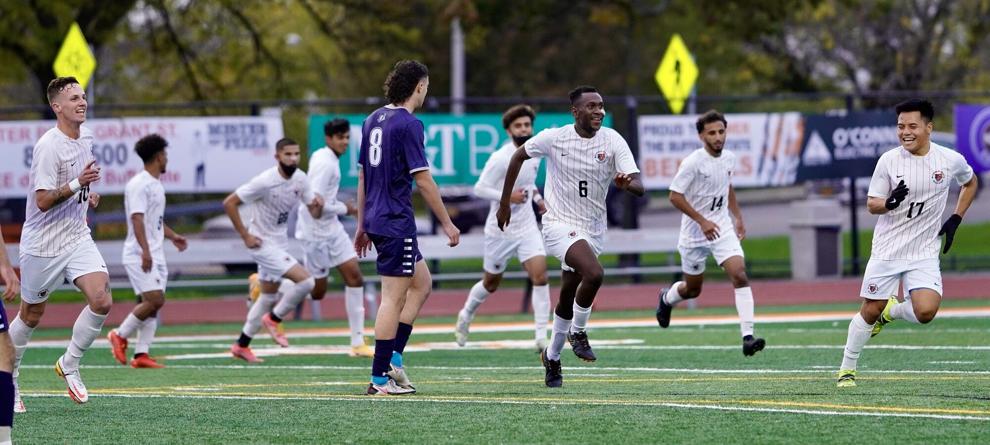 Was it a set play, or just an alert decision by Pencic to pick out the center back? "It was Theo to Salim, the usual," Salim responded with a grin.
While Pencic and Salim were the goal scorers, Moreland was perhaps the senior who elevated his play the most in the second half. Visibly frustrated with himself in the first half, the senior from Newfane was a man possessed after the intermission, winning virtually every tackle, skipping by defenders, working relentlessly to exhaustion and tormenting everyone near him (to the point where he needed a little veteran calming). Salim extolled his classmates' efforts.
Salim's defensive dominance – and vocal leadership with multiple freshman center back partners – has buoyed an offense that has scored more than two goals just twice.
"It's all love – [I] love these guys," Salim said. "Brotherhood. It's just my brothers, man, for real." 
The sudden burst to life out of dormancy has been frustrating this year for Cardillo and Buffalo State's supporters, who realize how exceptional this Bengals team could be if they established at least some level of consistency. Adversity is often required to bring out the best in Buffalo State, but the seniors have responded time and time again.
"They've been in this situation so many times," Cardillo said. "Having that maturity where it's like, 'now I just need to flip the switch,' and that's what a lot of them have that a lot of [other teams] without much experience don't have.
"It's something that they need to do before the game to get themselves in the mood, but these guys when they want to flip the switch they can be extremely good, and when they all flip the switch at the same time, the light just brightens up."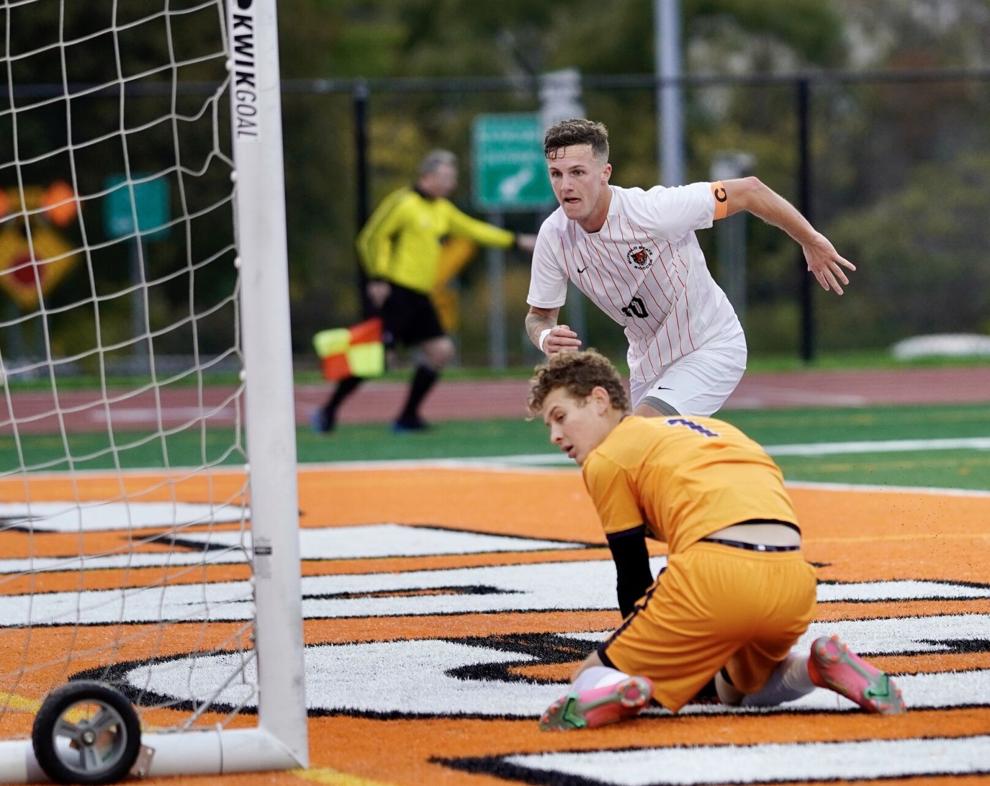 The Bengals erased a 2-1 second-half deficit to devastate Fredonia 6-2 in the Battle of the Bridge, then responded after blowing a two-goal lead to Brockport by nabbing the winner in the 79th minute. Saturday's turnaround against Geneseo is on another plane, Cardillo said.
Francesco Cardillo's team scored five unanswered goals in the final 25 minutes to flip a 2-1 deficit into a 6-2 win over Fredonia to open SUNYAC play with a victory at Coyer Field. 
"Yeah, regular season win when coming from behind it's good, great and all that, but when you do it in the playoffs it means something different, and it gives you that bit more confidence going into the semifinals," the head coach said. 
The slow starts have cost them in losses, however, and it's a caution ahead of the SUNYAC semis. In the regular season, Buffalo State trailed Cortland 4-0 after 26 minutes and tried valiantly to dig out of that hole before losing 5-3. Conceding the first two goals in the second half against Oswego proved to be the Bengals' undoing as well the day prior.
"It was just waking up, really. Sometimes we just take things too easily, we think we're better than what we are, it's the same thing all year long," Cardillo said. "We haven't done anything yet, and the guys know that, we try to stay grounded. We think, 'Oh we're OK, we're going to be fine,' or 'we've come back from so many games this season, where it's like, no matter what the deficit is, we're fine.' "
Buffalo State goalkeeper Max Shoemaker bailed out his teammates with multiple acrobatic stops in the first half, keeping the margin at one after an own goal opened the scoring. The junior from Niagara Wheatfield finished with nine saves and made his own argument for man of the match honors.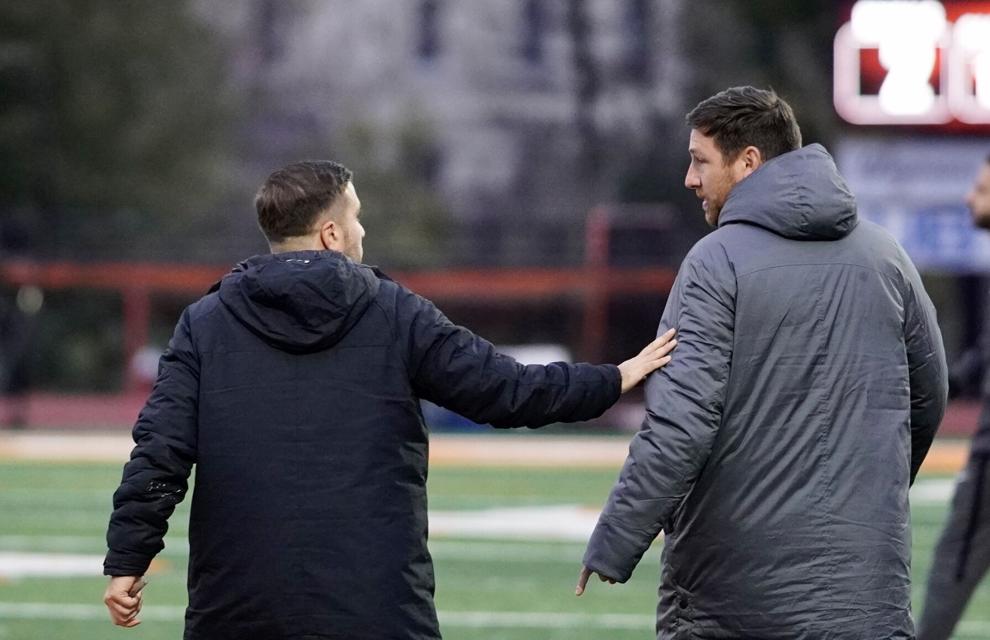 Saturday's match held extra meaning for the coaches, too, as Geneseo head coach Mark Howlett was instrumental to Buffalo State's rise to prominence during his five years at the helm. Cardillo was Howlett's assistant for the final three and maintains a close relationship to his former boss, even though Howlett has coached the Knights since 2018.
"We're extremely close – we probably talk every day," Cardillo said of Howlett. "He's still a mentor for me, so it's an extremely tough game for both of us, it's not just me. It's something we don't want ever – this is what we talked about at the beginning of the season, 'we don't want this, we don't want this to happen,' but I guess it was inevitable.
"It's always a tough game against him – and I really don't want to play him and I don't like playing him, not only because of his team but him himself, and I think he'd say the same thing."
Howlett handled the loss with grace, and the two friends had a quick exchange after the match.
"It was just 'good luck, well done, good game, love you, love you, too,' " Cardillo said. "It's like an older brother for me."