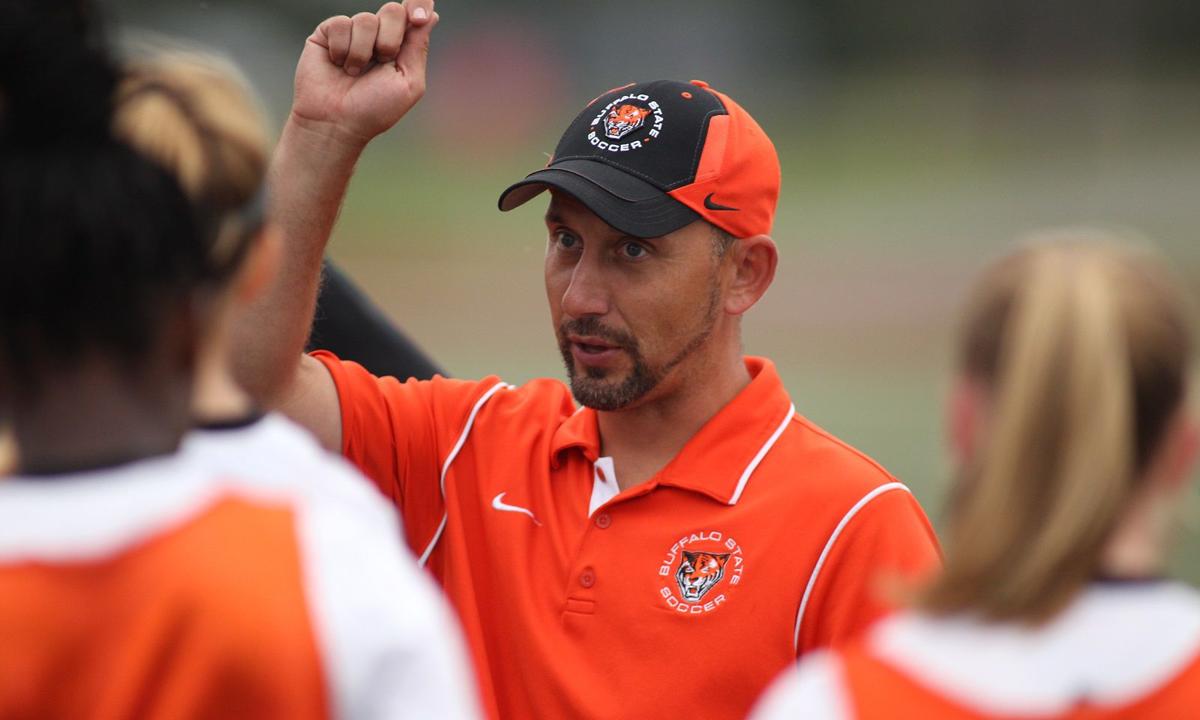 Nick DeMarsh is no longer the SUNY Buffalo State women's soccer coach after 19 years at the helm. The college opted not to renew his contract, which expired March 31, DeMarsh confirmed.
The longtime Bengals head coach released his first statement since he was accused by 12 former players in November 2019 of detrimental conduct. An independent investigation absolved DeMarsh of any NCAA violations and did not find evidence of "mishandling the physical or mental well-being of his players." The head coach – a former Bengals player himself – sued the 12 student-athletes for defamation last November.
DeMarsh's focus in the letter submitted to The News (in full below) was a defense of his coaching style and a sense of gratitude toward many in the college's administration, several assistant coaches, alumni and staff.
"In terms of my leadership style, I am always honest and up front with my evaluations and assessments. My communication is direct and to the point, and the onus is on each player to use my critiques for their own development. In my view, players want real feedback in order to improve. I do not patronize nor do I deliver false praise because frankly, players know better. I also believe that a strong team wants discipline and that discipline is an expression of respect and love for the game and the players. I care about my players and how they behave because soccer is a reflection of life."
While DeMarsh did not directly address the investigation preceding the college's decision to let his contract expire, he further emphasized how a culture of accountability might have been uncomfortable for some.
"One of the most important hallmarks of our program has also been accountability, for players and coaches alike. When I make a mistake, I own it. And it is my expectation that my players do the same. Each player and the team as a whole are responsible for our collective performance and it is the responsibility of each player to develop and improve year on year in order to contribute. That kind of introspection can be a challenge for every player, but it is in that kind of competitive environment that our toughness and grit have always been forged. I am so proud of the team culture that we have created during my tenure and I am confident that the players who have come through the program have used their experience here for the greater good in life away from the game."
The twilight of the veteran head coach's career at Buffalo State was filled with tumult. The independent probe of November 2019, conducted by Syracuse law firm Bond, Schoeneck & King, was prompted by nine active players quitting the Buffalo State team and lodging complaints, with three former players, to the college's athletics department requesting DeMarsh's termination.
A slew of DeMarsh's former players at Buffalo State quickly rallied to his support, describing him as a tough but fair coach and disputing the accusing players' claims. A feature by The News' Jay Rey dug into "old-school coaching vs. bullying," which placed the controversy at Buffalo State as part of a larger trend in athletics across the U.S.
When the probe "found no evidence that DeMarsh mishandled the physical or mental well-being of his players," Timothy Gordon, vice president of student affairs at Buffalo State, ultimately announced that Buffalo State would retain DeMarsh as women's coach despite the probe's concerns regarding his leadership, professionalism and team culture. 
DeMarsh, who was "devastated" by what was said about him, according to his lawyer, sued the accusing 12 players for defamation last November. DeMarsh said he was told in March 2020 that his contract would not be renewed upon its expiration, and he noted that he hasn't heard from the college since.
The former head coach had no comment Friday about any resolution to the lawsuit against his former players.
Buffalo State's athletic department declined to issue a statement regarding the expiration of DeMarsh's contract, stating: "The college does not comment on contract matters related to current or former employees."