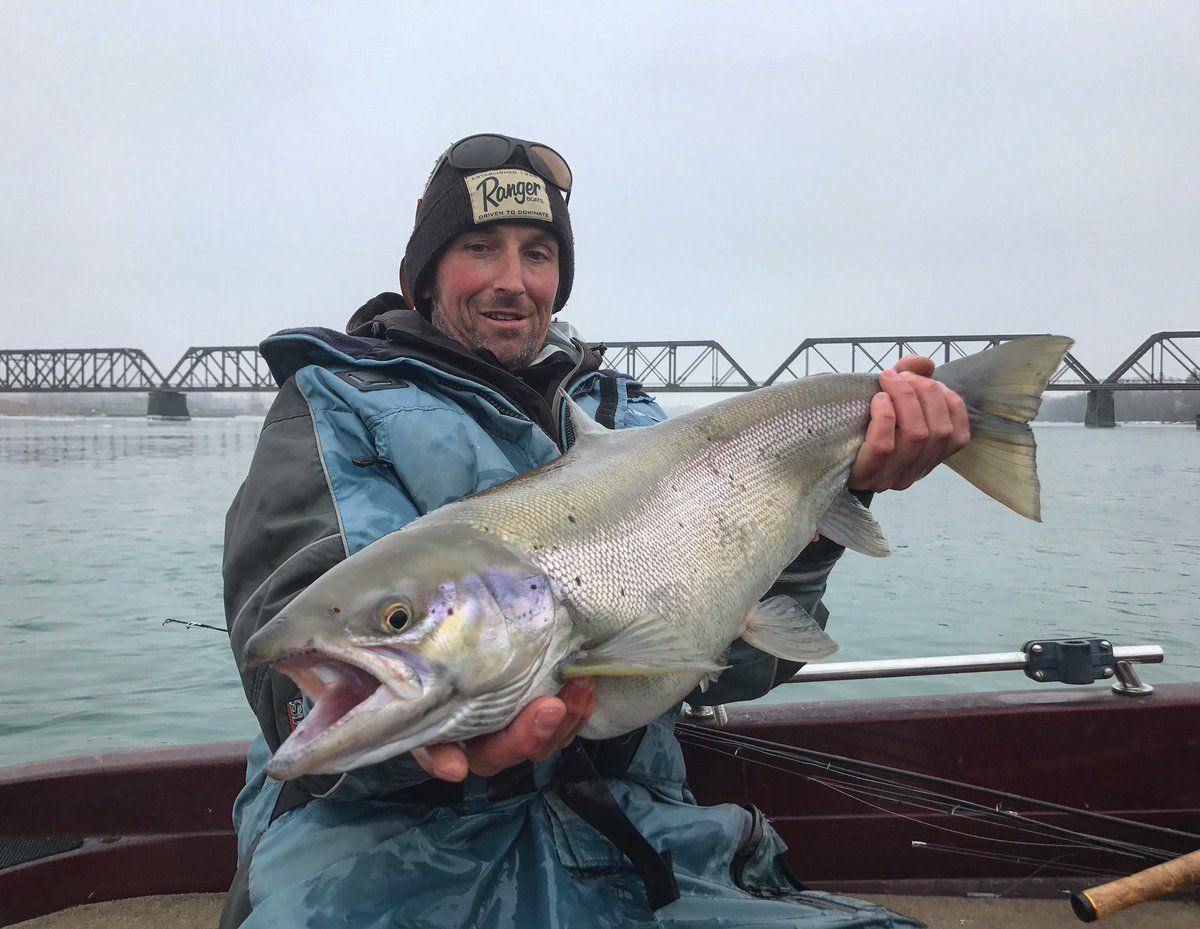 DEC announces State of Lake Ontario meetings
If you are wondering about a forage base update and what's happening with fish stocking numbers in Lake Ontario, the state's Department of Environmental Conservation (DEC) will host its annual State of Lake Ontario meetings starting next week in Rochester and Lockport. Fisheries biologists from DEC and U.S. Geological Survey (USGS) will present pertinent information on the lake's status, and will share Open Lake Creel Census data from 2018 on catch numbers and catch rates.
Dates, times and locations for next week are:
Monday: Rochester Institute of Technology at the Chester F. Carlson Center for Imaging Science, Rochester, from 6:30 p.m. to 9 p.m.
March 7: Cornell Cooperative Extension Niagara, 4487 Lake Avenue (Route 78), Lockport, from 6:30 p.m. to 9 p.m.
Bass Pro DelVisco hosts local kids contests
The Western New York Sport and Travel Expo is set for March 7 to 10 at the Erie County Fairgrounds in Hamburg. One popular speaker returning to the show will be Bass Pro Mike DelVisco. He also will host a coloring contest for kids ages 6 to 12 early next week at area Texas Roadhouse restaurants from 6 p.m. to 8 p.m. each night.
DelViso will be in Rochester at 3150 West Henrietta Road on Monday, 900 Young Street, Tonawanda, on Tuesday, and 3755 Union Road, Cheektowaga, on Wednesday. The top 2 kids from each location will be invited to a private fishing contest at the pond in the Expo on the morning of March 9 at 9:30. Check out www.eriepromotions.com for details on the WNY Sport and Travel Expo.
Tentative duck seasons announced for 2019-20
After a two-year study to determine optimal duck hunting season dates moving forward, the state's DEC has announced proposed duck hunting seasons for 2019-20. After identifying options for the best duck hunting in each zone throughout the state through each corresponding "Waterfowl Task Force," DEC worked with Cornell University's Center for Conservation Social Sciences to survey a third of New York's hunters (approximately 6,000 individuals). This is what they came up with:
Western Zone: The season will run from the third Saturday in October for 23 days and end on a Sunday (Oct. 19 to Nov. 10, 2019). The second split would begin the last Saturday in November, running 37 days and ending on a Sunday (Nov. 30, 2019 to Jan. 5, 2020). This would be barring any changes to season length by the U.S. Fish and Wildlife Service.
DEC will announce tentative bag limits for all migratory birds in April. Check out www.dec.ny.gov/press/116244.html for dates in other zones throughout the state.
Southtowns Walleye names 2018 award winners
The Southtowns Walleye Association of WNY held its awards banquet earlier this month and recognized many people who served as the grassroots catalysts to get the job done in 2018. Here's the impressive slate of recipients:
Harry A. Smith Memorial (the club's highest award) – Tim Kuczka of Lackawanna;
James Ridge Memorial (for outstanding club volunteer) – Tom Chiavetta of Hamburg;
Larry Scheffler Memorial  (active member involved with many aspects of the club for many years – Mary Gwynne of Hamburg;
Lou Podger Senior Angler (for heaviest walleye caught by a member 65 years of age or older) – Tom Barr of Eden with a 10.4-pound walleye;
Conservationist of the Year – Matt Shoemaker of Cheektowaga;
Youth(s) of the Year – Jason Merrick and Julia Stechenfinger of Cheektowaga;
Public Servant of the Year – Jeff Jondle, president of the Erie County Federation of Sportsmen's Clubs;
Elected Official of the Year – Cathy Rybyczynski, Town Clerk, Town of Hamburg;
Blast from the Past – Codey Allen of West Seneca;
Special President's awards given out by President Sue Guenther went to Elaine Weigand of Cheektowaga, Kim Skoczylas of Cowlesville, Mike Jackson of Hamburg and Lynette Guenther of Orchard Park. Sponsor recognition awards were handed out to Bob and Cindy Ciupek of C*Shore Designs in Alden, Mike Steffes with Warrior Lures of Michigan, and Carl Emerling with Emerling Ford. Volunteer Special Recognition Awards went to Mike Kazmarek of Cheektowaga, Stan Kazmarek of Cheektowaga and John "Chugger" Held of Orchard Park.