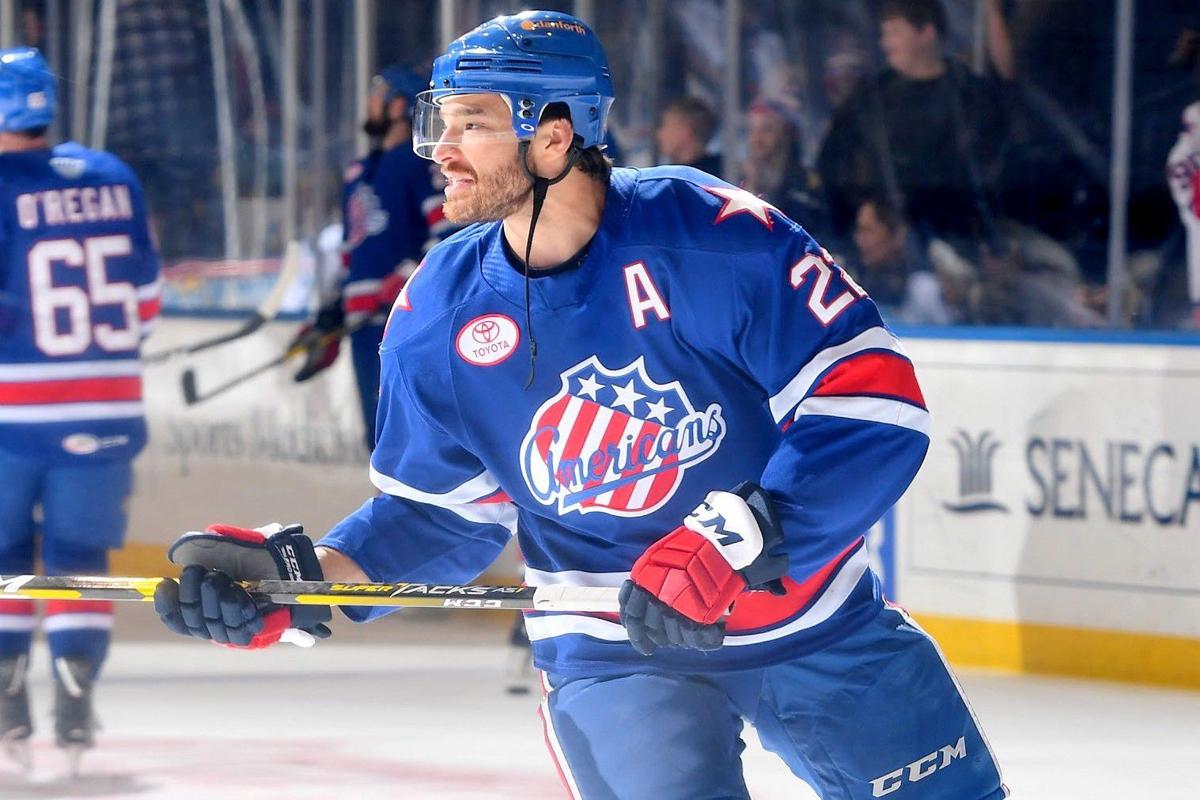 Had Zach Redmond stayed healthy, he likely would've made a run at the American Hockey League's single-season record for most goals by a defenseman.
The Rochester Americans' star scored a whopping 13 goals in the first 19 games. Redmond, of course, couldn't keep up that torrid pace, but he kept producing at an elite level well into the winter.
The mark of 30 goals set by John Slaney with the Wilkes-Barre/Scranton Penguins in 1999-00 was within reach.
On Jan. 21, Redmond scored his 19th goal in the 41st game, breaking the Amerks' single-season defenseman scoring record set by Rick Pagnutti in 1972-73. Later that night, Redmond suffered a lower-body injury, temporarily halting one of the greatest offensive campaigns in franchise history.
Redmond missed the next 11 games. Another lower-body ailment sidelined him for six games last month.
The injuries – he possibly hurt his ankle twice – helped slow down Redmond.
"Is it like it was coming off of a fresh summer and hopping on the ice?" Redmond said of the injury. "No, it's good enough and it's nothing to worry about."
The Michigan native has a 13-game goal drought going into Friday's playoff opener against the Toronto Marlies. He last scored Feb. 22.
Still, Redmond, who was rested in Sunday's regular-season finale, scored 21 goals in 56 games.
"There's always next year," Redmond said of Slaney's record.
Cooling off shouldn't diminish Redmond's prolific year. He enjoyed an MVP-type regular season and has been an electrifying presence from the start.
On Friday, he was named the Amerks' MVP and Most Popular Player. A day earlier, he earned AHL First-Team All-Star honors, becoming the first Amerks defenseman to to be named a first or second all-star in consecutive seasons since Terry Hollinger in 1995-96 and 1996-97. Redmond was an AHL Second-Team All-Star a year ago.
Redmond, 30, usually doesn't pay attention to his stats. He only knows he hit the 50-point mark because he has been congratulated for cracking the prestigious number.
But Redmond wonders whether he would've approached Slaney's record had he remained in the lineup.
"It's definitely crossed my mind," said Redmond, a veteran of 133 NHL games, including three with the Sabres last season. "I'm not sure what it was, but I know I was on a pretty good pace for a while and kind of caught the injury bug, cooled off in that regard. …
"I can't sit here and ask myself why and if I would've broken it."
Redmond has been a notable offensive contributor in the past. Last season, his first in Rochester, he compiled 15 goals, 32 assists and 47 points in 66 games, setting career highs across the board.
Why did Redmond develop into a greater scoring threat this season, his eighth as a pro?
"He has an elite ability to shoot the puck and he has been used the right way," said one scout who has watched Redmond all season. "He has had good people to play with on a good team. He has a lot of experience to draw from and he got off to a good start.
"Confidence breeds confidence, plus he is a very smart player. I think everything just fell into place."
Redmond said Amerks coach Chris Taylor and his staff are "putting me in a position to succeed."
"The past couple years, they've shown me a lot of respect and played me a lot, put me on the power play and kind of let me do what I think I'm able to do best," Redmond said. "For me in the NHL, it was always kind of a depth pairing and never really on the power play, so I never really had the points."
Taylor said: "He's being humble about the positions that he's being put in."
Redmond has helped put the Amerks in a prime playoff position. Thanks to their second-place finish in the North Division, they have home-ice advantage in their first-round playoff matchup against  Toronto. The best-of-five series opens Friday at Blue Cross Arena with Game 2 on Sunday in Rochester.
Redmond, who signed a two-year AHL contract to return to Rochester, knows the Amerks have a special opportunity this spring that rarely materializes.
Since reaching the Calder Cup final with the St. John IceCaps in 2013-14, he has only played seven AHL playoff games.
"In the American League, where it can become so developmental, to have a staff that cares so much and wants us to succeed, it's not an opportunity you get all the time," Redmond said. "So I think we know how special this is and how special it can be.
"It's just kind of a feeling in the locker room. No one's even close to being ready to go home. You have years where it's like, 'Wow, the regular season's almost over.' You can kind of feel guys thinking about home or summer. You get talking to buddies, talking about golf.
"But it's like we're geared for a long run. Nobody wants to go home. I think this year it's all in our hands. We're all excited."
Amerks soar
Thanks to a 46-23-5-2 regular-season mark, the Amerks earned 99 points, their highest total since a 104-point campaign in 2004-05.
The Amerks finished with an AHL-best 25-9-3-1 road mark, tying their franchise record for most away victories set in 1998-99.
But the Amerks' 21-14-2-1 home record concerns Taylor.
"We shouldn't be playing better on the road," a frustrated Taylor said following Friday's 4-3 overtime loss to the last-place Binghamton Devils. "We should be playing the same way everywhere we play. I just don't know what it is. We try to do different things. We try to do everything we do on the road here and change that up.
"For some reason, we're not clicking for all three periods.
On Friday, the Amerks blew a 2-0 first-period lead.
Taylor said the Amerks often make an extra pass and "don't play simple hockey" at Blue Cross Arena.
"There's a couple turnovers, and then all of a sudden, you're chasing, getting tired," he said.
"I know the guys want to play well here. We kind of make a point of it. I think it's almost we're putting a lot of pressure and they're getting a lot of pressure on them instead of just relaxing and playing."
Schmelzer finds a spot
After center Ryan Schmelzer finished his college career at Canisius a year ago, he signed a tryout with the Adirondack Thunder, an ECHL team in Glen Falls.
Then Schmelzer, 25, enjoyed a huge postseason, scoring seven goals and 17 points in 17 games. That created an opportunity for the Buffalo native to sign an AHL deal with the Devils.
"No one really knew who I was, another player coming out of college, another player playing in the ECHL," Schmelzer said. "I did pretty well there in the playoffs."
Schmelzer said Thunder coach Brad Tapper, a former Amerks assistant, "put in an extremely generous recommendation for the GM here in Binghamton."
In a rough season for the Devils, Schmelzer was one of their few constants, scoring 14 goals in 66 games.
Binghamton honored Schmelzer and defenseman John Ramage with the "Seventh Man Award" for their locker room leadership this season.
Notes
Sabres wing prospect Victor Olofsson scored twice in Saturday's 4-3 road loss to the Syracuse Crunch, becoming the Amerks' first 30-goal scorer since Jason Pominville and Thomas Vanek in 2004-05. Olofsson's 60 points also led the Amerks. … Center Rasmus Asplund was named the Amerks' Rookie of the Year and Most Improved Player prior to Friday's game. Other award winners: 21-goal winger Wayne Simpson (unsung hero), winger Danny O'Regan (Sportsmanship) and defenseman Nathan Paetsch (Community service, Man of the Year). … Forward Eric Cornel was the only Amerk to play all 76 games.