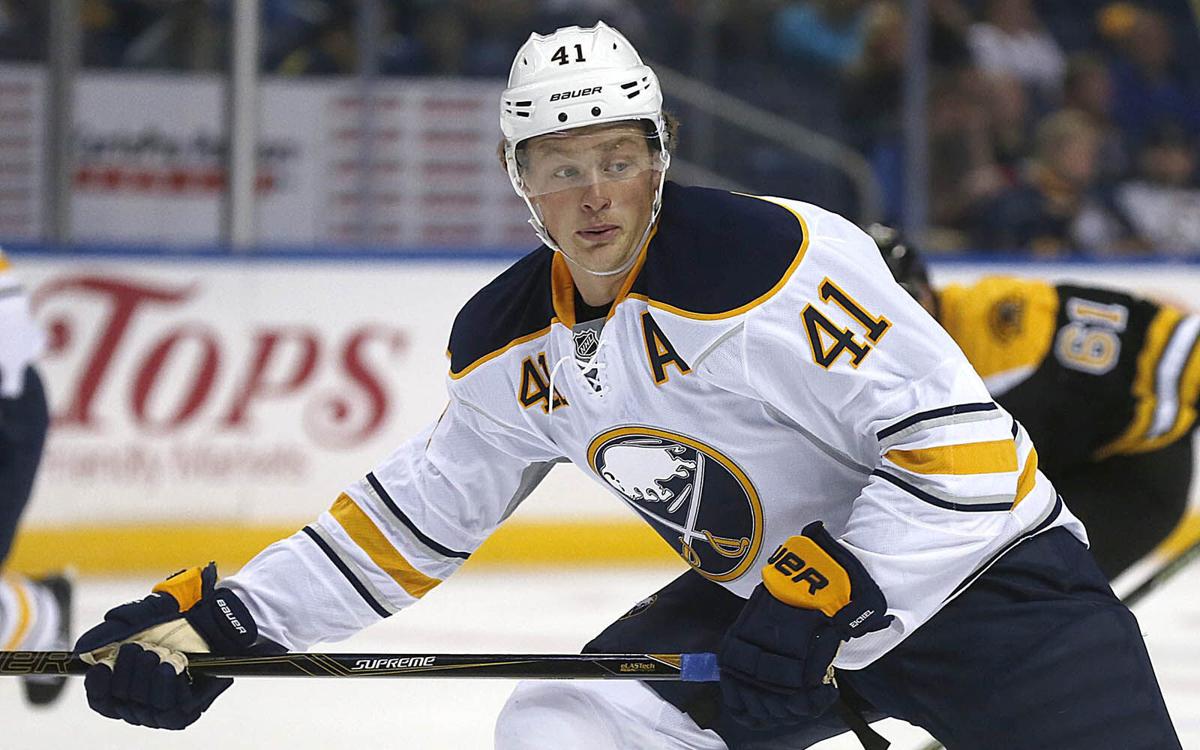 On a picturesque summer day in July 2015, an announced crowd of 17,115 filled the arena next to the Buffalo waterfront to watch as Jack Eichel, the 18-year-old anointed the face of the franchise after he was drafted second overall, donned a Sabres jersey for the first time on home ice.
"It was absolutely insane," recalled Chris Bandura, the team's former senior vice president of media relations. "Jack became a rockstar that day."
The development camp scrimmage featured 42 other prospects – including Sam Reinhart, Buffalo's top draft choice one year earlier, and Williamsville native Justin Bailey – but the main attraction was Eichel, a beacon of hope who arrived following a tank season in which fans inside First Niagara Center famously cheered for the Sabres to lose.
The fan base, like then-general manager Tim Murray, wanted wunderkind Connor McDavid, but the consolation prize was one of the most hyped U.S.-born players in some time. The midsummer excitement for hockey in Buffalo was unlike anything the region had experienced since the Sabres' second consecutive Eastern Conference Finals appearance in 2007 and has not been matched in the past five seasons.
Eichel had been the toast of the town since the scouting combine the previous month. He signed autographs while touring the city, visited Roswell Park Comprehensive Cancer Center, hula hooped at Larkinville and ate lunch at Chef's.
But it wasn't until his first practice with the Sabres on Sept. 18 – exactly five years ago Friday – that he proved to fans, teammates and coaches that he was equipped to thrive amid immense expectations.
"You could see it right from the get-go," said former Sabres winger Matt Moulson. "The first time you get on the ice with him you could see the skill set that not many people in this world possess. You could definitely see the potential of him becoming the player that he is now just from one skate with him."
The 2015-16 Sabres were expected to make significant improvement. Murray hired coach Dan Bylsma, a Stanley Cup champion with the Pittsburgh Penguins, and expedited the rebuild by acquiring center Ryan O'Reilly from Colorado and goalie Robin Lehner from Ottawa.
The latter two joined Eichel, Reinhart, Evander Kane, Zach Bogosian and proven role players such as Brian Gionta and Josh Gorges. Yet, Eichel quickly showed his teammates that he was the most skilled player on the roster.
Following a Prospects Challenge practice one week before the start of training camp, Eichel stepped back onto the ice to join some NHL players for a scrimmage and displayed the same effortless skating stride that he now uses to routinely dart past the NHL's best.
"Right away you look at him, he's a skinny kid," former defenseman Carlo Colaiacovo said. "He's got the Screech hair from 'Saved by the Bell.' He's got a little bit of a goofy look to him, but man, could the guy play hockey. That's the thing that blew me away the most – the skill level he showcased right away with his skating. I've been blown away with Jack's skating ability from Day One."
Every established player in the Sabres' dressing room expected Eichel to make an immediate impact, but he never lost sight of his upbringing in North Chelmsford, Mass. His parents, Bob and Anne, always made sure their son was humble. Eichel was never one to take anything for granted. So, while he planned to wear No. 15 in the NHL, Eichel declined to switch to the number until he made the team in training camp.
Until then, Eichel wore the No. 41 assigned to him in development camp. And while Moulson offered to have the rookie live with him and his family that season, Eichel didn't want to move in until he was officially on the roster. After a few days of training camp, Moulson told Eichel to pack his belongings and relocate to the family's home.
"I think Bylsma told him to live in the hotel the whole training camp and that lasted a couple days," Moulson said with a laugh. "After seeing him on the ice, I told him he's going to be on the team. Get in the house, get settled and let's get acquainted with each other. He was hesitant, but that's how he approached that training camp. Jack knew he was going to have to earn everything and obviously it's a testament to him and his family, how they raised him."
Eichel quickly earned his teammates' respect on and off the ice. With a smattering of fans in attendance to watch the first practice, Eichel illustrated why he was regarded as a franchise player. After facing Eichel in a one-on-one drill for the first time, defenseman Mike Weber compared the former Hobey Baker Award winner's skating to Hall of Fame center Mario Lemieux.
"He never looked like he moved that fast until he started blowing by people because he has that long, straight-up stride," recalled Weber. "I saw the speed up close and how strong he is, how confident he was with the puck. He was a special talent right away. When you're that talented it makes it an easy adjustment to the NHL."
Gionta, then a 13-year NHL veteran and the team's captain, noted: "There really wasn't a player that you could compare him to. He can do a lot of things people can't."
Bylsma wasn't quick to heap praise onto Eichel early that training camp. When the teenager was in the lineup for the Sabres' preseason opener in Minnesota, the coach insisted he wasn't going to glean anything from a 60-minute game featuring few veterans on the other team.
Eichel delivered a performance his teammates haven't forgotten. He set up Moulson's game-tying goal and scored the eventual game-winner on a shorthanded breakaway that would have been plastered all over social media and television stations had the broadcast been available in Buffalo. Later in the preseason, the home crowd roared when Eichel scored in similar fashion against the Toronto Maple Leafs before delivering his signature goal celebration.
Moulson: "You saw right from the start how good he was going to be. I was smiling pretty wide after that game (in Minnesota)."
Gionta: "He took the puck from our end with a guy right on him and by the time he got to the red line, Jack was two or three zones ahead already. He just took off. You could see his skating, his explosion. It was by far superior than the top half of the league."
Living with Moulson provided Eichel with the comfort and structure that many teenage rookies lack in the NHL. Laundry was never an issue. Moulson's wife, Alicia, provided the home cooking. Eichel also played with their two children, which offered a brief respite amid what became a chaotic season. And Moulson, whose off-ice work has allowed him to play more than 1,000 professional games, reinforced the habits necessary to thrive in the NHL.
Team breakfasts in the dining hall were typically brief because the two quickly rushed to the gym for a pre-practice workout. Eichel surprised teammates with his strength and proved early on that he was willing to work to prepare himself for the grind of an 82-game season.
"Eichs was always making sure he was doing the right things by us, the right things by himself and the organization," Weber said. "In that respect, he was always the first guy there, the first guy to the plane. He made sure he was out to dinner with us on the road. We embraced him because we knew what he would mean to our team. He knew the responsibility early on what he was going to mean to the organization."
Former teammates detailed how Eichel was respectful to veteran players and embraced any advice they offered. He quickly forged friendships with Moulson, Bogosian and O'Reilly, three of the more vocal players in the dressing room. The comfort in his new surroundings allowed his personality to shine.
Eichel was always involved in banter around the room, checking in on whichever prank was in progress and laughing over whatever happened that day. Yet, when his skates were laced and the team stepped onto the ice, he exuded a killer instinct that has been on powerful display throughout his five seasons with the Sabres.
"He wanted to be part of the group and be part of it all," Colaiacovo said. "He was so good at separating that fun, outgoing guy in the room to when it was time to play. He knew how to turn the switch on and off. Those are the kind of guys you want to be around."
Teammates were aware that Eichel was being pulled in multiple directions every day. The Sabres' public relations department had not received so many media inquiries for an individual player since former goalie Ryan Miller's Olympic heroics in 2010.
Reporters routinely asked Eichel about McDavid and there were even questions about reaching the playoffs. Eichel handled the responsibility with grace and expressed admiration for his fellow superstar, but the Sabres tried to shelter the young center from the same inquiries.
"I think he did a really nice job trying to figure it all out and being open to everything," said Bandura, who developed trust with Eichel dating back to the combine that June. "I know his head was spinning like crazy every day early on. … It was definitely a learning experience for Jack. I personally was very protective of him as much as possible early to make sure he was comfortable in what he was doing. For Jack, it was a lot of trying to limit all the exposure early on because there was a lot of attention directed to him and Connor."
Gionta: "It was a little different than other people had in the past because he was basically there to save a franchise. He had that pressure and expectation to change things overnight at 18 years old. That's a ton of pressure to put on someone. I think people lose sight of what was put on him."
The hype train moved at full bore after the season opener when Eichel scored his first NHL goal, a wrist shot on the power play during a 3-1 loss to the Ottawa Senators in First Niagara Center, but the Sabres stumbled to a 2-6 start and Eichel encountered a midseason rookie wall.
Buffalo missed the playoffs with 81 points, still their highest mark since 2011-12, and Eichel scored 24 goals to finish fourth in Calder Trophy voting. His emergence as one of the league's top stars, including a career-high 36 goals this season, has separated him from McDavid in some ways, though they will forever be linked.
Many of the people who mentored Eichel in those early years are no longer with the team and he has yet to experience the postseason, but those who witnessed that first training camp expressed pride in the person and player he has become.
"To see Jack play, to see him grow and become the leader he is today, it's special," Weber said. "He's not a finished product, either. It's still not good enough for him. He's always pushing to make himself, his teammates, the organization and the city better. That's what's really special about him. If you want to be successful, you need players like that who have that fire. We saw that early on."