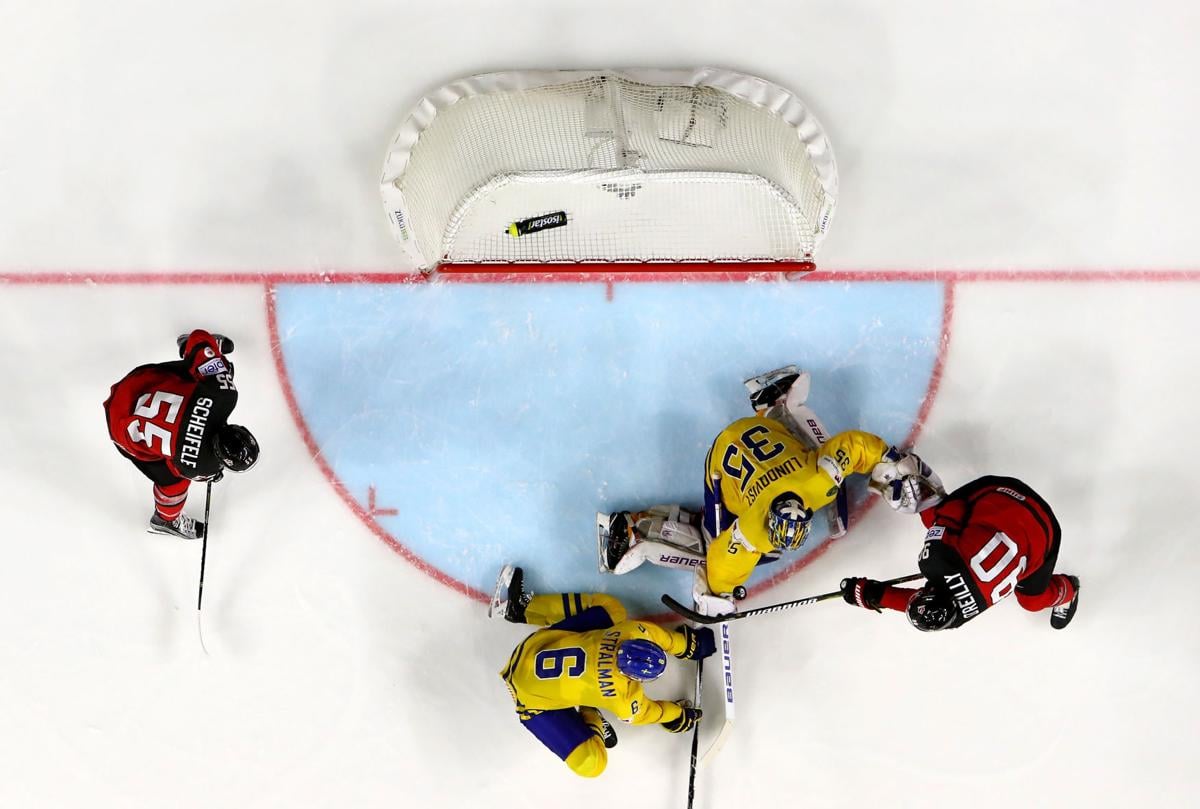 I'm not Colin Jost or Michael Che, but here's your weekend update:
*Ryan O'Reilly got Canada to the cusp of third straight gold medal. Sweden said no.
O'Reilly was the Player of the Game during Saturday's 4-2 seminfinal victory over Russia at the world championships. The Canadians were down, 2-0, entering the third period, but they overwhelmed the Russians from the drop of the puck.
Mark Scheifele scored on the power play with 17 seconds gone, and Nate MacKinnon tied it with 4:53 left. O'Reilly scored the winner with 3:02 to play.
The Sabres center then assisted on Sean Couturier's empty-net goal to seal it. Canada outshot the Russians, 19-5, in the third period.
"In the intermission, we focused on spark," O'Reilly said on IIHF.com. "We needed something to get us going, whether it was just a couple of good chances or scoring a goal.
"Getting that first power-play goal, you could see a weight was lifted, and we started to play our game again. There wasn't any sort of panic. There were 20 minutes to go, and we've done a lot with 20 minutes before. So we were confident in each other. It was just about getting out of our heads and trusting each other and winning battles."
O'Reilly continued to roll in Sunday's gold-medal game. He scored on the power play 1:58 into the third period to pull Canada into a 1-1 tie with Sweden.
Neither team would score again in a fast-paced third and faster-paced 20-minute overtime. Sweden won the gold in a shootout as Nicklas Backstrom and Oliver Ekman-Larsson beat Calvin Pickard, while Henrik Lundqvist stopped four Canadian shooters, including O'Reilly, who hit the post.
O'Reilly finished the tournament with six goals and nine points in 10 games. He has won two golds and a silver the past three years.
*Russia won the bronze with a 5-3 victory over Finland. The conclusion of the tournament opens the door for defenseman Viktor Antipin to join the Sabres.
"I am leaving for Buffalo on the 29th," he said, according to Translate.Google.com. "It's good that I had an opportunity to play in the NHL. And the team, where they will give a chance."
Antipin had four assists and plus-5 rating in 10 games. He took eight shots and averaged 17:16 of ice time, third among Russian defensemen behind Dmitri Orlov (18:53) and Bogdan Kiselevich (17:30).
The 24-year-old Antipin has spent the past five seasons with Magnitogorsk Metallurg of the Kontinental Hockey League. He had seven goals and 11 points in 18 playoff games this year, following a regular season that featured six goals and 24 points in 59 games.
*The IIHF inducted eight people into its Hall of Fame on Sunday, including former Sabres defenseman Uwe Krupp. Drafted by Buffalo in the 11th round in 1983, he spent parts of six seasons with the Sabres. He totaled 729 NHL games with stints for the New York Islanders, Quebec/Colorado, Detroit and Atlanta.
"I am privileged and fortunate to know so many people who were able to take this awkward kid from Cologne, Germany – the first German to come to North America – to help him on his way and help him learn to play hockey in the best league in the world," Krupp said during the induction ceremony.