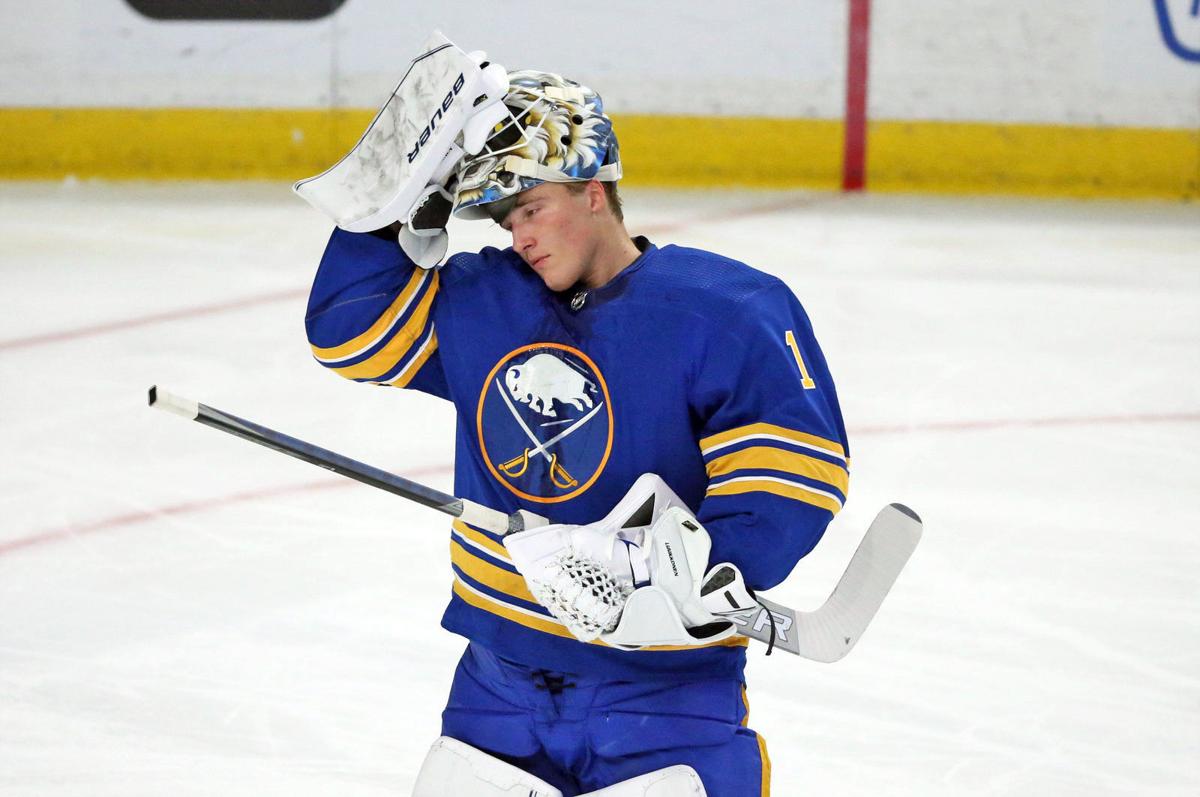 Practice had already convened Monday morning for the Buffalo Sabres in KeyBank Center when reporters suddenly heard some stick taps and a chant of "Luuuuuuke" from some players.
Ukko-Pekka Luukkonen had come through the tunnel, onto the bench and quietly stepped onto the ice to skate into the net at the Zamboni end of the rink. Of course, when you're 6-foot-5 and the organization's top goalie prospect in the professional ranks, there's no way to slide in unobtrusively.
Levi is playing so well that it's fair to wonder if he's become the Sabres' top goaltending prospect, ascending above Ukko-Pekka Luukkonen in Rochester and Erik Portillo at the University of Michigan.  
The Sabres' goaltending situation is in tatters through a combination of injury, illness and ineffective play. Luukkonen isn't going to be any panacea for one of the NHL's most porous defenses and, in fact, might only be here for a couple of days. 
But the geographic advantage of having their farm club in Rochester can give the Sabres these quick NHL looks at how their prospects are doing and some fresh hope at a time of crisis such as the one they're in.
The club isn't saying it, yet, but it seems likely Luukkonen's Monday callup will put the 22-year-old in line to make his NHL debut for this season here Tuesday night against the Anaheim Ducks.
The Sabres (8-13-3) have lost eight of their last nine games and have allowed five or more goals in eight of their last 11. They were outscored, 13-6, during this two-game road trip and have 20 goals against in the last three games.
"Of course, you're ready if you get called upon, and that's why I'm here. So in the end, it's nothing crazy," Luukkonen said. "You kind of want to stick to your routines, the same things you have done before. That's what kind of gets you in the game mode anyways."
Coach Don Granato would not commit to Luukkonen and said that call would wait until Tuesday's morning skate. Lukkonen has not played a game in Rochester since Nov. 26 and has been unable to practice for a week with the team paused due to Covid-19 protocols. Luukkonen revealed the Amerks have been limited to walks and home gym workouts, so the Sabres have to be sure there's no issues with his game shape.
"You kind of get back to it pretty fast," Luukkonen said of the on-ice work Monday. "Of course, you can feel a little bit clumsy if you haven't skated for a while, so there's always that aspect to it. But pretty fast you get back to the page on the ice."
Luukkonen has had a difficult year in Rochester, and the Sabres clearly would have preferred to leave him in the AHL, but circumstances, at least for the time being, have dictated otherwise. Luukkonen is 6-6, 3.42/.888 during what has been a rollercoaster season for him. 
In four October starts, he went 2-2, but gave up 20 goals while posting ugly numbers of 4.94/.818. He improved greatly in November (4-4, 2.58/.920) and earned AHL Player of the week honors for the period ending Nov. 15 after stopping 112 of 117 shots in three games and blanking Cleveland for his first professional shutout.
"You get to know the guys a little bit at home, but on the road, you're next to them. You're shoulder to shoulder on the plane or on the bus. Going to dinners and stuff like that," Tuch said.
"I think it's mostly about confidence," Lukkonen said about the evolution of his season to date. "You know that you can play, you know that you're a really good goalie and you should be able to play at a high level. It comes down to confidence and the mental side. That's the biggest thing. Find that you know you can be there every night and you can play well."
Craig Anderson (upper body, month to month), Dustin Tokarski (Covid-19 protocol) and newly acquired Malcolm Subban (lower body) are injured, with Subban joining the list after leaving his Buffalo debut Saturday in Carolina. That leaves only Luukkonen and current backup Aaron Dell, who is 0-5, 4.52/.872.
The Sabres are hopeful that Subban, who suffered an apparent right leg injury Saturday, could be ready for this weekend's games against the New York Rangers and Washington. Tokarski remains quarantined in Florida. 
The Sabres have given up 20 goals in dropping the last three games, their most in a three-game stretch since yielding a franchise-record 21 goals in February 1993. They are 31st in the NHL in goals against at 3.75 per game, with only Ottawa worse at 3.91.
"If you want to bulk our goals, it's paying attention to little subtleties," said Granato, pointing out how two unnamed players overskated the area they were supposed to cover on Carolina's first goal. "And it's just that simple. So the question is, are they thinking offense? Are they ready to jump on offense? But in any event, it was just a focus and concentration tweak.  ... We're scoring enough goals to win and we're not winning."
After watching Subban stop shots during practice in PNC Arena, coach Don Granato said he's "comfortable" starting his new goalie Saturday night against the Carolina Hurricanes.
Granato admitted he's troubled by Rasmus Dahlin's issues at the point of the power play, which have led to turnovers and three short-handed goals against in the last week.
"Those are focus and concentration," Granato said. "And players are hearing from us in that regard. As we move along, things move into the unacceptable category as you progress your team through a season. I've said plenty of times, you've got to give your guys some rope, but if they're not learning from it, they're going to hear from us more and they're going to face more repercussions. And that's kind of where we're at with it."
The Sabres called up Luukkonen by using one of their two CBA exemptions for goalies and could have 24 players on their roster Tuesday if Subban is deemed well enough to not have to go on injured reserve. There is no taxi squad for goalies this season, and that's likely to be a topic at this week's Board of Governors meeting in Florida. ... Granato said defenseman Robert Hagg is a possibility to return to the lineup Tuesday after sitting out Saturday's game. ... The Ducks are likely starting backup Anthony Stolarz in goal after John Gibson played Monday in Washington. Stolarz also played in the Sabres' 4-3 overtime win Oct. 28 in Honda Center.