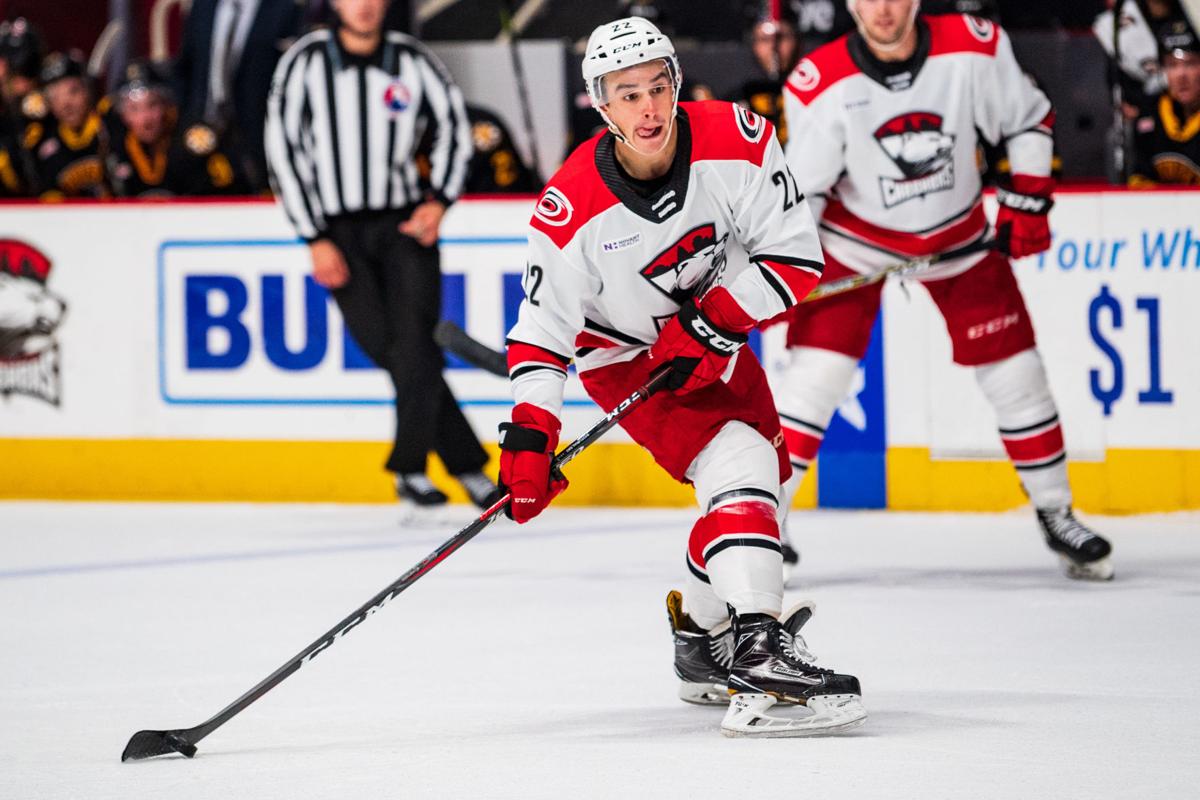 Once Andrew Poturalski grew a little bigger, the mini-stick games or table-tennis matches in the family's basement in Williamsville developed a greater intensity.
"We have battles … it's just in our blood," said his mother, Diane, a former softball player at Iowa and Erie Community College.
Early on, like most parents, Diane would let Andrew win. But then she sensed her son was becoming a little too full of himself.
"Then I decided I'm not letting him win anymore," Diane said. "Then it would just really get to be a battle."
Andrew would sometimes defeat his mother when she was trying. Inevitably, one of them would come upstairs ticked off, said Poturalski's father, Joe.
"She just kind of instilled that (competitiveness) in me and I'm grateful for that," said Poturalski, a high-scoring winger with the Charlotte Checkers in the American Hockey League. "I think she definitely helped me a lot."
That competitive nature has helped Poturalski, 25, overcome obstacles on his way to becoming one of the AHL's top scorers.
He broke his right leg three times over a two-year stretch before college, went undrafted and still cracked the NHL a year after turning pro.
Today, Poturalski leads the Checkers, the AHL's best team, in goals and points.
Two years ago, the Carolina Hurricanes recalled Poturalski for two games, his only NHL action since leaving New Hampshire after his sophomore season in 2016.
While Poturalski has always showcased his competitiveness, that short taste of the big leagues helped elevate his work ethic, said Checkers coach Mike Vellucci, who also serves as Carolina's assistant general manager and director of hockey operations.
"When he goes and is done playing hockey, he's going to say he left everything out there," Vellucci said earlier this season. "I think he wants to play in the National Hockey League and he's going to do whatever it takes. It's a good trait to have."
He added: "The last year, he's way more competitive than I've ever seen him."
Poturalski has kept evolving, morphing into an AHL All-Star this season.
"He's doing other things other than just point producing – he's backchecking, he's getting pucks out, he's doing the little things away from the puck," Vellucci said.
Through 55 games, Poturalski has compiled 18 goals and 49 points, just three off his career high. The Checkers, meanwhile, have earned a league-high 34 wins and 75 points.
"The last two years that I've been here, he's taken a bigger step every year," Vellucci said.
Still, Poturalski, who was signed by the Hurricanes' old regime, hasn't received another look. This season, he didn't even play in any NHL exhibition games.
"It's tough for everybody," Poturalski said of being bypassed for recalls. "But at the end of the day, the only thing I really can control is how I go out there and play every night … and try to earn that opportunity."
Vellucci is confident another chance will materialize someday.
"Andrew's going to get his opportunity," Vellucci said. "He's … too good of a player in the American League right now to not get an opportunity."
Having recovered from three broken legs – "That was probably the hardest thing I went through," Poturalski said – he is used to adversity.
He suffered his first break in his draft year, possibly scaring off some teams. His parents even thought his career might be in jeopardy. After the third time – he heard a snap as he and his friends were horsing around on the ice – he had a titanium rod inserted in his leg.
That break came just before he was set to join the Cedar Rapids RoughRiders in the junior United States Hockey League.
Diane said he thought he would be kicked off the team.
But Poturalski recovered, spent two seasons in the USHL and another two at New Hampshire. Following his freshman year in 2015, he attended the Sabres' development camp.
He signed with Carolina after scoring 22 goals and 52 points in 37 games in 2015-16.
Since then, Poturalski has become a consistent AHL scorer, averaging 21 goals and 51 points in his first two full years.
Still, his mother can be his harshest critic.
"I don't give him a lot of compliments," Diane said. "I know he gets mad at me sometimes. But if he wants an honest answer, he'll get it from me."
His parents watch him regularly, especially Diane, who drives all over the northeast to see him. She said she catches about 30 games a year.
"That minivan of hers has got a lot of miles on it," Poturalski said.
Diane was there Oct. 5 in Rochester, when her son enjoyed perhaps his best outing as a pro, scoring a slick goal and adding three assists in Charlotte's 6-2 win over the Americans.
"That was the best I've ever seen him play," Diane said. "I told him that."
Pu struggling
After mustering just one goal and six points in his first 42 AHL outings, the Checkers demoted former Sabres forward prospect Cliff Pu to the ECHL earlier this month.
Pu, a third-round pick in 2016, was a key piece that the Hurricanes received in the trade for winger Jeff Skinner.
"He needs his confidence," Vellucci said. "He's been playing in a defensive role for us and we haven't been scoring much lately, so I wanted to give him some confidence, get down there and get his confidence back there. He'll be back up."
So far, Pu, 20, has scored two goals and five points in five games with the Florida Everblades.
Redmond's back
After missing 11 games, Amerks star Zach Redmond scored just 2:45 into his return Wednesday, his 20th goal.
Redmond, 30, later added an assist and pumped a game-high eight shots on goal in the 4-2 win over the Cleveland Monsters.
In his last appearance before suffering a lower-body injury, Redmond surpassed Rick Pagnutti's as the team's single-season goal leader among defensemen.
"You definitely get antsy, especially four weeks out," Redmond said.