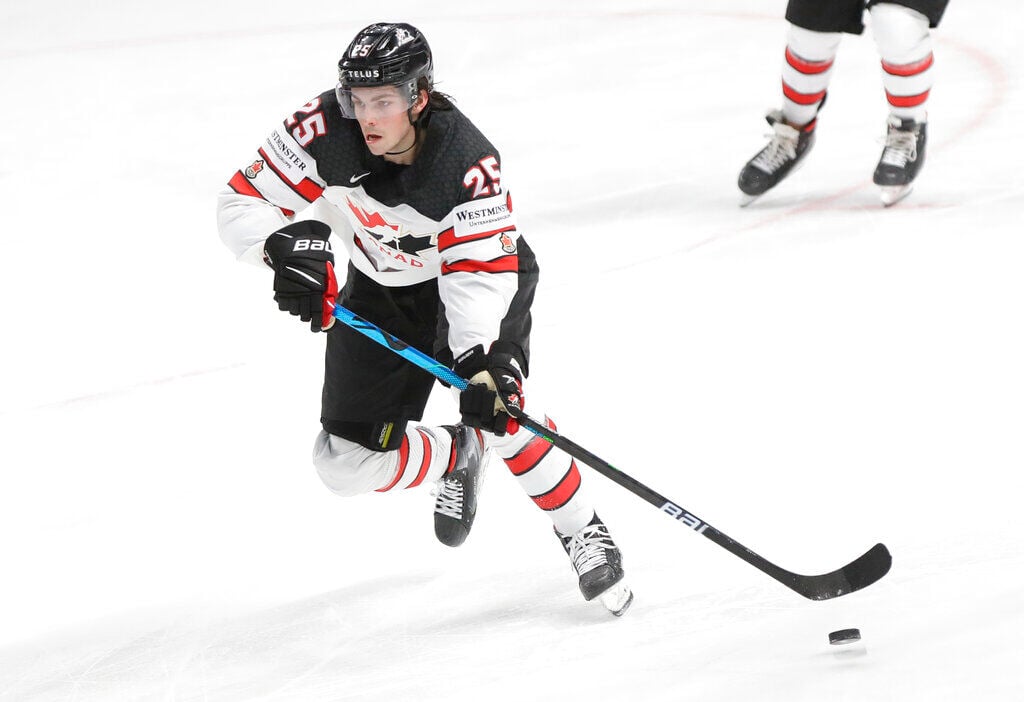 Kevyn Adams and his scouting staff with the Buffalo Sabres won't have to predict which player will be available when they are on the clock in the first round of the NHL draft on July 23.
Winning the lottery last Wednesday night ensured the Sabres own the first overall pick for the second time in four years. The general manager will soon gather his scouts to complete their prospect rankings, but they have almost seven weeks to focus on several players who could be considered at No. 1.
Adams can save himself some time by watching as many University of Michigan games as possible. Three of this draft's top players were freshmen for the Wolverines this season: consensus top prospect Owen Power, a dynamic defenseman from Mississauga; center Matthew Beniers; and center/winger Kent Johnson.
The Wolverines were a No. 2 seed in the NCAA Tournament after completing a 15-10-1 season, but it ended prematurely because of a Covid-19 positive test ahead of the Midwest Regional in Fargo, N.D. The roster included eight players already drafted by an NHL team, including four chosen in the first or second round.
Perhaps no one had a better view of the three prospects than the Wolverines' top goalies: junior Strauss Mann and freshman Erik Portillo, a third-round draft choice of the Sabres in 2019. Mann and Portillo lent their analysis on each player to The Buffalo News in separate phone interviews recently.
"Every day in practice was fun," said Mann, the Big Ten Goaltender of the Year for 2019-20. "I could kind of see it from day one. Every year at Michigan, you've got a lot of skilled guys and a lot of talent and it challenges you in practice, but this year, the skill level, as a goalie, you could see it was kind of at a different level. Just the creativity from some of these young guys was off the charts."
Owen Power, left-shot defenseman, 6-foot-6, 213 pounds
Labeled by Dan Marr, director of NHL Central Scouting, as a "very fluid and agile skater," Power uses his speed and edge work to make zone entries and exits appear effortless. He was ranked by central scouting as the top North American skater in this draft.
Power's game isn't flashy like Rasmus Dahlin's, but they are both excellent at making the 5- to 10-foot pass that's necessary to start the rush. This makes Power an ideal fit for how we expect the Sabres to play under their next coach.
In 26 games as a freshman at Michigan, Power totaled three goals and 16 points. His previous two seasons with the United States Hockey League's Chicago Steel included 23 goals and 65 points in 65 games. He was named the league's defenseman of the year for the 2019-20 season.
Power's 0.62 points per game this season helped him secure rookie of the year honors from the College Hockey News and he was a Big Ten Freshman of the Year finalist. More important for the Sabres, Power was remarkable against older competition at the IIHF World Championship. He had three assists, 17 shots on goal and a plus-1 rating while averaging 20:07 of ice time in 10 games to help Canada win gold.
"His game probably is the least flashy of the three, but as a defenseman, that's probably what you'd expect," Mann said of Power. "He's just so efficient with everything he does. He's got so much detail to his game. … He's definitely a guy that would be staying out there after practice, putting in the extra work with his skating and his skills because really, he likes attacking his weaknesses. Also, as a big guy, it can be hard, I think, to have that foot speed. You see him every day working on his turns and his speed out of the zone, and all that stuff, but he's really just taken his game to the next level this year."
When the Wolverines weren't practicing, playing games or completing schoolwork, their freshmen huddled together in a dorm room to watch their games or top players in the NHL. Portillo thought only goalies studied to this extent, but he learned that Michigan's big three, specifically Power, poured over hours of video to try to obtain a competitive edge.
"He's a defenseman, so he has a good shot and stuff, but like when you have him in front of you, I think that's when you notice the difference in his game," Portillo said of Power. "I played with Dahlin a little bit when I was younger and it's a similar feeling. (Power) skates so well and, you know, they have a sense of dominating the zone. So, like they really own the zone and you get a feeling of trusting those guys. I really trust Owen when to do his job and that makes it easier for you as a goalie to just focus in on your part and just do your thing."
Matthew Beniers, center, 6-1, 175 pounds
Surprisingly, Beniers was ranked by NHL Central Scouting as the No. 6 North American skater in this class despite most draft analysts calling the 18-year-old the top forward available. Beniers has top-end speed that compares to Dylan Cozens and a fearless, responsible two-way game that will help him make the transition to the NHL when he's ready physically.
Beniers averaged a point per game at Michigan with 10 goals and 14 assists for 24 points in 24 games as a freshman. He also had impressive production at the USA Hockey National Team Development Program in 2019-20, totaling 18 goals and 41 points in 44 games.
"He's just an all-around player," Mann said of Beniers. "I think every scout or anyone that watches him can see that. It kind of seems like the guy doesn't run out of energy. He's just bopping around the ice, out-skating everyone. He'll lead a rush and then be the first guy back on the backcheck. Just kind of a complete player that energizes your team and his linemates and goes to the net really hard, does the little things well. He's a guy that everyone would want on their team."
Good news arrived Sunday when Beniers took warmups ahead of the bronze medal game after he suffered an ankle injury competing for the United States in a 6-1 victory over Slovakia. It appears the ailment won't impact his ability to train in preparation for next season.
Beniers is the top two-way center in this draft and would fit a potential need for the Sabres, who may trade Jack Eichel and Sam Reinhart this summer. Beniers would provide Buffalo with needed depth down the middle and his unflappable work ethic fits Adams' preference for how this club should be built.
"He has a good shot, he stickhandles really well, but I would say skating is his greatest strength," said Portillo. "He never really stops skating. He works so hard on the ice. It's unlimited energy. That's what makes him special. He has the shot and the skill set. Everything you'd want. But he just keeps on going. He never stops and never slows down. … He's always in the right position, and he has the technique and the smarts to always make a play."
Kent Johnson, center/wing, 6-1, 167 pounds
Arguably the most skilled player in this draft, Johnson's highlights from this season were spectacular. His playmaking ability resembles that of Trevor Zegras, who was drafted ninth overall by the Anaheim Ducks in 2019.
The biggest knock against Johnson is his size. He may need multiple years to gain the strength necessary to produce consistently during an 82-game NHL season. However, a closer look at Johnson's game shows that he's not a perimeter player. He makes tight area plays to score goals and create opportunities for teammates. Johnson has some fearlessness in his game, as he's shown a willingness to park himself in front of the net for deflections and retrieve pucks along the boards.
This would be a high-upside pick for the Sabres. You would have to wait for Johnson to develop into a contributor, and he likely projects to play left wing long term, but the tantalizing skills will put him in the conversation for this pick.
"He's very creative out there," said Mann. "I think he has a lot of fun with that part of his game, which is great to see. He was so locked in day one and he looked like maybe he was a high schooler still, but then you realize these guys are like 17-18 and it's just fun. It brings a good energy, especially with him. He just loves the game and loves to watch video and learn from guys and learn different moves and play with different types of things. There's definitely a method to the madness.
"He'll be doing shootouts or penalty shots like at the end practice and he'll just pull things out of his back pocket that you didn't even know existed. It was definitely fun to kind of be at practice with him and try and stop some of those attempts. … He still will mature a lot physically, but he's always working in the gym and on the ice. And I feel like the sky's the limit for him because of that."
Across 26 games as a freshman at Michigan, Johnson totaled nine goals and 27 points. He was a prolific player during his junior career with 41 goals and 101 points across two seasons with the Trail Smoke Eaters of the British Columbia Hockey League.
Portillo has faced NHL players during his summer workouts in Gothenburg, Sweden, including Dahlin. But he said none of those competitors were more difficult to face in a shootout than Johnson, who was meticulous in how he crafted his stickhandling to fool goaltenders.
"Kent is incredibly skilled," said Portillo. "I've never faced anyone like him in shootouts, not even NHL players. His individual skill is that good. The way he can score goals, and the way he can find ways to score goals from incredible positions and like, penalty shots, and so on. He's always a threat."