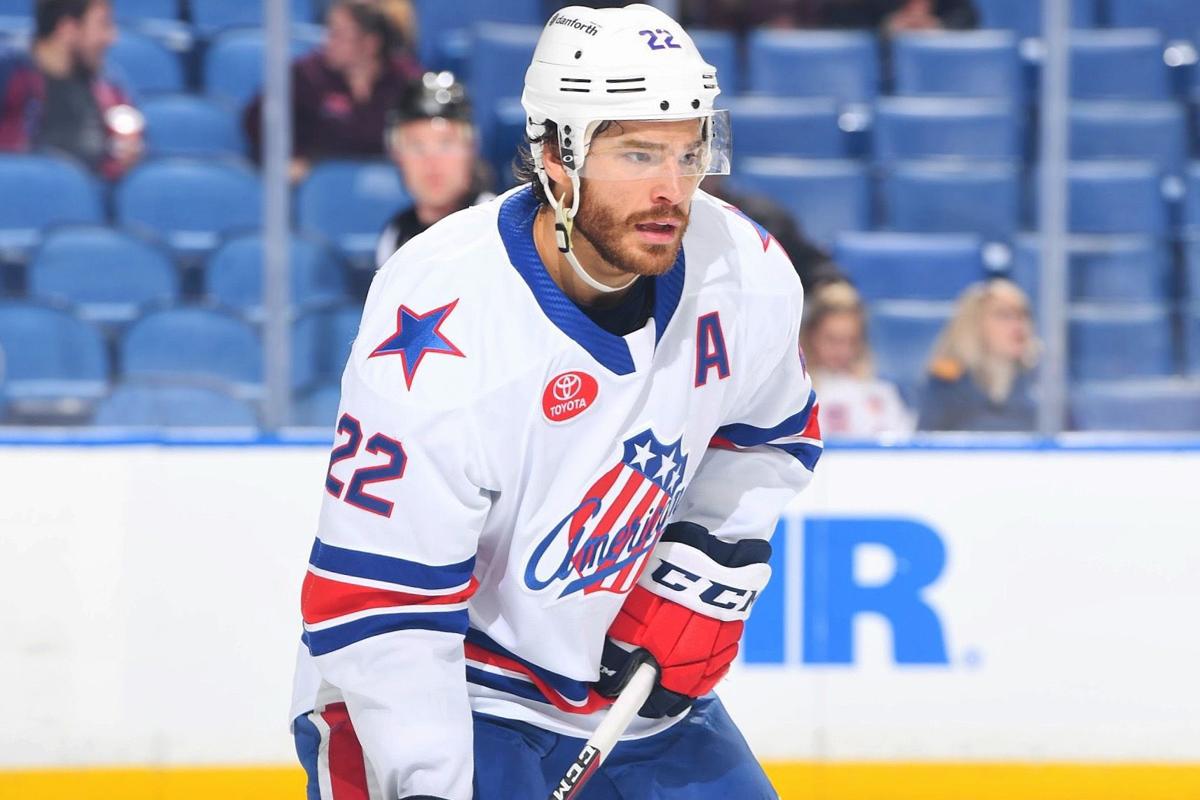 Longtime Sabres beat writer Bill Hoppe of BuffaloHockeyBeat.com will be writing about Sabres prospects, the Rochester Americans and related topics this season.
ROCHESTER – Zach Redmond said as his career progressed, he learned getting hung up on points or individual success can create bad habits and hurt you. So the high-scoring Americans defenseman stopped looking at stats.
"That's why guys get streaky, in my opinion," Redmond said last week. "I'm just trying to … make sure I'm doing the right things for our team to win. So for me, that's kind of putting the whole points thing out of my head."
That means Redmond, 30, doesn't know the gaudy offensive numbers he has compiled during the Amerks' torrid 10-3-1 start.
"I don't, to be honest with you," Redmond replied when asked if he knew his point total.
Through 14 games, Redmond has scored a whopping 10 goals and 18 points, putting him third in AHL goal scoring and fifth in points. He leads the Amerks and all AHL defensemen in both categories. His five power-play goals rank second overall.
Right now, Redmond is an early MVP candidate and enjoying what could be one of the greatest seasons by a defenseman in AHL history.
"He's kind of at the intersection of lots of experience, high level of talent and great confidence," Amerks general manager Randy Sexton said.
Amerks coach Chris Taylor, a former Rochester star, said Redmond is performing better than any AHL defenseman he has ever seen.
"That's the reason we signed him, not just for one year, (but for) two years," Taylor said of the eight-year veteran, who inked a two-year AHL contract. "We knew what we were getting and what he provided for us last year – on the ice and off the ice."
He added: "We wanted the whole package. When Zach came to us, we found out that he had the whole package."
More than a month into the season, Redmond hasn't slowed down. So far, he has only two pointless outings. In the last three contests, he has scored four goals, including two game-winners.
In Friday's 3-2 overtime victory against the Syracuse Crunch, he scored his fifth game-winner this season, setting a new career high.
Redmond also hit the 10-goal mark faster than any Amerks defenseman since Don McSween needed 21 games in 1989-90.
At his current pace, Redmond would score a stunning 54 goals and 98 points over a 76-game AHL season. He compiled a career-high 15 goals and a team-best 47 points in 66 contests last season.
Chris Snell holds the single-season AHL record for most points by a defenseman with 96 in 1993-94 for the St. John's Maple Leafs, according to the league. John Slaney set the goal mark with 30 in 1999-00 for the Wilkes-Barre/Scranton Penguins.
Even if Redmond cools off, he could surpass the Amerks record of 18 goals by a defenseman Rick Pagnutti set in 1972-73. Bob Hess set the points mark with 75 in 1980-81.
Redmond has generated a huge amount of offense without shirking his defensive responsibilities, Taylor said.
"He doesn't take it for granted just scoring goals for our team," Taylor said. "He plays really good defense."
Still, Redmond's greatest contribution to the Amerks might be the professionalism he instills in Sabres prospects.
"He's just all about what he needs to do about his job," Taylor said. "He's a huge influence on our young guys. He's the type of guy everybody comes to for a little advice, just a little thing here, a little thing there. He doesn't talk a lot, but I believe his actions speak way more volumes than his words do."
Sexton said that includes his off-ice work ethic and commitment to practice.
"That rubs off," Sexton said. "He's got this very calm (demeanor), he's always got a big smile on his face. He's got kind of this engaging personality I think allows young players to feel comfortable with him very quickly and allows them to almost gravitate to him."
Fedun's departure
Sexton said Taylor Fedun, a veteran defenseman the Sabres traded to the Dallas Stars on Saturday, did not want to leave the Amerks.
But Fedun, 30, was occasionally a healthy scratch this season and in the final year of his contract. Sexton said with newcomer Jack Dougherty close to returning from a lower-body injury and rookie Will Borgen playing well on the blue line, a trade "made good sense for everybody."
"Dallas needed some defensemen. It was great chance for Taylor to play every night and it was an opportunity to free up a spot for one of our younger players," Sexton said.
The Amerks now have nine defensemen on the roster. Ten wasn't too many.
"You can never have too many defensemen," Sexton said.
The Sabres received a conditional seventh-round pick in 2020 for Fedun, who was assigned to Dallas' AHL affiliate, the Texas Stars.
Bailey's scoring
After going goalless in his first 11 games, Amerks winger Justin Bailey scored twice in last Wednesday's 5-2 win over the Cleveland Monsters and again Friday.
The Williamsville native utilized his slick speed to score all three goals.
On Friday, Bailey roared by a down the left wing, beat a defender and cut to the net to score his 56th AHL goal.
"He needs to do that more, for sure," Taylor said. "He'd have a lot more goals if he just took pucks wide and used his body and his speed."
Be the first to know
Get local news delivered to your inbox!