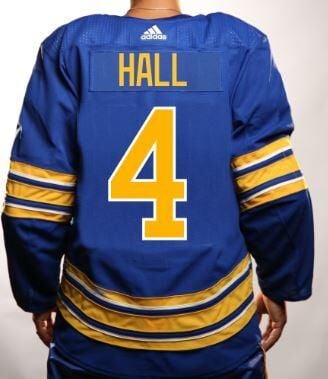 Taylor Hall came to Buffalo to once again play with Ralph Krueger, who was his coach early in his career with the Edmonton Oilers. And what sweater number will Hall wear next season?
He's going back to No. 4, the number he wore for the Oilers from 2010-16.
The Sabres made the announcement on Twitter on Monday night with a photoshopped rendition of Hall taking the KeyBank Center ice in his white jersey trimmed in the team's new royal blue and gold. The reveal, of course, also included a link to Hall's jerseys available for preorder at the One Buffalo shop.
Hall will become the 24th player – but the first forward – in Sabres history to wear 4, a number worn last season by Zach Bogosian after he switched from 47 following the departure of Josh Gorges. The most famous 4s are probably two players who played in the Stanley Cup final for the Sabres: Jerry Korab (two stints from 1974-85) and Rhett Warrener (1999-2003).  
Others who wore 4 include Mike McMahon, Tracy Pratt, John Van Boxmeer, Mark Renaud, Timo Jutila, Steve Dykstra, Jim Korn, Uwe Krupp, Phillipe Boucher, Alexei Zhitnik (who wore it only in 1995 before switching to 44), Bob Boughner, Grant Jennings, Mike Wilson, Brad Brown, Nolan Pratt, Mike Weber, Steve Montador, Joe Finley and Jamie McBain.
Hall also wore No. 4 in junior with the Windsor Spitfires. After leaving Edmonton, he had to switch to No. 9 when he was traded to New Jersey in 2016 because No. 4 was retired in honor of defenseman Scott Stevens. When he was traded to Arizona last December, Hall wore No. 91 for the Coyotes. He's not wearing No. 9 here, of course, because that belongs to captain Jack Eichel.