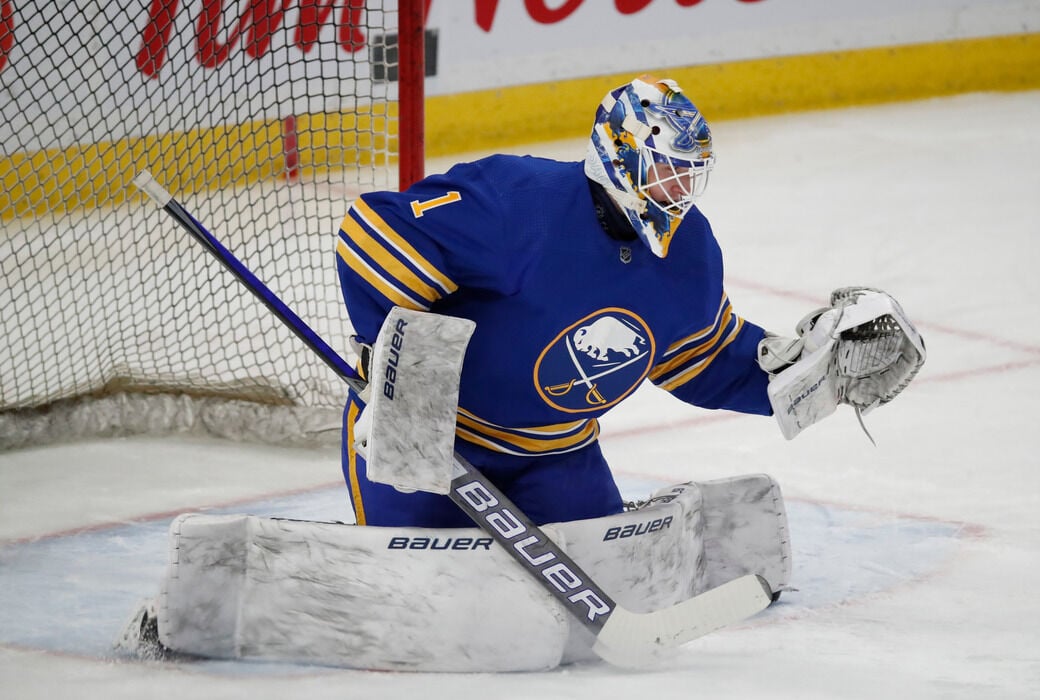 Ukko-Pekka Luukkonen sat in a corner seat on the Buffalo Sabres' bench Tuesday night, his first up-close look of the speed at which the game is played in the National Hockey League.
Luukkonen's first experience as the Sabres' backup goalie also provided a front-row seat to watching his fellow countryman, Tuukka Rask, one of the most accomplished Finnish goaltenders in NHL history, stifle the Sabres for three periods in KeyBank Center.
Rask, a 34-year-old with 554 regular-season games on his résumé, stopped all 32 shots he faced for the Boston Bruins, most notably a sprawling, highlight-reel save on Sabres rookie Dylan Cozens.
"He played really well, and he showed what it takes to be a goalie on this level for a long time," said Luukkonen, the Sabres' top goaltending prospect. "I have a lot to learn from him."
As the backup goalie for the 2-0 loss to Boston, Luukkonen did not receive his official introduction to the NHL. Luukkonen, a second-round draft pick in 2017, only faced shots in warmups and had the occasional chat with starter Dustin Tokarski.
However, a spot on the bench was part of the Sabres' plan to prepare Luukkonen for his long-awaited NHL debut, which will occur Friday night against the Bruins.
This will be the most anticipated goaltending debut since Ryan Miller, the franchise's all-time leader in wins, first donned the Sabres crest in a regular-season game on Nov. 19, 2002. Hockey fans in Buffalo have watched Luukkonen's ascent from afar, from his gold-medal winning performance for Finland at the IIHF World Junior Championship to earning Ontario Hockey League Most Valuable Player honors with a .920 save percentage for Sudbury in 2019.
The fan base that's dreamed of the next Miller or Dominik Hasek will receive at least a preview of the goaltending prospect labeled a possible catalyst for change.
"First of all, as a young, top prospect coming in, just to be humble and work so hard," Tokarski said when asked what he's observed from Luukkonen. "When I was in Roch with him, there was a lot of practices, obviously, with the long training camp there. Just every day putting in the reps, not complaining. Obviously, it's no secret he's got the talent to be elite, he's shown it throughout his whole young career. So, I think when you put the talent in with the work ethic and being humble I think can go a long way."
Tempering expectations will be important. Luukkonen will need more time in the American Hockey League before he's a full-time option for the Sabres. Most organizations prefer to wait to permanently promote a goaltending prospect until he has logged approximately 100 professional games between overseas and the minors.
Luukkonen has played a combined 62 games between Finland's Liiga, the ECHL and the American Hockey League, including only 25 with the Rochester Americans. This latest promotion only occurred because the Sabres' top two goalies, Linus Ullmark and Carter Hutton, are out with lower-body injuries. Jonas Johansson, the team's No. 3 to start the season, was traded to Colorado last month.
Luukkonen is only two years removed from double-hip surgery, a procedure that required a six-month recovery and impacted his ability to properly train for the 2019-20 season. Realistically, Luukkonen should not be penciled in for a roster spot in Buffalo until 2022.
This opportunity, and any that follow before the season finale May 8, is invaluable, even though it hasn't arrived under ideal circumstances. Luukkonen recently recovered from a minor lower-body injury and has not appeared in a game for the Amerks since April 10, when he was pulled early after allowing five goals on 27 shots.
Luukkonen, like many athletes, hasn't performed to his standard since the Amerks returned from their Covid-19 pause, totaling a .863 save percentage in six games while playing behind a patchwork lineup. He had a .903 save percentage in eight starts prior to the temporary shutdown.
"He's ready. No goalie is totally ready at the age that he's at," said Amerks coach Seth Appert. "It's a lot easier to play at that age as a defenseman or a forward, but I feel confident that he's going to handle the opportunity very well."
An inability to train properly in the summer of 2019 led to some technical issues in Luukkonen's game last season. He managed to get by on pure athleticism in the ECHL, but deficiencies were exposed in 10 appearances with Rochester.
The long offseason provided Luukkonen with ample time to build lower-body strength to support his 6-foot-4-inch, 220-pound frame. He also continued his work with Sabres goalie development coach Seamus Kotyk and his offseason position coach, Jan Lundell.
Growth on and off the ice led to a promising start to this season with TPS of Finland's Liiga. Luukkonen had a .908 save percentage in 13 appearances before his loan agreement ended in December, but he was not among the goaltenders invited to Sabres training camp.
"What I noticed when I saw him play, even when he was in Finland, is I think he's moving better," Kotyk told The Buffalo News in February. "He's more fluid on his feet. He's getting into and out of his goal post in those technical positions. Those look more fluid to me. And just the way his moving around the net, it's a little quicker, a little faster."
While Luukkonen's debut will come sooner than anticipated, it's not unprecedented. Five other goalies selected in the 2017 draft have played at least one NHL game, most notably the only one selected before Luukkonen: Jake Oettinger of the Dallas Stars. Entering Wednesday, Oettinger, 22, had a .919 save percentage in 23 NHL games this season.
Spencer Knight, who was drafted 13th overall in 2019, won his NHL debut by making 33 saves for the Florida Panthers on Tuesday night.
"It's always cool to see young guys get their chance and play well," Luukkonen said. "Kind of knowing you've faced off against them and they're doing well and playing well, it's one of the things that makes you want it even more. You want to get your chance to play on that level."
Luukkonen's debut is an encouraging next step for an organization in desperate need for goaltending. Ullmark has established himself as a reliable starter, but he's missed time with separate lower-body injuries the past two seasons. The 27-year-old is also a pending unrestricted free agent.
Since Miller was traded to St. Louis on Feb. 28, 2014, the Sabres have used 15 goalies, none of whom produced consistent results, while allowing the second-most goals in the NHL and registering the fewest points as a team during that span.
Among the 14 goalies drafted by the Sabres since Miller joined the organization in 1999, only two other than Miller have played more than 19 games in the NHL: Jhonas Enroth and Ullmark.
Luukkonen may someday provide stability at what's been a position of need throughout the franchise's 10-year playoff drought.
"He has a real nice calm presence to him, but he has a presence to him," interim coach Don Granato said of Luukkonen. "You notice it. He has some unique qualities to him in regard to that. So, as all the guys, I'm excited to see him with this opportunity coming for him. He's worked hard for it."