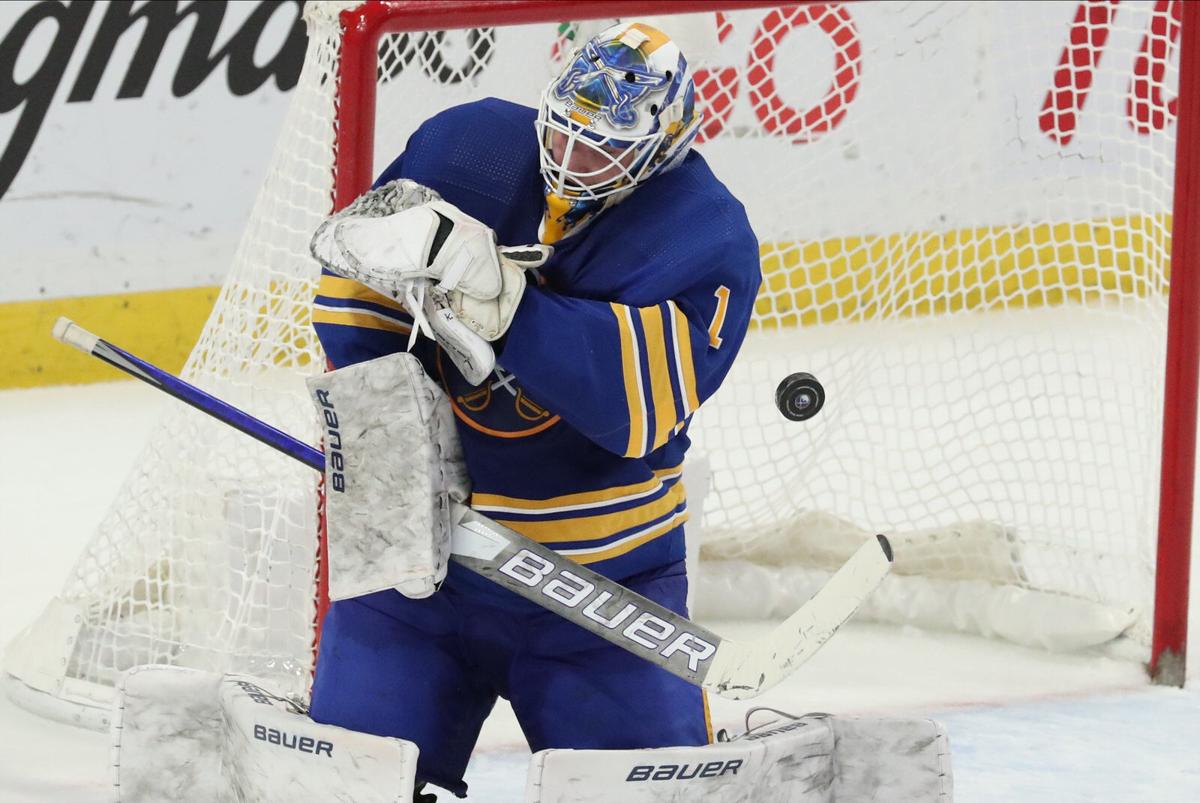 Ukko-Pekka Luukkonen skated to the top of the crease, stared down the shot from Casey Mittelstadt and used his helmet to stop the quick wrister from the prominent member of the Buffalo Sabres' young core.
Mittelstadt, a 22-year-old center who recently received a three-year, $7.5 million contract, along with Dylan Cozens, skated at LECOM Harborcenter on Thursday in preparation for taking on prominent roles in the absence of Sam Reinhart and, most likely, Jack Eichel.
The two-hour skate featuring several other players in the organization was a minor tune-up for the talented young forwards with training camp approximately two weeks away. For Luukkonen, these on-ice sessions hold greater significance. While most NHLers who participated are all but guaranteed spots on Buffalo's roster, Luukkonen is the most notable goaltender in what's expected to be a three-man competition to decide who will start when the regular season opens Oct. 14.
"Well, of course, it's nice to have the opportunity, but anywhere you play in this league, there's going to be competition, and there's going to be good goalies playing with you," Luukkonen, 22, said after stepping off the ice. "So, of course, you want to do your best and that's the only thing you can really do is to be your best and do your best. But I think it's a really interesting camp that is coming on and I'm really excited for it."
The first nine hours of free-agent frenzy passed July 28 and the Sabres did not have a proven NHL goalie on their roster. Linus Ullmark, a homegrown 28-year-old with one of the best 5-on-5 save percentages in the league last season, bolted for Boston, and 35-year-old veteran Carter Hutton joined the rebuilding Arizona Coyotes, leaving Luukkonen and Dustin Tokarski as the only goalies under contract with Buffalo for 2021-22.
It was a stunning development, as Luukkonen has only four games of NHL experience and Tokarski is a longtime AHL goalie. Then came the news that General Manager Kevyn Adams signed veteran goalies Craig Anderson and Aaron Dell to one-year contracts. On the surface, Adams appeared to prioritize short-term stopgaps, but he later revealed that a lack of games played – Luukkonen has only 52 in North America – won't deter the 2017 second-round draft choice from competing for the starting job in camp.
The plan to possibly play Luukkonen might seem premature given his lack of pro experience and the fact he's a little more than two years removed from undergoing double-hip surgery. But equipped with lessons learned through unprecedented adversity – including a two-week Covid pause in Rochester and a season-ending ankle injury with the Sabres in May – Luukkonen expressed confidence that he's ready for what's to come.
"Everything is so much faster," the 6-foot-4 Luukkonen said. "Players are that much better and you have to be better also. And, you know, in the end, every goalie in the league is really good. It comes down to the details and who does the little things best. So, for me, as a big goalie, I have to be faster and better positioning and, you know, all that kinds of stuff. It gives you a little bit of confidence when you know you have played and you have won at that level. It gives you that confidence."
Sabres fans last saw Luukkonen on May 1 when he was helped off the TD Garden ice in Boston after a routine movement in the crease resulted in a high-ankle sprain. It was Luukkonen's fourth career NHL start and the injury spoiled the club's plan to have the top goalie prospect man the net for the final games of a 10th consecutive nonplayoff season.
The timing of the ailment also prevented Luukkonen from finishing the season with the Rochester, limiting his second full year in North America to only 18 games. His final statistics with Buffalo were underwhelming. Luukkonen won his NHL debut with 36 saves against the Bruins on April 23, but he posted a .906 save percentage and 3.88 goals-against average in four starts. He also had a negative-1.22 goals saved above expected, according to Evolving-Hockey.com.
Yet, Luukkonen proved he could stand tall against the league's best and that he might be further along in his development than many anticipated. Faster, more talented competition exposed some weaknesses, particularly tracking the play when the puck is passed from behind the net to in front. But Luukkonen's technique and speed were at an NHL level.
The physical rehabilitation process for Luukkonen began in Buffalo – he spent most of that time with Sabres prospect Jack Quinn, who was recovering from hernia surgery – and continued upon his arrival in Finland. Guided by the club's medical staff and goalie development coach Seamus Kotyk, among others, Luukkonen initially focused was recovering from the injury. He then worked with a physiotherapist and strength and conditioning coach to not only regain his form but to prepare himself for the challenge of competing in the NHL. There was an emphasis on getting stronger, particularly in his lower body, to prepare for a heavier workload in Buffalo or Rochester.
"Usually, the first thing you look at is stats, and those are not the best, of course, but you have to be able to look past those and see the good things behind them," said Luukkonen, reflecting on his four NHL games last spring. "And I think in the end, those were good games for me, and I played really solid in the end. … There's a lot of good things to take away from those games."
If Luukkonen manages to secure a roster spot, he would likely be part of a tandem with 40-year-old Craig Anderson, whose career has spanned 17 NHL seasons and 654 games, not including playoffs. Anderson appeared in only six games with Washington in 2020-21, but he's one year removed from recording a .902 save percentage in 34 appearances with a rebuilding Ottawa team.
Dell, a 32-year-old who also skated with the group Wednesday, had a .908 save percentage in 107 games with San Jose from 2016-20, but he struggled with New Jersey last season and joined Buffalo on a two-way contract. 
Anderson can share wisdom that can only be culled from on-ice experience, one of the few assets Luukkonen is lacking. After all, Luukkonen has been exceptional at almost every level.
Drafted 54th overall by former General Manager Jason Botterill, Luukkonen led Finland to a gold medal at the IIHF World Junior Championship in 2019 and was named the Ontario Hockey League's most outstanding player during his lone season with Sudbury. He recovered from hip surgery and had an exceptional pro debut with the ECHL's Cincinnati Cyclones, but the pandemic – specifically a Covid-19 pause last season – prevented Luukkonen from consistent success in Rochester.
Sabres brass still has confidence that everything Luukkonen encountered across the past four years, both good and bad, has him on the cusp of a full-time NHL job.
"Every camp it's the same situation," Luukkonen said. "Everybody wants a spot on the team. It's going to be a really exciting camp."
Mark Jakubowski, a longtime Sabres employee who spent the past four seasons as vice president of hockey operations, is now listed as an assistant general manager on the team's online staff directory.
Additionally, the Sabres added amateur scout Tommi Vesanen, a 36-year-old based in Finland. Vesanen previously worked for Adler Mannheim of Germany's DEL. Buffalo now has eight scouts listed on its directory, including Lukas Sutter, who covered Western Canada for the club last season.