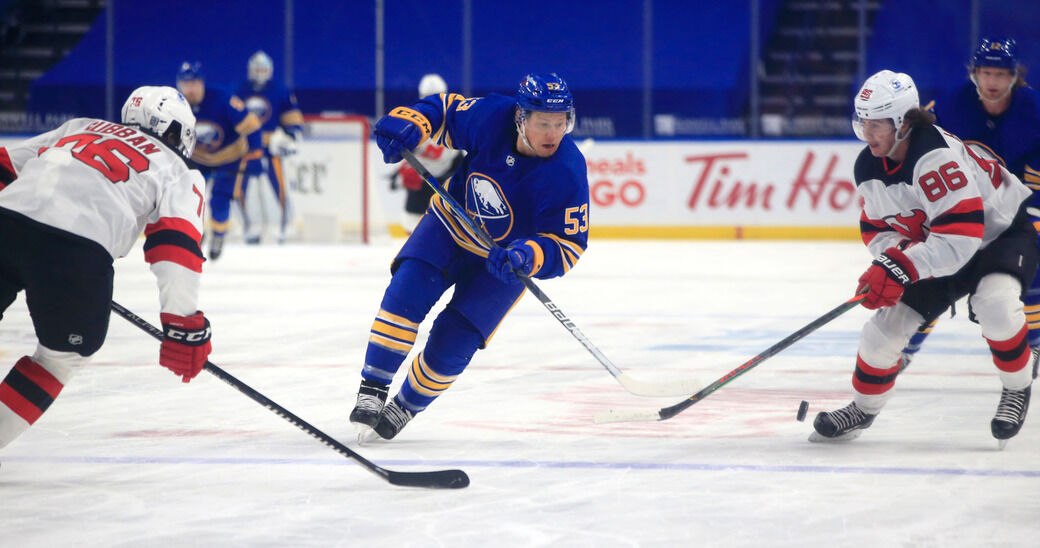 Travis Yost has been involved in the world of hockey analytics for a decade and is part of TSN's Hockey Analytics team. Prior to joining TSN, Yost was a contributor at the Ottawa Citizen, the Sporting News and NHL Numbers, and he has been a consultant for an NHL franchise. He will be contributing breakdowns on the Buffalo Sabres for The Buffalo News. Follow Yost on Twitter: @travisyost. 
What's the end game for the Buffalo Sabres and Jeff Skinner?
Skinner is in Year Two of an eight-year, $72-million dollar contract. When Skinner signed the mega-extension, he was fresh off a 63-point season (40 goals and 23 assists) with the Sabres, and was surely the team's second-most threatening forward behind Jack Eichel.
Two years later, and Skinner's fate is entirely up in the air. His contract is still as heavy as ever on the salary cap, but the front office that signed him (and spoke so strongly of his play and his future in Buffalo) is no longer. The coaching staff has changed, too – out went Phil Housley, and in came Ralph Krueger.
Fourteen games into the 2020-21 regular season, Skinner is barely an afterthought in the lineup and on the fringe of healthy scratch territory, which could happen as soon as Monday night. With little confidence from the current coaching staff and no apparent push from the front office to reverse course, Skinner has found himself with a rather immaterial role. Skinner is without a goal and has just one assist.
The Jeff Skinner crisis got more juicy here Sunday as the Buffalo Sabres took line rushes early in their practice in Prudential Center.
There are always two ways to look at this. The first is that Skinner's demotion was performance related. Skinner didn't score nearly as effectively in 2019-20 as the year prior, and he can't buy a goal right now, either. With Victor Olofsson and Taylor Hall presenting as two quality left wing options in the top six, Skinner becomes a natural casualty.
But it can't be lost on anyone that Skinner's poor offensive production may have a lot to do with who he is playing with, too. Last season there was pretty credible evidence that some of Skinner's scoring reduction year over year was tied to the inability of his teammates to create offense. And a bigger issue: irrespective of whether Skinner is slumping, does the team feel that Curtis Lazar and Riley Sheahan are quality complementary fits?
At his best, Skinner is a finisher, a player who can put pucks in the net from the creativity of his linemates. There's nothing happening – well, nothing good, anyway – this far down the lineup. And asking Skinner to carry a line is to ask something he's never shown himself to do in the first place. Skinner wasn't dropped to the fourth line to add another defensive component to it. He was dropped to the fourth line because he isn't scoring.
Here's a five-year overview of Skinner's usage and production on the attack, per 60 minutes at even strength:

An interesting question worth asking (again) is why a player who continues to generate heaps of offense in line with prior years is in such a scoring slump. There is no question that Skinner's been victimized by poor puck luck. He's a career 11% shooter, and even in last year's trying season, he still converted on 8% of his shots. Perhaps he's not generating shots with the same degree of speed or accuracy, but even if that were the case, that number is remarkably low.
It's also indicative of an issue that's plagued linemates of players like Lazar and Sheahan for years. Let's see how their linemates have historically scored over that stretch, in relation to their contributions and the contributions of their teammates: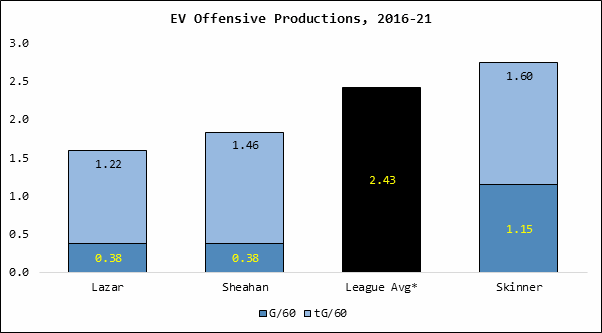 Not surprisingly, Lazar and Sheahan have been offensive black holes over the last five years. Perhaps there is an argument that Sheahan's larger frame and passing ability create some opportunity for linemates and defensive relief valve options, but even that feels a bit of a stretch. At any rate, both players have consistently been third- or fourth-line offensive options and neither has shown an ability to elevate the play of teammates.
On the other hand, Skinner's offensive production has exceeded league averages. Even with this year's massive scoring slump, Skinner's 1.15 goals per 60 minutes at even strength over this window ranks 13th in the National Hockey League, identical to that of Edmonton's Connor McDavid and Washington's Jakub Vrana. And his linemates – generally much more capable in their own right, and better linemates than Skinner's this year – have scored at a considerably productive rate (1.6 goals per 60 minutes).
Finding the right answer for this situation is difficult. Skinner hasn't played as well in the last couple of seasons, defensive performance matters, and the presence of two capable left wingers was always going to either force players onto their off-wing, or trigger a slide of someone down the lineup.
On the other hand, finding the wrong answer can be quite easy. Investing $72 million in a top-six scoring winger, only to push him into a hopeless situation on a fourth line by year two seems untenable. If the Sabres think Skinner can contribute, he needs better linemates. If the Sabres are actually considering moving Skinner at some point down the road, he still needs better linemates. If the Sabres just want to win more games this season – again, Skinner needs better linemates.
This is just as much a discussion about optimal lineup deployment as it is asset management. Burying Skinner will do little for the coaching staff, and even less for the front office.
Data via Natural Stat Trick, Evolving Hockey, NHL.com