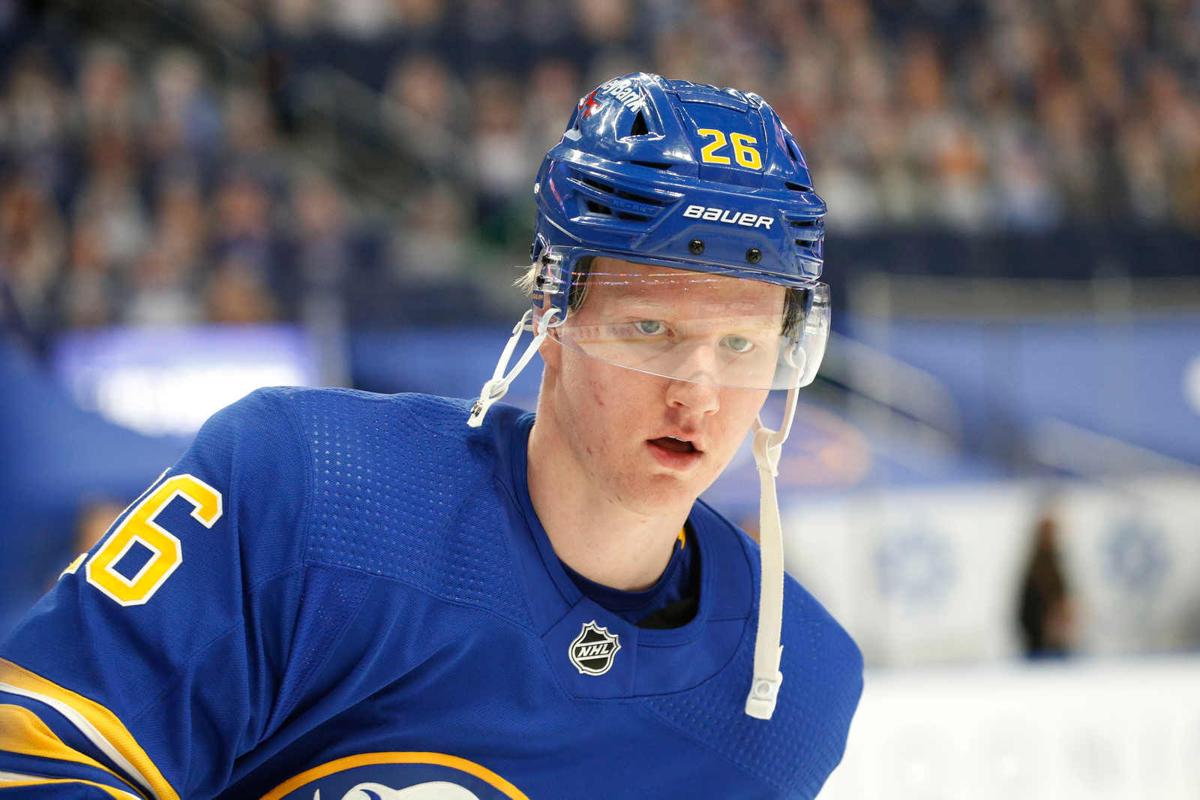 Travis Yost has been involved in the world of hockey analytics for a decade and is part of TSN's Hockey Analytics team. Prior to joining TSN, Yost was a contributor at the Ottawa Citizen, The Sporting News and NHL Numbers, and he has been a consultant for an NHL franchise. He will be contributing breakdowns on the Buffalo Sabres for The Buffalo News. Follow Yost on Twitter: @travisyost. 
The Buffalo Sabres are just a couple of weeks away from turning the page on another forgettable season. It will be remembered for an 18-game losing streak, another trade deadline selloff and organizational turmoil.
From the Taylor Hall gambit to the burying of a $72 million dollar player, most of what we witnessed will have little carryover to next season. Two massive exceptions? The future of captain and star center Jack Eichel, and the future of 21-year-old defenseman Rasmus Dahlin.
Dahlin, in particular, is fascinating because I think everyone – organizational executives and fans alike – are trying to get a read on what Dahlin's true talent is, and what his career projection looks like after three seasons. Dahlin has shown flashes of brilliance since entering the league. Considering he is 21 years old on the league's 29th best team over that window – well, there are plenty of reasons to still be bullish going forward. And we have seen great defenders struggle on bad teams early, only to improve substantially when the quality of teammates around them improved.
But this season has been concerning. The Sabres have been crushed everywhere, Dahlin included, and his rate of mistakes seem more pronounced on a game-by-game basis. The team has experimented with pairmates – Henri Jokiharju has perhaps been the best fit of the group; Colin Miller has also seen about 280-minutes with the Swede – to little avail.
And in no situation has Dahlin had any puck luck. If anything, Dahlin has been marked by attackers scoring at an unabated rate and Sabres forwards converting on their chances at an exceptionally low rate: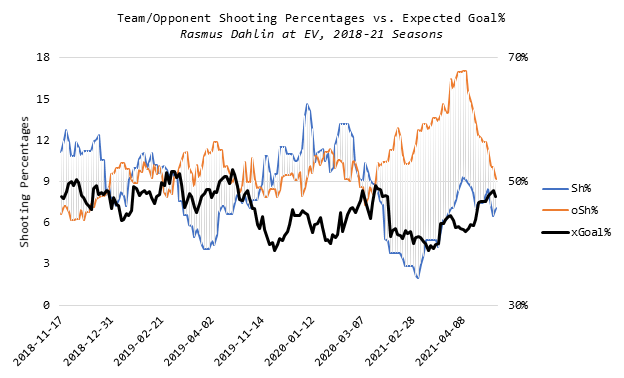 I show the three-year trend because I think it's more indicative of what reality is – elite players and bad players alike will go through on-ice percentage slumps, sometimes stemming from poor goaltending, sometimes stemming from an inability to close out on scoring chances in the offensive zone. In the first two seasons, you can see natural ebb and flow of these conversion rates at both ends of the ice. This year? A complete one-sided disaster.
You might argue that Dahlin was contributory to a portion of the defensive struggles; you might also argue that Dahlin was less effective at funneling pucks into the interior of the offensive zone or through the circles, marginalizing the effectiveness of the offense. But even accepting the argument that Dahlin was part of the problem on both sides of the ice (and I do think you can make the case), it's a small piece of the pie, and it surely wouldn't explain the daylight in team versus opponent shooting percentages over the course of the year.
Season to date, the Sabres are shooting 5.4% with Dahlin on the ice; attackers are shooting 11% on Buffalo in those same minutes.  If we look at regular 21-and-under defenders who previously had such abysmal numbers on both ends of the ice, we see that bounce-back was relatively common: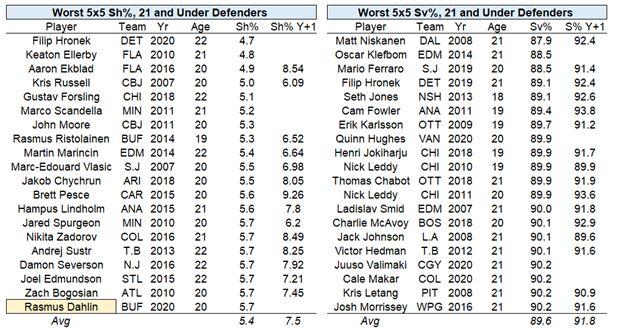 The reality is it's quite hard to sustain such low conversion rates, and most players who have been in Dahlin's situation in the past – young, with pedigree, still developing, and largely on problematic teams – have rebounded the following season. Those with ultra-low on-ice shooting percentages saw more than a 2 percentage point gap-up the following season; the same is true for those who were victimized by their own paltry goaltending. If nothing else, the laws of regression will apply.
It is critical for Buffalo to understand what they have, and don't have, in Dahlin – especially in contrast to the rest of the league. His perceived value is still significant, the byproduct of a prevailing notion that a bad team has submarined his performance for some time now. The Sabres are going to get a bounce-back season from Dahlin at some point, very likely next season, and that will smooth out some of the ugly goal-differential numbers. But the rest is up to Dahlin. Whether or not he develops into a high-end first-pairing player, as he was projected, is still up in the air.