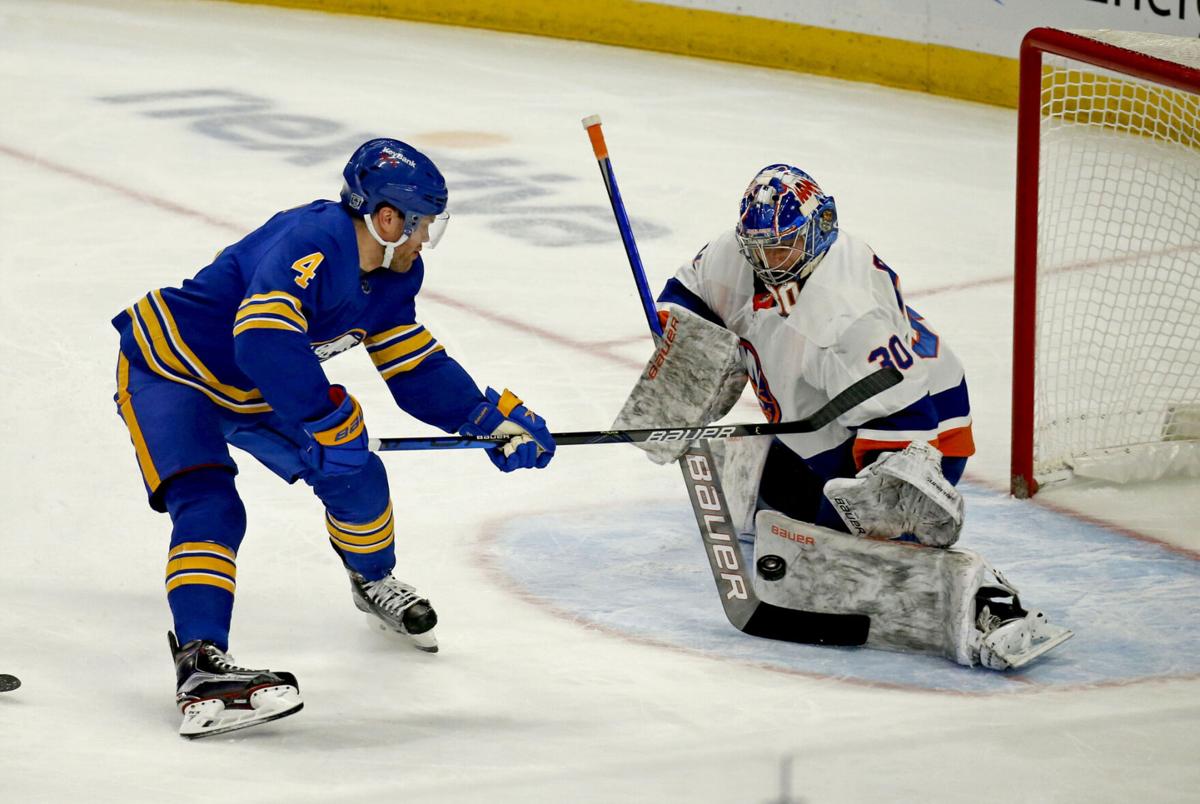 Travis Yost has been involved in the world of hockey analytics for a decade and is part of TSN's hockey analytics team. Prior to joining TSN, Yost was a contributor at the Ottawa Citizen, the Sporting News and NHL Numbers, and he has been a consultant for an NHL franchise. He will be contributing breakdowns on the Buffalo Sabres for The Buffalo News. Follow Yost on Twitter: @travisyost. 
It might be time to stir up a little bit of trouble.
Kevyn Adams' panicked news conference was a long time coming, even for a guy with less than a year of experience in his current role. Adams' frustration with the organization, from top to bottom, was palpable. The roster is painfully limited on talent, and the few stars they do have are underperforming this season. Add some curious coaching decisions into the mix, and you have a team that's once again fighting to not finish in the league cellar.
The common theme around Adams' presser was improvement. We have talked a lot about how to squeeze more out of the active roster, but a lot of that is marginal and tends to focus on lineup optimization, team structure, and player usage. Ultimately, this team is going to rebound when the stars – and in particular the Jack Eichel line, though even that has been hampered due to injury – regress back toward historical performance, and when the swath of underperforming players are displaced on the active roster.
The latter part is easier said than done – convincing players to come to Buffalo isn't hard because it's a small market, it's hard because the team hasn't reached the postseason in a decade. They need not look further than the other team in town for how quickly that can turn around, though. Talent recruits talent, and most professionals value winning and compensation over everything else.
One of the interesting opportunities the Sabres do have? A wealth of relative cap space heading into next year, something that's increasingly valuable in light of Gary Bettman's recent remarks. That offers opportunities to buy into assets – draft picks and prospects alike – to take on dead contracts, something the Sabres should always be considering. It also offers up opportunities to acquire talent through other means.
About five hours away, the New York Islanders are in an interesting situation. The Islanders have historically been reticent about spending to the top of the salary cap, but because of their organizational turnaround, they have crept in that direction, with two big contracts (Anders Lee and Johnny Boychuk) still on long-term injured reserve. And this offseason, they have to address extensions for five restricted free agents, three of whom are considerable names:

I included current goals above replacement contributions for a quick reference point. Players such as Bellows and Dal Colle still have relatively limited roles. But at least three of these players – Beauvillier, Pelech and Sorokin – are part of the broader Islanders core. If the Islanders had it their way, all of them would stay put. And it's still quite possible for the Islanders to create enough flexibility to do just that.
On the other hand, there are factors working against the Islanders here. We spoke about the obvious one concerning the cap; there's also the downline effect of teams preparing to squeeze their own restricted free agents harder over the next couple of years to free up more space for the market, which should create more interest in the trade and offer sheet world. And this is before we get into what the NHL will look like next season. Will realignment stay put? Will taxi squads and their cap effect remain? And so on.
For the sake of this piece, we will focus on how the Sabres can go after Pelech and Sorokin, though there's a case to be made for Beauvillier as well.
Let's start with Pelech, who is in the midst of a career year. The Islanders are outscoring teams 32 to 21 (plus-11) with him on the ice, playing primarily alongside the very capable Ryan Pulock. If that on-ice goal advantage holds, it will be the fourth consecutive year that Pelech has played big minutes and driven favorable goal differentials. He's a big, physical defender, and one who actually gets results in the process. Getting to the front of the net against Pelech is quite the accomplishment: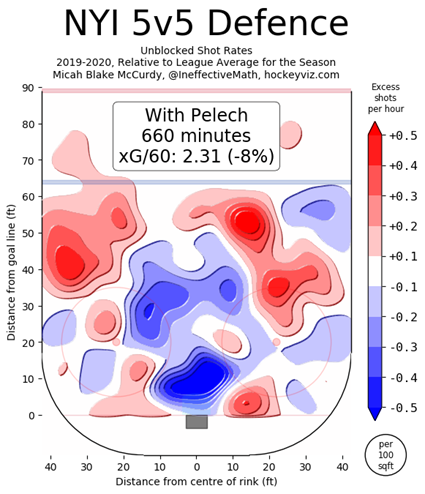 A very strong defender with limited offensive upside can find a role in the NHL for many moons, and it's also a void the Sabres have been trying to fill for some time.
Meanwhile, Sorokin (90.6 save percentage; plus-1.5 goals saved above expected) is caught in a platoon with Semyon Varlamov at the moment, the veteran outplaying the 25-year-old so far this season. But Sorokin is arguably the most important prospect-turned-player in the system after Barzal, an all-world athlete who figures to be a starter for a long time in the NHL. And the Sabres goaltending situation is dire. Carter Hutton and Linus Ullmark are on expiring contracts with little else to offer in the system in the short term. Free agency has a number of alternative goaltending options, but most of these would be short-term fixes at best due to age.
So how can the Sabres make a pitch? Submit offer sheets to Pelech and Varlamov at the same time. Since the Sabres own all their 2022 NHL draft picks, they can sign both players into different compensation ranges without violating the collective bargaining agreement (10.4). Assuming the offer sheet compensation will mirror what it did last summer, it might look something like this: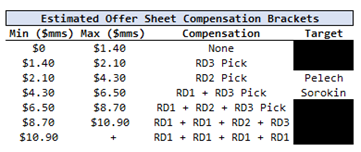 The Sabres could offer Pelech a multiyear contract up to $4.3 million annually, and simultaneously offer Sorokin a multiyear contract up to $6.5 million annually. The point is to squeeze the outer limits of the compensation range and force a team like the Islanders to consider declining to match the offer sheet.
To that end, it's not a question of whether the Islanders love a player like Sorokin – they do. The question is whether they love him enough to decline a future first- and third-round pick, and avoid paying that same goaltender $6 million annually. Depending on how bullish you are on Sorokin, even a high-end offer now could be on the low end of his true talent in the long term. But it would force the Islanders to consider their cap strategy and the opportunity costs that would come with matching multiple offer sheets. (In this case, they could tie up in excess of $10 million in just two players.)
Alternatively, you can easily see a scenario in which the Islanders match a high-end offer for Sorokin and decline to meet the midrange offer for Pelech. Either way, the Sabres end the day with more talent, not less.
Offer sheets have become beta noire in the NHL, but I've always attributed that to how punitive the top end of the compensation range is, as well as the ability for general managers to engineer side trades in lieu of tendering. I expect that to continue. But if there was ever a time for teams to get creative in a multiyear flat-cap era, this is it.
Data via CapFriendly, Hockey Reference, Evolving Hockey