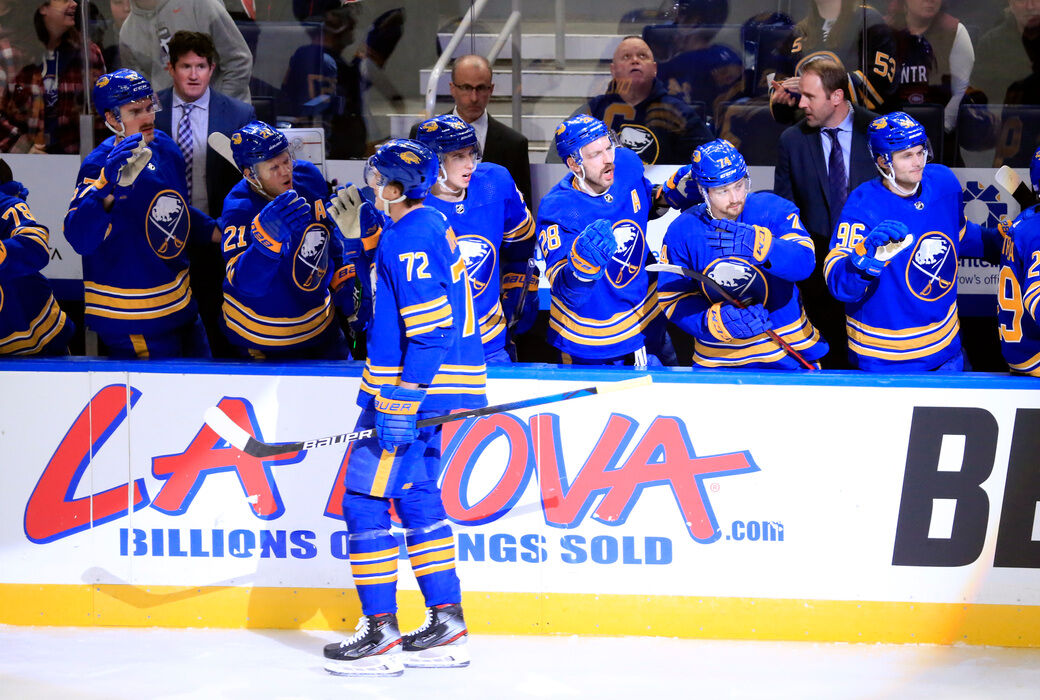 Travis Yost has been involved in the world of hockey analytics for more than a decade and is part of TSN's Hockey Analytics team. Prior to joining TSN, Yost was a contributor at the Ottawa Citizen, the Sporting News and NHL Numbers, and he has been a consultant for an NHL franchise. He will be contributing breakdowns on the Buffalo Sabres for The Buffalo News. Follow Yost on Twitter: @travisyost. 
The National Hockey League offers plenty in the realm of unpredictability. At the top of the list this season? The Buffalo Sabres getting a blistering hot start from 24-year-old Tage Thompson.
Thompson has been an interesting player to watch. He's been unproductive and underwhelming on the wing, generally toiling in a fourth-line role and spending his limited minutes at even strength alongside some of the weakest offensive options the Sabres have. This is sort of a vicious feedback loop a player can find himself in – he can't produce, in part, because of the players around him, but the coaching staff is reticent to push him up the lineup because he can't produce against weak competition.
What the Sabres did next, though, was quite different. Don Granato and the Sabres coaching staff opted to move Thompson inside this season, and a cascading effect naturally forced him up the lineup. Centering the likes of Rasmus Asplund, Jeff Skinner, and Victor Olofsson, Thompson has access to more weaponry than he has seen for most of his career.
The offensive explosion has been fun to watch. Thompson was in the fourth percentile for even-strength scoring in the first four seasons of his career, which for frame of reference, puts him behind players such s Vladimir Sobotka and Tobias Rieder. This season, Thompson had 15 points (10 goals and 5 assists) in 21 games before Monday night's game against Seattle. Subset that to even strength, and you have a player scoring in the 81st percentile.
That's a violent turnaround, especially considering his scoring is surging off goals, not empty-calorie secondary assists. The shooting percentage is blistering hot (16% – double his career average), and will naturally decrease as the season progresses.
But one of the reasons Thompson's turnaround is so encouraging is that he flat-out looks like a better player on the interior. Thompson seems much more comfortable using his big frame working the insides, and allowing playmaking wingers – the type of players he wasn't accustomed to seeing on the fourth line – to work the boards and funnel pucks around the offensive zone.
Emphasis on offensive zone. The Sabres have talked for years about spending more time there – always nice in theory, but quite difficult to accomplish. Thompson and his line are particularly interesting here because we have strong indication that the five-man unit has reversed course. Playing with the puck more has helped on the scoring front, but it's helped even more on the defensive side of the ice, where the Sabres aren't persistently under siege: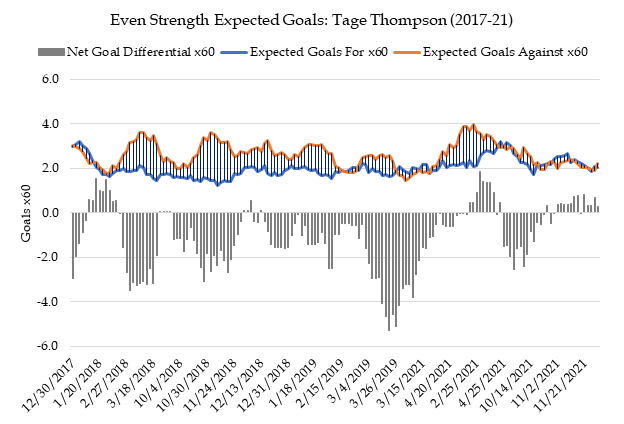 That's a very encouraging shift two months into the regular season. And although it always doesn't work so cleanly, just look at how the Sabres have started to generate positive goal differentials with Thompson on the ice – something that has been impossible to realize in earlier stretches of his career. It's true that the Sabres are converting on a higher percentage of shots right now, and it's also true that the pairing of Dustin Tokarski and Craig Anderson, when healthy, has played better than expected.
On the other hand, is it really surprising to see real goal differentials turn positive at the same time expected goals – which consider both shot volume and quality of those shots – reversed in positive fashion? This is the hallmark of genuine improvement.
And if you don't believe those numbers, consider the shot profiles (via HockeyViz) for the Sabres with Thompson on the ice. The offensive zone is still a work in progress, but Buffalo is spending much more time there relative to prior years. Defensively? Teams are having trouble working their way into the circles and the low slot, areas of the ice where shooters find a lot of success against opposing goaltenders: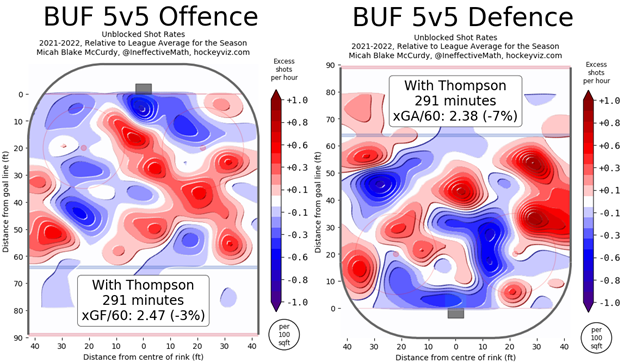 Thompson's scoring will cool, but it's impossible not to give the coaching staff and Thompson himself some credit for their start this season. The goals and assists are great, but more encouraging is Buffalo, as an organization, figuring out how to repurpose a player in a more productive manner.
Do that a few more times, and this rebuild might have a real path forward.
Data via Natural Stat Trick, Evolving Hockey, NHL.com