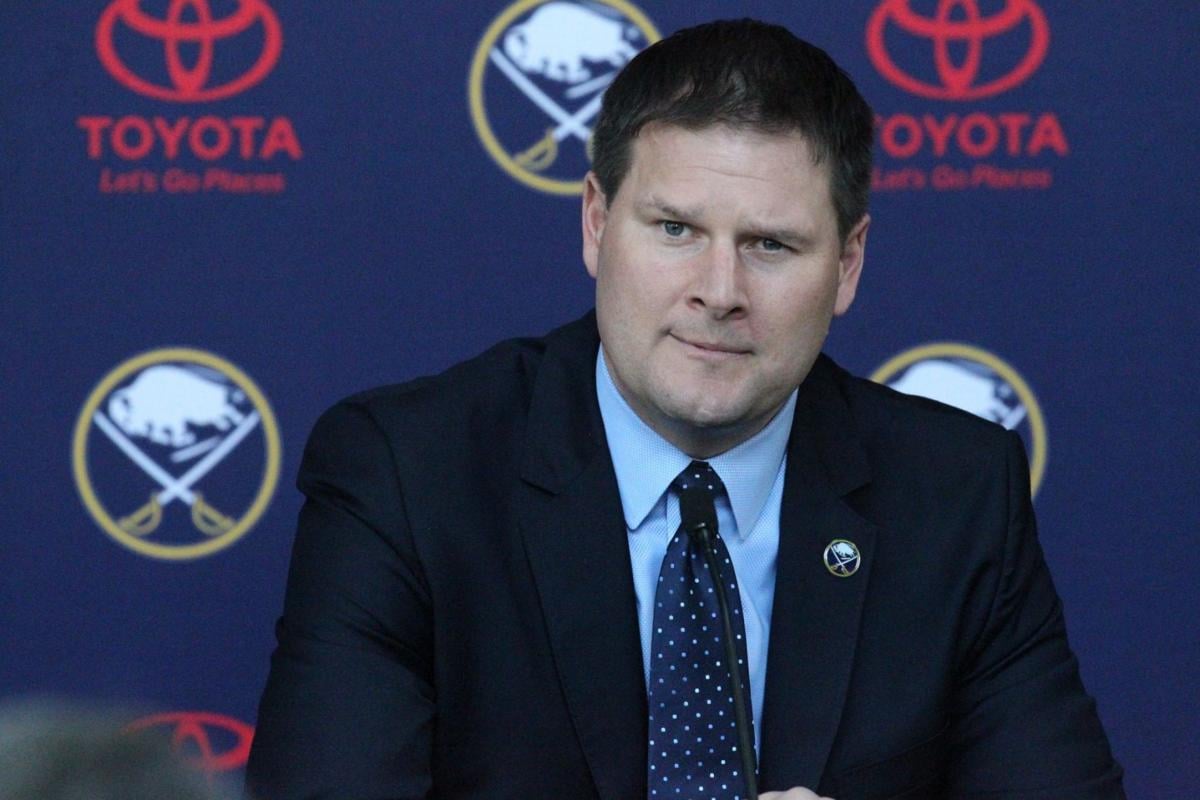 The Buffalo Sabres could only accomplish so much without knowing if Jeff Skinner would depart as an unrestricted free agent.
General Manager Jason Botterill was unsure how much cap space would be at his disposal or what he needed to acquire via trades or free agency. With Friday's news that Skinner has signed an eight-year contract worth $72 million, Botterill can now proceed with what will be a crucial offseason for the Sabres.
Skinner, 27, scored a career-high 40 goals with the Sabres this past season and matched his previous best of 63 points while playing in all 82 games. His return ensures the team has a prolific left winger to pair with Jack Eichel or whomever is tasked with centering the team's second line.
However, Botterill's offseason is only beginning.
"We didn't make the playoffs," Botterill said during a conference call Saturday. "We have to continue to improve in a lot of different facets. The easiest one we've talked a lot about is continuing to try to add more scoring to our group, especially up front.
"We want to focus on adding to that group, not replacing. That's what we've accomplished with signing Jeff and we are certainly excited about some of our young players going into different roles there, but if we can find a way to add a little bit more depth instead of relying so much on Jeff, Sam (Reinhart) and Jack, I think that's certainly one of our goals here as an organization."
First, the Sabres will draft seventh overall June 21 in Vancouver and hold eight picks over seven rounds, including No. 30 or No. 31 in Round 1 depending on the result of the Stanley Cup final. The Sabres own the St. Louis Blues' first-round selection.
Botterill will then likely get involved in trade talks and can begin negotiating with pending unrestricted free agents June 23.
Though the Sabres have a projected $20 million in cap space for 2019-20, Botterill said trading for players is a more "realistic" option than signing high-priced free agents, though he plans to engage in talks with potential upgrades.
The Sabres are less likely to be aggressive, though, since Skinner and Eichel will account for 22.5 percent of the projected $83 million salary cap for next season. Instead, the team is more likely to use draft picks and prospects to trade for a top-six forward, specifically a center, or help on the blue line, much like the pre-deadline deal that sent Brendan Guhle and a first-round draft pick to Anaheim for defenseman Brandon Montour.
Though Botterill would not cite specific positional needs, he wants more scoring help. Jason Pominville, a 36-year-old pending unrestricted free agent, has engaged in "dialogue" with the Sabres, according to Botterill, after ranking fourth on the team with 16 goals this past season.
Botterill did not rule out Pominville returning, adding that a potential return will be determined by any trades made by the Sabres between now and July 1, as well as what sort of interest Pominville receives when the negotiating period begins.
Skinner, Eichel and Reinhart accounted for 40.7 percent of the team's goals, and the Sabres scored the eighth-fewest in the league.
"Our biggest focus I think heading into free agency was getting Jeff signed and we've accomplished that," Botterill said. "We'll continue to talk to see if there is a fit to help out our team from that aspect, and we'll also look at sometimes the more realistic option is trades like we did last year with Conor Sheary and Matt Hunwick (from Pittsburgh) and utilize our cap space from that standpoint or adding a player like Jeff Skinner when we did later on in the summer. We'll continue to look at ways from the trade route and free agency to see if we can improve our team."
Though Skinner's contract could create salary-cap challenges for the Sabres, Botterill plans to balance the roster with players on entry-level or smaller contracts. Wingers Victor Olofsson, Alex Nylander and C.J. Smith, as well as center Rasmus Asplund, will have an opportunity to make the NHL roster in training camp.
The Sabres could also trade a talented player.
Rasmus Ristolainen has been the subject of trade talks for more than three months. The 24-year-old right-shot defenseman was a league-worst minus-41 this past season and is under contract for three more years. He is ultra-skilled but hasn't been able to thrive in the shutdown role the organization has hoped for since he was drafted eighth overall in 2013.
A league source told The Buffalo News that Ristolainen is still highly regarded by executives and scouts around the league who feel he has been the victim of circumstance since arriving in Buffalo. Sportsnet's Elliotte Friedman reported during the Sabres' coaching search that Botterill asked candidates how they could help Ristolainen improve, which seems to indicate the team would rather hold on to him.
Defensemen Zach Bogosian (hip) and Lawrence Pilut (shoulder) are likely to miss some time at the beginning of the season after undergoing offseason surgery, but Botterill expressed some level of comfort in relying on prospects such as Will Borgen or Jacob Bryson to fill in.
Still, the Sabres could be in the market for a defenseman since neither Casey Nelson nor Hunwick was consistent this past season. Marco Scandella also had a disappointing year and, like Bogosian, is an unrestricted free agent next offseason.
Prior to filling any holes on the roster, Botterill must decide which of his five restricted free agents are in the team's plans for next season. Center Evan Rodrigues, goalie Linus Ullmark and defenseman Jake McCabe are likely to receive qualifying offers.
Rodrigues, 25, scored nine goals among 20 points with a minus-7 rating while averaging 15 minutes, 49 seconds over 74 games. He will likely receive a sizable raise from the $650,000 he made last season. The same can be said for Ullmark, who posted a .905 save percentage in 37 games and is projected to backup Carter Hutton in 2019-20.
McCabe, meanwhile, was on pace for a career season offensively until an upper-body injury limited him to 59 games. The 25-year-old finished with four assists among 14 points, finishing fourth on the team in hits, third in blocked shots and sixth in time on the penalty kill.
On the other hand, center Johan Larsson and winger Zemgus Girgensons are less likely to receive offers because Botterill intends to add more skilled forwards and neither player contributed much at even strength. Both made a significant impact on the penalty kill when healthy, though.
Though questions remain during a busy offseason, Botterill expressed confidence after retaining Skinner and watching his roster show signs of progress during the first half of this past season.
"We're excited about where our group can get to," he said. "I think we've shown glimpses and we've gone through different stretches where we've been a good team. It's our job to be a lot more consistent over 82 games. So that certainly gives us hope to understand there needs to be a lot of work done with that."
Be the first to know
Get local news delivered to your inbox!