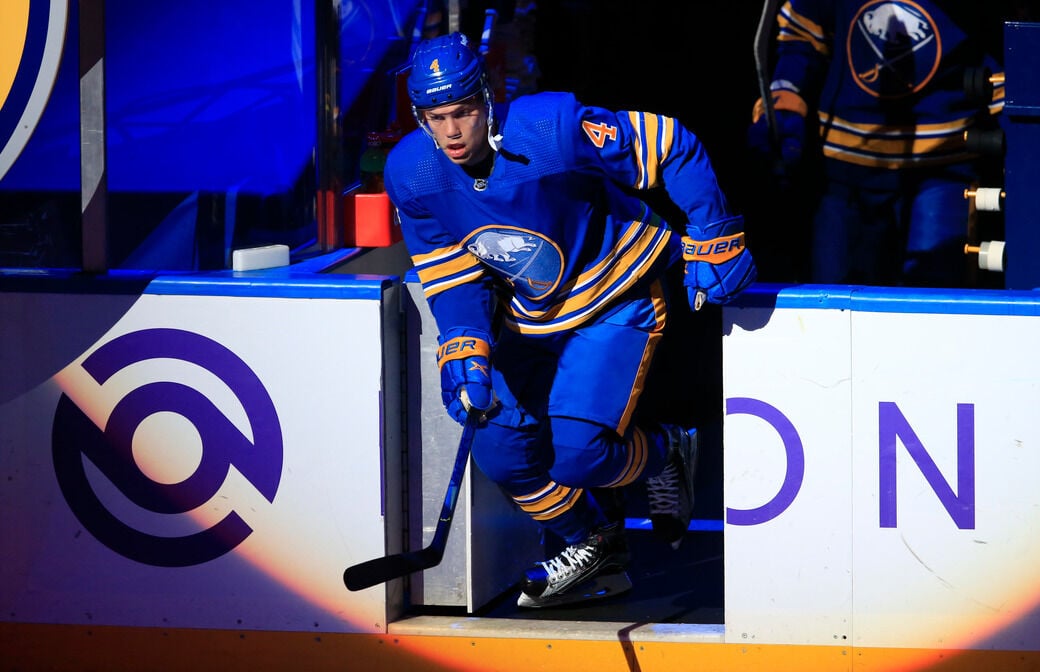 In the aftermath of yet another coaching change in April 2019, Rasmus Ristolainen stood inside the Sabres' dressing room, surrounded by reporters with a stoic expression on his face, and called for more accountability among his teammates.
The scene Friday afternoon at KeyBank Center was far different. Ristolainen sat in front of a Sabres backdrop, talking to the media via video conference call following interim coach Don Granato's first practice as coach. Ristolainen's opinion, though, was the same: It's on the players, not the coach, to end the cycle of losing.
"I mean, I can see why the decision was made (to fire Ralph Krueger)," said Ristolainen, a 26-year-old defenseman in his eighth season in Buffalo. "It's business. I've been here. I've seen so many coaching changes, GM changes, but especially like most of the coaching changes we've had here, I feel like it's more about players. But you can't fire players, so then it's always coach having to take the blame."
Sabres General Manager Kevyn Adams is faced with the same problem that his predecessors weren't given enough time to solve: What is the right mix of players to push this franchise into the playoffs for the first time since 2011? The team is last in the NHL with 16 points, and Granato will have one more practice to prepare for the Sabres' game Monday at Madison Square Garden against the New York Rangers.
Adams already has a pulse on what goes on behind the scenes. Since NHL protocols prevented Adams from operating out of his usual office at KeyBank Center, he spent the first half of this season working out of a small room down the hall from the Sabres' dressing room.
As Adams meticulously evaluated the innerworkings of the team amid a losing streak that's now reached 13 games, he learned there isn't a "toxic" atmosphere. Good vibes don't translate to wins, though. Any semblance of a team identity has been lost through the turnover in coaching and management the past 10 years.
"I talk about this team and this town, we need to have an identity moving forward and build this team where players love playing, they compete hard, the fans love watching it and it's all connected," Adams said. "I know, I've seen it in this town before. I know what that does for our fan base, and I understand that and we're not there."
Whoever coaches the Sabres next season will have a significant impact on results, as we learned from Krueger's second and final season. However, the state of this roster – expiring contracts, underperforming core players, prospects in the pipeline, etc. – is going to make this a difficult offseason for Adams.
Help is on the way, as Adams told the media Wednesday that he will soon hire an assistant general manager. Sources told The Buffalo News that Jason Karmanos, a longtime assistant general manager under Jim Rutherford in Pittsburgh and Carolina, is Adams' top candidate.
Any hire likely won't be around to help Adams navigate the April 12 trade deadline. Sources say Adams' focus is on unloading expiring contracts, not "hockey trades" that will include the swap of significant NHL players. He will be able to add prospects and/or draft picks from playoff contenders in exchange for Taylor Hall, Eric Staal and Brandon Montour. Tobias Rieder and Riley Sheahan may also draw interest because they are versatile forwards at a low cost.
GM Kevyn Adams kicked off what will likely be a flurry of trades Saturday by dealing Johansson to the Colorado Avalanche in exchange for a sixth-round draft pick in 2021.
The roster evaluation in the coming weeks will extend beyond those pending unrestricted free agents. Adams must prepare for the Seattle expansion draft, which is scheduled for Wed., July 21 and will have the following guidelines:
• Each team will have the option to protect seven forwards, three defensemen and one goalie, or eight skaters and one goalie
• First- and second-year professionals, as well as unsigned draft picks, are exempt.
• All players with a no-movement clause must be protected, unless they voluntarily agree to waive.
Adams must decide which players under contract beyond this season fit into his long-term plan. The Sabres will likely receive calls this offseason on some of their core players, including Jack Eichel and Sam Reinhart. There might be more trade rumors involving Ristolainen, whose contract expires after the 2021-22 season. Ristolainen, a minus-158 in 515 career games in Buffalo, called Krueger the "best coach" he's played for and appeared to be on his way out in the summer of 2019. Those sort of "hockey trades" will have to wait until this summer, when teams have more cap space.
"We have half of the season left so, I mean, I don't think that's a question I should probably answer too much right now," Ristolainen said Friday when asked if he wants a change of scenery. "I'm here, I'm a Buffalo Sabre player and I'm in this with the guys and we want to turn it around and I want to turn it around. So, that's the answer for you."
The trade deadline will create holes in the Sabres' roster, providing Adams with an opportunity to elevate prospects from the Rochester Americans to the NHL. Playing out the string under an interim coach in a 10th consecutive non-playoff season isn't an ideal environment for player development, but management needs to evaluate who can help this team next season.
The two teams played Thursday night in Buffalo after Boston forward Sean Kuraly was placed on the protocol list. 
Forward Arttu Ruotsalainen, unlike most prospects, has extensive professional experience. The 24-year-old was leading Finland's Liiga in scoring when his loan agreement ended in December. The Sabres could use a center with Ruotsalainen's experience after Staal is inevitably traded.
Adams will need to prioritize evaluating the Sabres' goaltending. Linus Ullmark, 27, has been solid when starting the past two seasons, but he has missed time with lower-body injuries. Trading Jonas Johansson for a 2021 sixth-round pick to the Colorado Avalanche on Saturday will now allow the Sabres to give top prospect Ukko-Pekka Luukkonen some NHL games in the second half of the season. Luukkonen, 21, is not ready for a full-time NHL job, but he would benefit from an introduction to playing the pressure-packed position at the highest level.
You will also see more playing time for young players on the NHL roster, particularly defenseman Henri Jokiharju and winger Tage Thompson, a 23-year-old who played under Granato at the USA Hockey National Team Development Program. Thompson is under contract for two more years and has shown flashes of promise during his 14 games this season.
According to CapFriendly.com, the Sabres are projected to have $34.95 million in cap space this summer. Ullmark, Hall, Staal, Montour, Rieder, Sheahan, Jake McCabe and Carter Hutton are among the pending unrestricted free agents. Reinhart, Jokiharju, Rasmus Dahlin and Casey Mittelstadt are pending restricted free agents.
The first step, though, will be unloading expiring contracts in exchange for assets that could help the Sabres build under their new coach.
"Absolutely, this is my job to make sure not only that I'm proactive, but listen as well and doing everything I can to move this thing forward," Adams said.