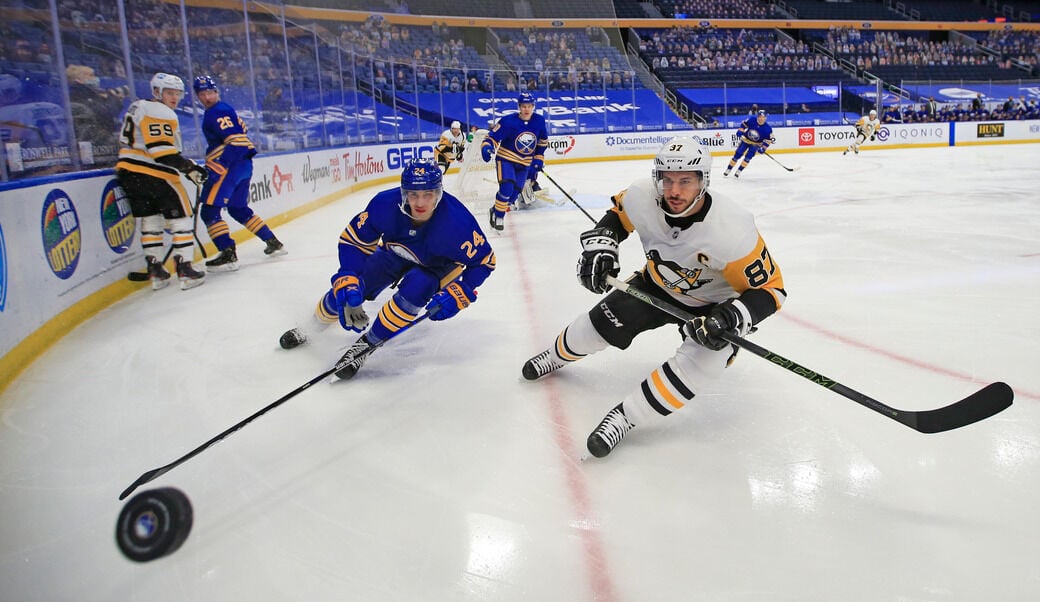 The Buffalo Sabres finally figured out the way to beat the Pittsburgh Penguins at home.
Arttu Routsalainen tallied after 26 seconds, Sam Reinhart scored two goals and Dustin Tokarski made 34 saves as the Sabres dumped the Pens 4-2 Sunday in KeyBank Center.
"The Sabres were full marks for their 4-2 win over the Pittsburgh Penguins, and Buffalo's second-round pick in 2018 kept himself out of trouble against an opponent that can cause plenty for a 21-year-old," writes Mike Harrington.
The Sabres beat Pittsburgh here in regulation for the first time since a 6-2 win on Feb. 19, 2012, when Lindy Ruff was still the coach. The Penguins had a 15-game point streak in Buffalo (13-0-2) and had won five straight. The Sabres had been 0-5 overall against Pittsburgh this season.
The Sabres improved to 12-26-7 overall and 6-3-3 in their last 12 games. They are 6-8-3 under interim coach Don Granato after going 6-18-4 under Ralph Krueger. The game marked the NHL debut of Buffalo defenseman Mattias Samuelsson, who was called up from Rochester and played alongside veteran Rasmus Ristolainen.
It was an impressive performance in a back-to-back situation after Saturday's 3-2 loss to Pittsburgh. The Sabres had been 0-10 at home against the top four teams in the East Division and 1-9-1 overall in the second game of back-to-backs, but bucked both trends.
Teams out of the race like the Sabres have paid particular attention to what's gone on in their current division but have also noted what's gone on in their normal one. You have to be concerned on both fronts.
The Sabres improved their puck management from Saturday's game and played the entire contest from in front, a rarity this season.
"I mentioned in the locker room after the second that in some of the clips that we looked at, it looked like we were pressuring and we had kind of worn on them a little bit," said Granato. "Maybe they looked a little more tired than we did, just in a quick review."
The Penguins fell to 28-14-3 as their five-game point streak ended at 4-0-1. They blew a chance to pull within one point of the Washington Capitals for the East Division lead.
Opening salvo: The Sabres jumped on the scoreboard on the game's first shift as Ruotsalainen one-timed home his second NHL goal off a sublime pass from Dylan Cozens on a 2-on-1 break. Cozens burst through the neutral zone on the play, leaving Sidney Crosby and Jake Guentzel in his wake, and slipped the puck over the stick of Brian Dumoulin to Ruotsalainen.
"I think if you look at that shift, the (Penguins) came out really hot and those guys did a good job of weathering and then capitalizing going the other way," Reinhart said. 
Don Granato is an interim head coach who is looking like he deserves to get that title amended, Mike Harrington says.
DeSmith math: Pens starter Casey DeSmith entered the game with three straight shutouts against Buffalo and had 60 saves on 60 shots against the Sabres in two starts against them this season. But the Ruotsalainen goal ended his shutout streak vs. the Sabres at 180 minutes, 18 seconds and snapped his save streak at 86 in the three games.
In the Buffalo net: After not winning an NHL game since 2015, Tokarski got his second win in four days while playing his third game in that span. He's stopped 99 of 107 shots in that span. Was he tired? No way.
"Someone's giving me an NHL start, I'm taking it every time," he said. "So I looked forward to the game today when I found out I was playing and it was a lot of fun getting a win against those guys. They have a great team and our guys played a heck of a game."
Sweet sound: The Sabres went up 2-0 at 2:18 of the second period as Reinhart pinged home his team-high 16th goal of the season off the far goalpost with a snapshot from the right circle. The play was made at the Pens' blueline by Victor Olofsson, who stripped former Sabre Evan Rodrigues of the puck and whipped it cross-ice to Reinhart.
Sam I Am, Part II: Olofsson found Reinhart again in the right circle for a power-play goal at 8:02 of the third period. It's the second straight game the Sabres have scored with the man advantage after going 3 for 52 in a 26-game stretch from Feb. 27 through Thursday.
The clincher: It came on an empty netter from Rasmus Asplund with 1:48 left.
The Crosby Chronicles: Pens captain Crosby was held without a point, a rarity against Buffalo. He has at least one point in 42 of 48 career games played against them, while his 71 points (23-48) are the most he's tallied against any non-Metropolitan Division opponent.
Strange partners: Crosby threw a huge and clean hip check in the second period at the Buffalo blue line on Ristolainen, who got up off the ice smiling widely.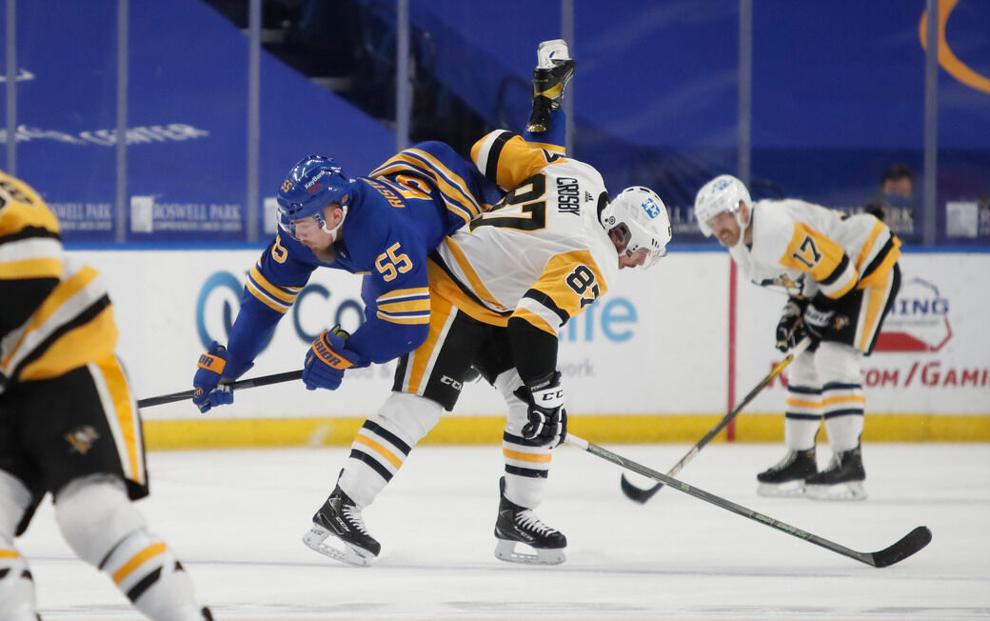 Lineup news: In addition to Samuelsson's debut, Riley Sheahan returned to the lineup after missing two games due to an upper-body injury sustained Tuesday in Boston. Steven Fogarty was placed on the taxi squad and C.J. Smith went back to Rochester.
#Sabres warmup lines vs. Pens. And look where Samuelsson landed:---Skinner-Reinhart-OlofssonAsplund-Mittelstadt-ThompsonBjork-Cozens-RuotsalainenRieder-Eakin-Sheahan---Samuelsson-RistoalainenDahlin-JokiharjuBryson-Miller---Tokarski/Houser

— Mike Harrington (@ByMHarrington) April 18, 2021
Next: The Sabres will be off Monday and open a three-game home series against Boston here Tuesday at 6:30. The teams also play Thursday and Friday at 7.
The Bruins have won four straight since acquiring Taylor Hall and Curtis Lazar from the Sabres at the trade deadline, and their 6-3 win Sunday over Washington got them within six points of the East-Division leading Capitals, while still holding three games in hand.