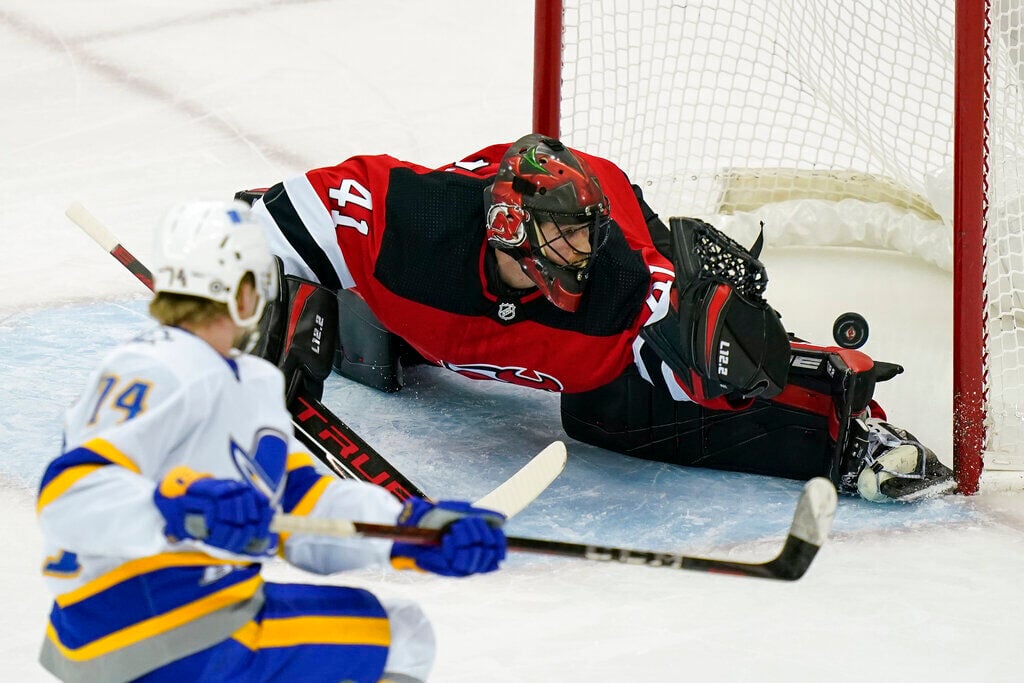 Rasmus Dahlin and Casey Mittelstadt each collected two points and combined on the game-winning goal as the Buffalo Sabres held off the New Jersey Devils, 5-3, on Tuesday in Prudential Center.
Mittelstadt's power-play goal with 9:40 left snapped a 3-3 tie and improved the Sabres (9-23-6) to 3-0-2 in their last five games. The five-game point streak equals a similar run from Jan. 22-30 as the Sabres' longest of the season. Rasmus Ristolainen's empty-net goal with 1:31 left gave the Sabres breathing room.
On the winning goal, Dahlin nearly found disaster at the New Jersey blueline, but kept the puck on against pressure from Travis Zajac and Pavel Zacha. He burst through the right circle with it and found Mittelstadt in front for a tap-in past New Jersey goalie Scott Wedgewood. Dahlin and Mittelstadt each had a goal and an assist in the game, forging their first multi-point games of the season.
Fast and furious first: The teams combined for just 12 shots on goal in the first period, but split four goals. The last one by the Devils came in the final second. New Jersey defenseman Damon Severson opened the scoring at 4:28, but the Sabres got even at 9:56 when Rasmus Asplund cashed a Mittelstadt pass on a 2-on-1.
Buffalo went ahead 2-1 on Brandon Montour's goal at 19:17 off a tip pass from Tage Thompson, but Montour took a tripping penalty 28 with seconds left and that set up the Devils to tie the game. Jesper Bratt got New Jersey even with three-tenths of a second left on a Zacha pass.
It was a brother act Tuesday night in New Jersey with quite a twist. Sabres winger Tage Thompson was going against Devils counterpart Tyce Thompson – and it was Tyce's NHL debut.
Falling behind: The Devils pushed ahead 3-2 at 11:03 of the second as Zacha banged home his own rebound to give him a team-high nine points against the Sabres this year in seven meetings. Zacha's two-point night came after he had just three points in his previous 11 games.
Getting even: Dahlin scored a pretty goal at 15:19 of the 2nd, using his body to shield off Devils forward Nick Merkley and then beating Wedgewood to the top corner. It was Dahlin's third of the year.
There are four games left before the NHL trade deadline on Monday. 
Odd lineup: With the Sabres sitting Taylor Hall to preserve him from injury in advance of a potential trade, they went to an 11-forward, seven-defenseman lineup. Matt Irwin was inserted on D and Arttu Ruotsalainen, who was promoted from Rochester to the taxi squad Monday, did not play. 
On the scoresheet: Tyce Thompson, younger brother of Sabres winger Tage Thompson, made his NHL debut and assisted on the Severson goal as Linus Ullmark stopped his shot but yielded a big rebound. It made Tyce Thompson second in New Jersey history for the fastest point by a forward in his first NHL game.
Not a lot of shots: Coach Lindy Ruff's Devils tightened things up in this game, holding the Sabres to just 18 shots on goal. New Jersey was averaging nearly36 against over the previous five games. The Devils put 30 on Buffalo goalie Linus Ullmark, who improved to 8-5-3 by making 27 saves.
Schedule change: The NHL has announced that the April 20 home game against Boston has been pushed up a half-hour, from a 7 p.m. start to 6:30 p.m.
Next: The Sabres returned home after the game and will practice Wednesday in KeyBank Center in advance of a home back-to-back. Perhaps Ruostalainen will make his debut when the Sabres host the Devils on Thursday at 7 p.m.. Buffalo then plays Washington here Friday at 7 p.m.